Paris terror attacks: At least six members of terror cell may be at large, police warn
France has sent 5,000 police to Jewish schools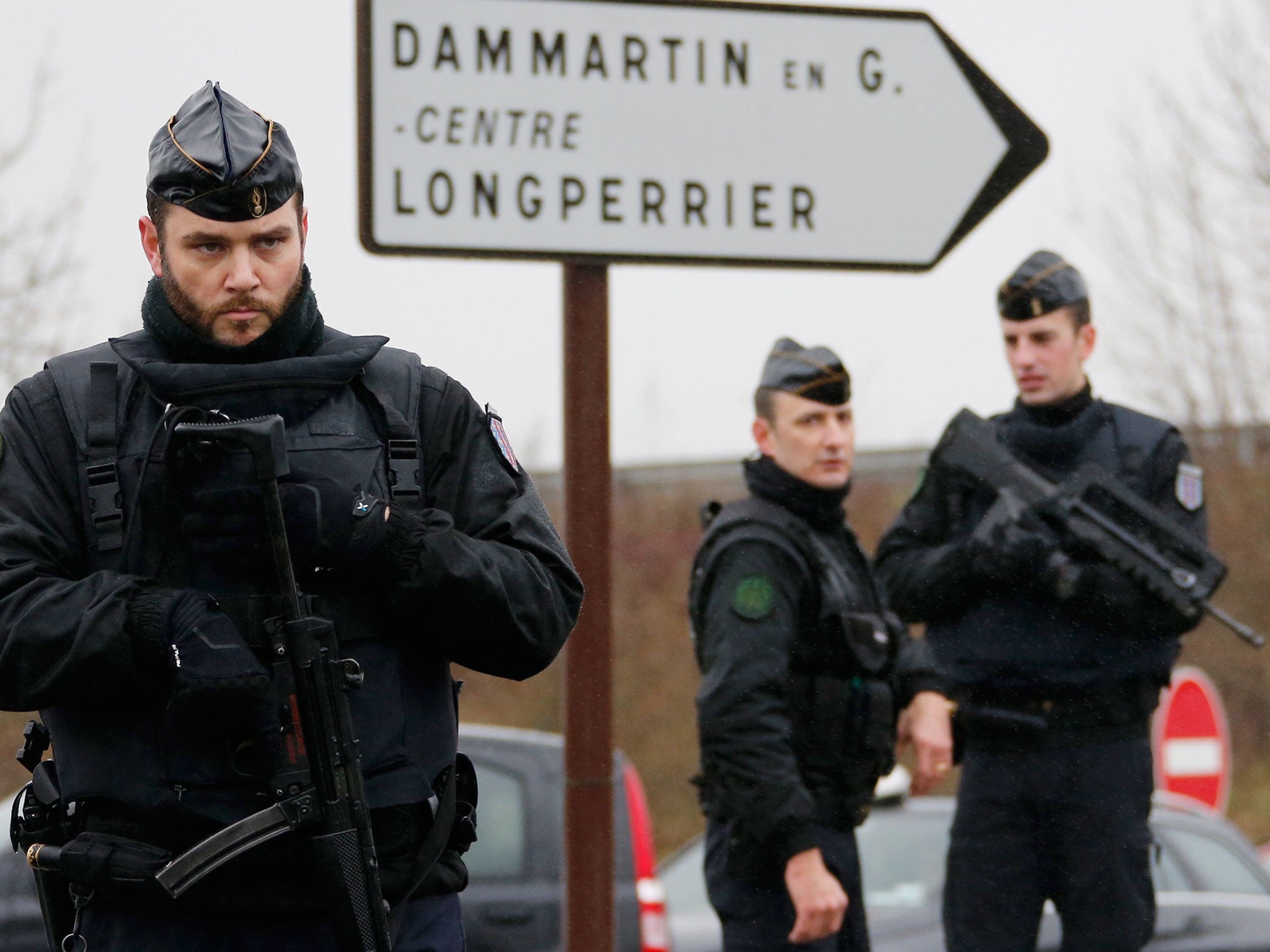 At least one accomplice of the three Paris gunmen remains at large, French authorities fear. A further 10,000 troops will be deployed to protect possible targets around France. Almost 5,000 police officers will guard the country's 717 Jewish schools and synagogues.
French police tonight suggested the number could be larger, with up to six members of a terrorist cell possibly at large, including a man who they said was seen driving a car registered to the widow of one of the slain gunmen.
The Prime Minister, Manuel Valls, said yesterday that the "threat is still present". He said security officials had concluded that Amedy Coulibaly, 32, the man who murdered four people at a kosher supermarket last Friday, was working with at least one other.
Two French police officials last night told the Associated Press that authorities were searching the Paris area for the Mini Cooper registered to Hayat Boumeddiene, the widow of Coulibaly.
Coulibaly said before he died in a hail of police bullets that he had planned his attacks – including the murder of a young policewoman – in "synchronisation" with the Kouachi brothers, who killed 12 people in an attack on the magazine Charlie Hebdo.
Initial reports suggested that Coulibaly's accomplice might have been his 26-year-old common-law wife. It was confirmed by Turkish authorities on Monday, however, that she had arrived in Istanbul on 2 January and was now believed to be in Syria.
The fear that at least one accomplice remains at large is based partly – not entirely – on the fact that a video in which Coulibaly boasts of his plans was edited and posted on the internet after his death.
In pictures: Charlie Hebdo suspects siege
Show all 25
France caught its breath for the first time on Monday after last week's events and the outpouring of popular defiance in "rallies for the Republic" in Paris and more than 50 towns. More than five million people are believed to have taken part. The Paris "march against hatred" was the largest public assembly in French history.
There was a jarring note of dissent on Monday by the anti-Semitic comedian Dieudonné M'bala M'bala, 48. He faces possible prosecution for "justifying terrorist acts" after he appeared to declare his admiration for Coulibaly.
Dieudonné took part in the Paris march on Sunday. Afterwards, he posted a mocking statement on Facebook. "After this historic, no legendary, march, a magic moment equal to the Big Bang which created the Universe, or in a smaller way comparable to the crowning of [the ancient Gaulish king] Vercingétorix, I am going home. Let me say that… as far as I am concerned, I feel I am Charlie Coulibaly."
The comments were removed after a wave of protests on social media. The Interior Minister, Bernard Cazeneuve, called them "abject" and said he had ordered officials to consider legal action.
In response, Dieudonné said that his intended meaning was that he was a martyr to attacks on freedom of speech, like Charlie Hebdo. The comedian said: "I am considered like an Amedy Coulibaly when I am… just the same as Charlie."
Join our commenting forum
Join thought-provoking conversations, follow other Independent readers and see their replies