Now Russia and Ukraine are at war over the ownership of St Vladimir the Great
A giant Moscow monument to a hero who died 1,000 years ago has created an unholy row that symbolises the countries' bloody struggle for regional supremacy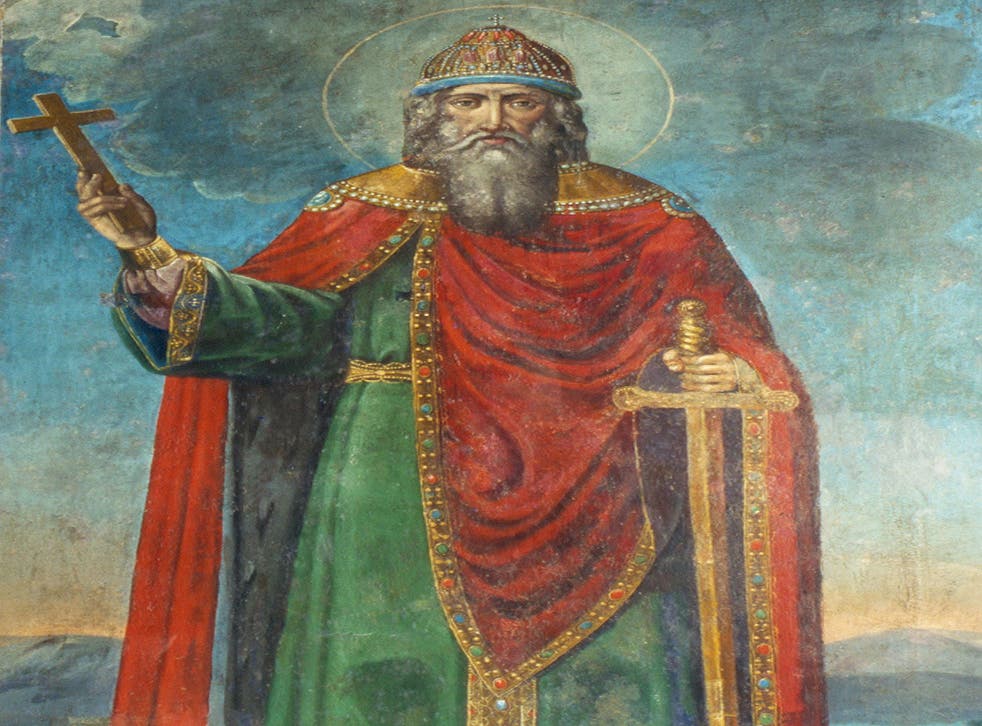 A millennium ago, grand prince Vladimir of Kiev cast a civilisational fault line across Eastern Europe – one that divided the states of Russia, Belarus and Ukraine from the rest of the continent.
Vladimir's decision to ditch a pantheon of bloodthirsty pagan gods for eastern Christian Orthodoxy was meant to unite the peoples of Kievan Rus, a territory along the waterways between the Baltic and Black seas.
But on the 1,000th anniversary of the death of Vladimir the Great – later to become Saint Vladimir – two of Kievan Rus' successor nations, Russia and Ukraine, appear to be tussling over his legacy.
Announcing a national programme of festivities around the 15 July anniversary, Petro Poroshenko, the Ukrainian President, called Vladimir the founder of the "European state of Rus-Ukraine".
Many in Russia, whose government is also celebrating the jubilee, were incredulous: "It's hard to call that an opinion. It's easy to call it a fantasy," said Andrei Nazarov, director of the state-backed Russian Military-Historical Society.
Mr Nazarov and many Russian politicians claim Vladimir as a symbol of Russia. "Thanks to him, Russia became what she is – a mighty state with a strong, Orthodox Christian base," Mr Nazarov said.
The tug-of-war over Vladimir mirrors a struggle between Moscow and Kiev that heightened last year with Russia's annexation of Crimea and the subsequent separatist war in eastern Ukraine.
The conflict highlighted Ukrainian efforts to carve out a historical identity separate from Russia's, and Moscow's efforts to stop it flying the Russian coop.
Historians and church figures have stressed that Vladimir is common property and defies nationalisation by any one country. But according to some, the past is being weaponised: "We are seeing that archives can also shoot," said historian Oleg Ulyanov.
A planned 24m statue in Moscow of Vladimir bearing a sword and holding aloft a cross has become a symbol of Russia's anniversary celebrations. Standing atop one of the city's few hills, the monument would dominate Moscow's skyline.
Not everyone thinks the statue is innocuous. Its purpose is to enthrone Moscow as "the mother of Russian cities," author and poet Dmitry Bykov wrote in a blog post for radio station Ekho Moskvy.
That status has long belonged to Kiev. It was Kiev that Vladimir, then still a full-blooded pagan with a well-stocked harem, reconquered from his brother, Yaropolk, after fighting his way back from exile around 980, according to the histories.
Vladimir in Kiev drove his people into the Dnieper river for a mass baptism. A monument to the prince has overlooked the river since 1853.
Though Kievan Rus controlled the territory around Moscow during Vladimir's reign, the city had not yet appeared on the historical record.
Vladimir's association with Russia is doubly helpful for Vladimir Putin – the prince accepted Christianity in the Crimean city of Khersones, adding sheen to Mr Putin's already popular seizure of the peninsula last year.
Yet ultimately Vladimir, and the common Christian cultural heritage to which he laid the foundation, is a uniting force for Russia and Ukraine that will outlast the current political crisis, says Andrei Zubov, a historian and philosophy professor at the Moscow State Institute for International Relations. "We're talking about two very close peoples that want to be culturally – not politically, but culturally – together," he said.
But stressing unity may not be risk-free.
"The thesis that we are all one people and brother folk may sound peace-loving but it is one of the key reasons for the current war," said Vladimir Vyatrovich, head of the Ukrainian National Memory Institute.
"The idea that we are one nation with the Russians provides a basis for lots of Russian politicians to sound off about Ukraine's past and future. Relations between our countries will only normalise when we will respect one another's desire to be independent and independently assess our own past and future."
Join our new commenting forum
Join thought-provoking conversations, follow other Independent readers and see their replies