An octopus? Cranes? Group sex? It's all in a week's work for Vladimir Putin
The bird stunt caused a mixture of disbelief and hilarity even among those used to Mr Putin's antics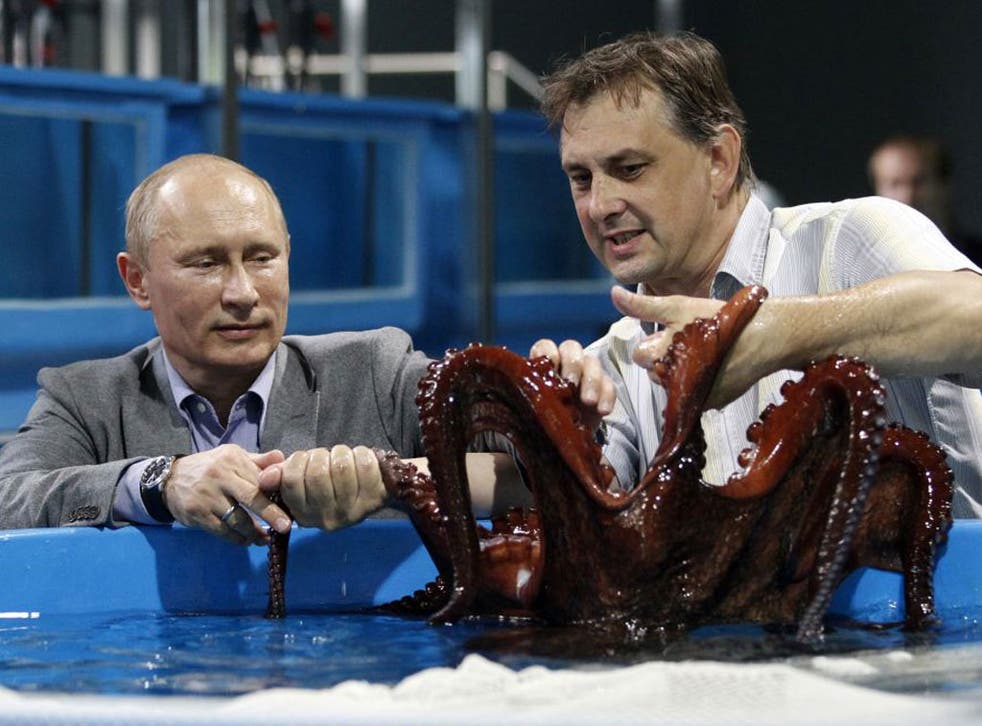 He has been ever so quiet. For a whole summer, since his inauguration for a new presidential term in May, we have been starved of Vladimir Putin's characteristic animal photo-ops, daredevil stunts and earthy aphorisms.
Perhaps somewhat stung by the street protests of recent months, Mr Putin had been keeping in the shade, making dry, serious speeches about trade and economic opportunities.
And then, this week: bang! Like an alcoholic giving up on sobriety and hitting the bottle more heavily than ever before, Mr Putin has gone off the deep end. First he used commemorations of the 1812 defeat of Napoleon Bonaparte to call for Russian unity, then in the space of 24 hours, we saw the Russian President caress an octopus, dress up as a giant bird and, most extraordinarily, give his musings on the benefits of group sex over traditional one-on-one action.
There is doubtless something for psychologists to ponder on the sexual language that Mr Putin often employs when angry about an issue. Early in his rule, the President told a European journalist who asked a difficult question about Chechnya that if he liked Chechens so much it could be arranged for him to have an Islamic circumcision, performed in such a way that "nothing ever grows back again".
Last year, when the first major street protests against his United Russia party broke out, he suggested the white ribbons worn by protesters "looked like condoms". This time, in his first major interview since the May inauguration, he excelled himself. "You know some fans of group sex say it's better than one-on-one because, like in any teamwork, you don't need to hit the ball all the time," said Mr Putin, with the faintest hint of a smirk.
He had been asked about the case of Pussy Riot, the punk trio who were jailed for two years last month for singing a song in Russia's main cathedral calling on the Virgin Mary to "kick out Putin". Like many of those who supported the sentence, he invoked a stunt by the art group Voina, which one Pussy Riot member took part in, in which a group orgy was staged in Moscow's Biology Museum.
The orgy was never part of the case against Pussy Riot. The interview, on the Kremlin's own television channel, Russia Today, was hardly combative, and it seemed like the President had prepared the group sex comments rather than improvised them.
Most extraordinary of all was Mr Putin's microlight flight to help the rare Siberian cranes begin their winter migration. The President was dressed all in white, although initial reports that he would have to don a fake beak to fool the birds proved false.
Nevertheless, the footage of Mr Putin flying the microlight after sitting pensively and watching the birds, was bizarre enough. The stunt, with its overtones of Icarus, caused a mixture of disbelief and hilarity on the Russian internet, which is used to Mr Putin's antics but has never before responded quite like this.
Was this the moment when the Russian President had morphed from a leader whose stunts were often somewhat absurd but were nevertheless carefully aimed at bolstering his image, into real Emperor's New Clothes territory? It was admitted that the bird plan was Mr Putin's own idea, as apparently are many of his stunts. Western diplomats say they don't know any longer who, if anyone, Mr Putin's key advisers are, and a number of people close to the Kremlin say there is no longer anyone who can stand up to the President or go against his will.
For his part, Mr Putin's spokesman, Dmitry Peskov, expressed bewilderment at the outpouring of vicious sniggering. "The reaction of some of the internet sphere is shocking," said Mr Peskov. "I think many people haven't got over their holiday moods yet and properly looked at the news."
He said that some of the reactions to Mr Putin's bird flight "bordered on insanity". Others suggested the madness was to be found elsewhere.
"The Kremlin press service doesn't know how else it can ensure that citizens finally realise that the national leader has completely lost the f***ing plot," wrote Kermlin, a parody Kremlin Twitter account which has nearly 400,000 followers.
Join our new commenting forum
Join thought-provoking conversations, follow other Independent readers and see their replies