Oleg Sentsov: EU awards human rights prize to Ukrainian filmmaker jailed in Russia
Accused by Moscow of being a terrorist, the dissident filmmaker ended his hunger strike at 145 days earlier this month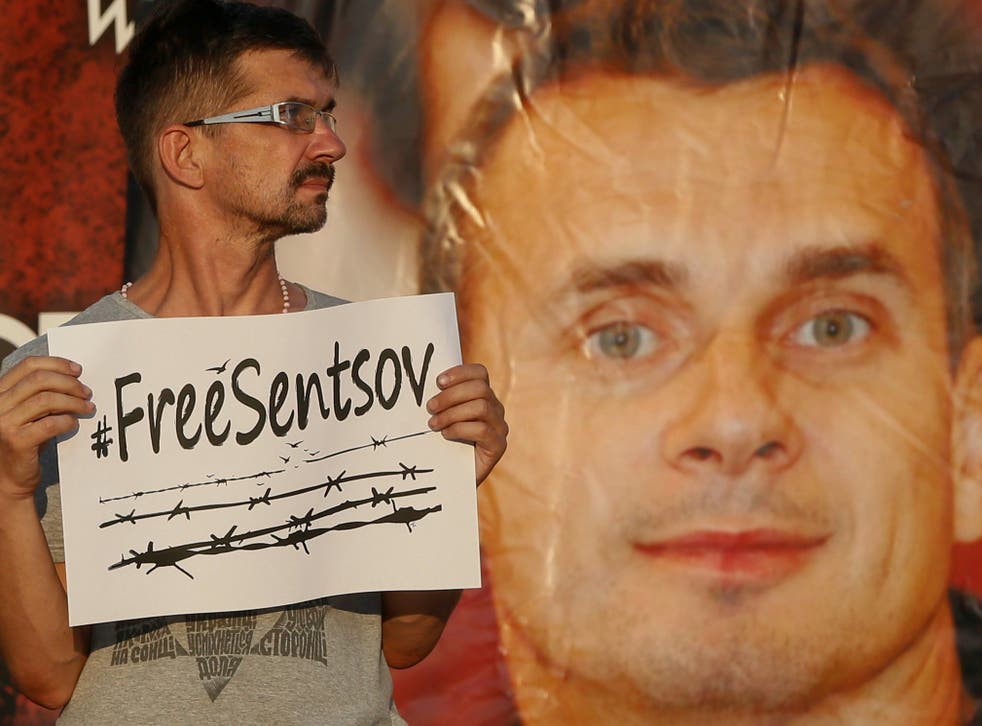 Three weeks after ending a 145-day hunger strike, Oleg Sentsov has been awarded the prestigious Sakharov Prize for Freedom of Thought.
Named after Soviet dissident Andrei Sakharov, it is awarded annually by the European Parliament "to exceptional human rights defenders". It is the first time a Ukrainian has been named, and the decision will be viewed as highly provocative in Moscow.
Mr Sentsov is serving the fifth year of a highly disputed 20-year prison sentence, in one of Russia's most insalubrious prisons in the Yamalo-Nenets region of the Far North.
European parliamentarians previously avoided irking the Kremlin and rejected proposals to award the prize to prominent Kremlin foes like Mustafa Dzhemilev, leader of the Crimean Tatars, and opponent of the Russian annexation of Crimea.
This year's winner was announced by president of the European Parliament, Antonio Tajani, on Thursday. He said Mr Sentsov had been awarded the prize on account of "courage and determination," and called on Russia to release him immediately.
Moscow is unlikely to heed to such calls. Russian President Vladimir Putin has described Mr Sentsov, arrested after opposing Russia's annexation of his native Crimea, as a "terrorist". Negotiations to release or exchange him have stalled.
According to a Russian investigators, the film director and activist co-ordinated two terror attacks in Simferopol, Crimea in spring 2014. The case against him has was never convincing, and the European Court of Human Rights has described his 2015 trial as "politically motivated."
Those who knew him at the time told The Independent that the accusations of terrorism "made no sense". Mr Sentsov implored fellow activists to reject violence, one said.
Mr Sentsov began a hunger strike on 14 May, timing the action to coincide with the start of the World Cup. His demands were the release of 64 Ukrainian "political" prisoners held in Russia. Many saw parallels with the hunger protests of Andrei Sakharov himself. Mr Sakharov eventually got what he wanted: medical treatment for his wife Yelena Bonner.
Support free-thinking journalism and attend Independent events
Mr Sentsov's efforts appeared to end less successfully. After failing to break the Kremlin's resolve, he ended his hunger strike on 6 October, saying he did so to avoid being force-fed. The filmmaker is currently recuperating under medical supervision, although it is not clear if he will ever make a full recovery.
The decision to award Mr Sentsov the human rights prize has already been lauded by Ukraine's prime minister, Petro Poroshenko. It was a "very timely ... signal of support at extremely difficult moment in Sentsov's life," he wrote on Twitter on Thursday.
The award ceremony is due to take place on 12 December in Strasbourg.
Register for free to continue reading
Registration is a free and easy way to support our truly independent journalism
By registering, you will also enjoy limited access to Premium articles, exclusive newsletters, commenting, and virtual events with our leading journalists
Already have an account? sign in
Register for free to continue reading
Registration is a free and easy way to support our truly independent journalism
By registering, you will also enjoy limited access to Premium articles, exclusive newsletters, commenting, and virtual events with our leading journalists
Already have an account? sign in
Join our new commenting forum
Join thought-provoking conversations, follow other Independent readers and see their replies