Oskar Groening: 'Bookkeeper of Auschwitz' pleads to be spared jail over role in murder of 300,000 Jews
SS guard formed part of 'machinery of death' by sorting money collected from luggage of victims transported to Nazi concentration camp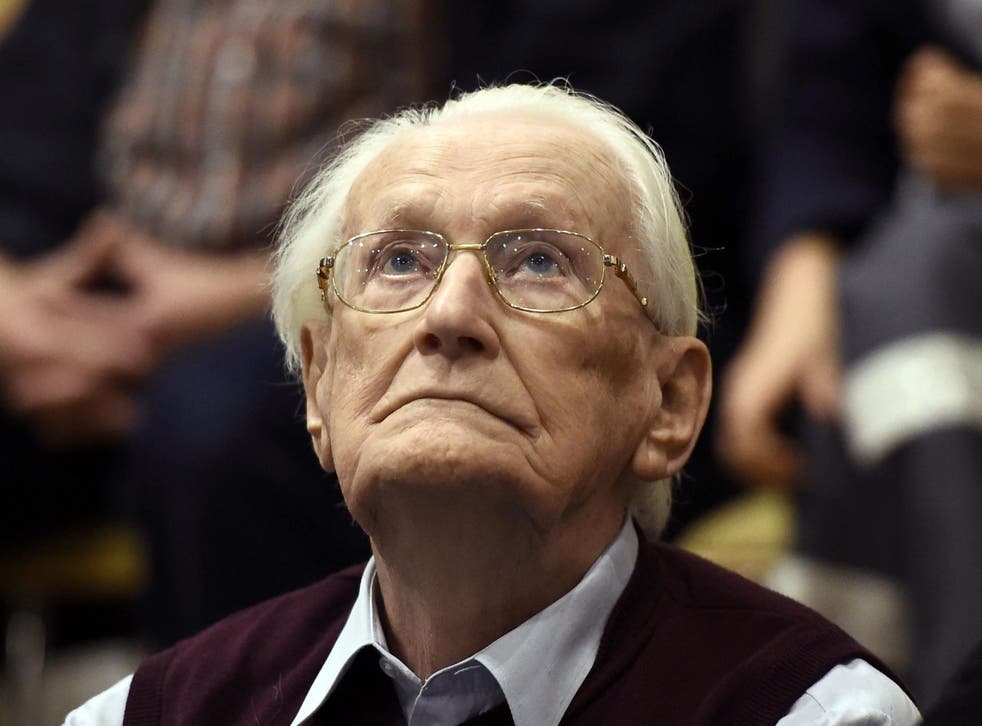 A former Auschwitz guard has pleaded for mercy in a bid to avoid jail for his role in the murder of more than 300,000 people.
Oskar Groening​, known as the "bookkeeper of Auschwitz", was sentenced to four years in prison in 2015 for being an accessory to murder at the concentration camp in Nazi-occupied Poland.
But the 96-year-old German has not yet started his sentence due to a dispute about his health. He has now filed a plea for clemency, a regional justice spokesman said.
​In December, Germany's constitutional court ruled Groening must go to jail, rejecting arguments from his lawyers that imprisonment at his advanced age would violate his right to life and physical safety.
Groening's court battle was seen as one of the last major trials related to the Holocaust, in which six million Jews were murdered by Adolf Hitler's regime.
Prosecutors said Groening – who did not kill anyone himself while working at Auschwitz – had helped support the regime responsible for mass murder by sorting bank notes seized from trainloads of arriving victims.
Groening admitted he was morally guilty for the work he carried out at Auschwitz, which included sending bank notes he found in Jews' luggage to SS offices in Berlin, where they helped to fund the Nazi war effort. But he did not admit participating in any crimes.
However, the court that convicted him ruled he was part of the "machinery of death", helping the camp function and collecting money stolen from the victims to help the Nazi cause.
Remembering the Holocaust

Show all 16
Groening's last legal appeal was rejected at Germany's highest court in December. But the Federal Constitutional Court noted German law allows for prison sentences to be interrupted if a prisoner's health deteriorates significantly.
Doctors have previously declared Groening fit to go to prison as long as there is appropriate medical care.
Christian Lauenstein, spokesman for the justice ministry in the northern state of Lower Saxony, where Groening's 2015 trial took place, said his plea for mercy had been passed on to public prosecutors.
He added: "A plea for clemency does not have a delaying effect such as on starting the prison sentence."
Prosecutors' spokeswoman Wiebke Bethke said her office would likely make a decision on the clemency request this week, in consultation with the panel of judges who convicted ​him.
Join our new commenting forum
Join thought-provoking conversations, follow other Independent readers and see their replies