Paris attack: Police officer Xavier Jugele killed by gunman was at Bataclan during previous Isis massacre
Officer returned to concert hall for re-opening, vowing to 'say no to terrorists'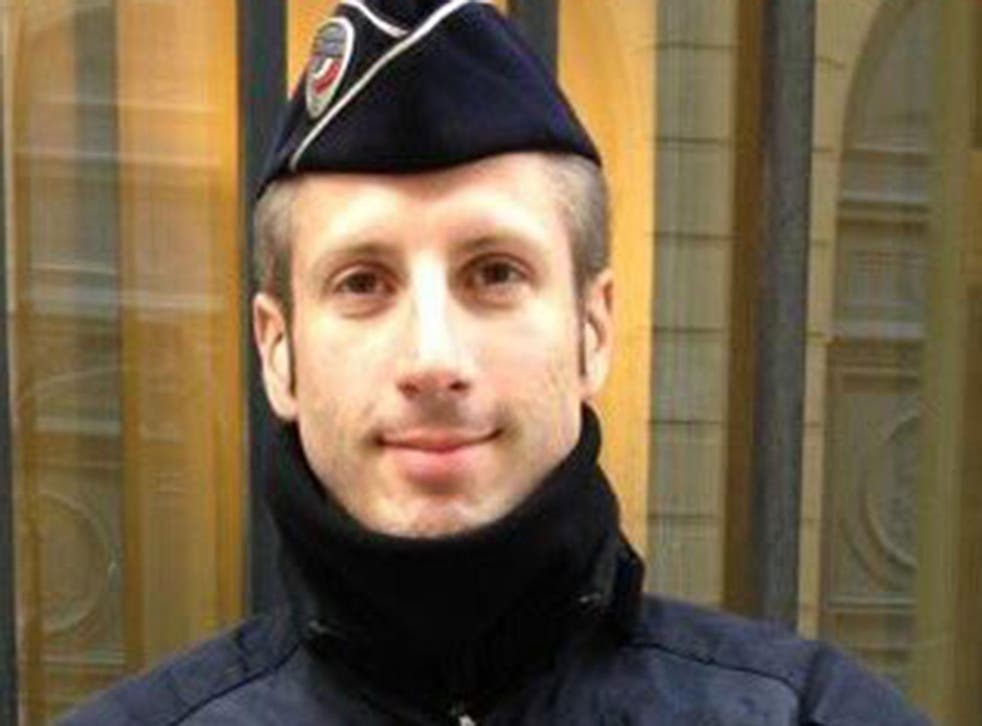 The police officer killed by a gunman in Paris has been identified as a man who responded to Isis' previous attacks on the French capital in November 2015.
Xavier Jugelé, 37, was one of hundreds of officers deployed to the Bataclan as militants massacred 90 people with guns and suicide vests.
He returned to the concert hall for a commemorative event almost a year later, telling journalists he was happy to be part of the "symbolic" reopening.
"We're here tonight as witnesses," Mr Jugelé told People magazine. "Here to defend our civic values. This concert's to celebrate life. To say no to terrorists."
He was shot dead on Thursday night by a gunman who opened fire on a parked police van using a Kalashnikov.
Mr Jugelé died of his injuries and two other colleagues were injured, including a man who needed emergency surgery overnight.
Gunman attack on the Champs-Elysees

Show all 23
Flag, a group representing French LGBT police officers and gendarmes, posted a photo of the officer on social media with the caption: "We will never forget Xavier. RIP."
Colleagues said he was a member of the 32nd company of the Paris police department's public order and traffic division.
They remembered him as a "committed" officer who was "helpful" and "led a good life", leaving behind a partner.
Friends told Marianne magazine he had been in the service for six years and also made two trips to help refugees in Greece.
Mr Jugelé was killed in one of almost a dozen attacks and plots targeting the French security services since 2012, including the murder of a police officer and his wife by an Isis supporter north of Paris, a machete attack outside Le Louvre and an attempted murder at Orly airport.
The main suspect for Thursday's atrocity is Karim Cheurfi, who had an extensive criminal record including the attempted murder of two police officers.
Three of his relatives were detained in searches of his family home in Chelles, although police stressed the move was standard procedure for questioning.
Cheurfi was jailed for attempted murders that saw him shoot two police officers – one during a car chase in 2001 and a second days later after seizing his gun in custody, Le Parisien reported.
At a trial in 2003, Cheurfi was sentenced to 20 years imprisonment, which was later reduced to 15 on appeal, and it was unclear when he was released.
He was also arrested in February as part of a counter-terror investigation - reportedly for threatening police officers - but was released by the courts because of insufficient evidence the following day.
Pierre-Henry Brandet, a spokesperson for the French interior ministry, described the suspected gunman, who has not yet been officially named, as an "individual known by the judiciary and police services – a dangerous individual".
Isis swiftly claimed responsibility for the attack, claiming it was carried out by a "fighter of the Islamic State" given the war name Abu Yusuf al-Baljiki, indicating he had links with Belgium.
The murder, coming just days before the French presidential election, is expected to affect the vote as far-right candidate Marine Le Pen seeks to gain ground.
Register for free to continue reading
Registration is a free and easy way to support our truly independent journalism
By registering, you will also enjoy limited access to Premium articles, exclusive newsletters, commenting, and virtual events with our leading journalists
Already have an account? sign in
Register for free to continue reading
Registration is a free and easy way to support our truly independent journalism
By registering, you will also enjoy limited access to Premium articles, exclusive newsletters, commenting, and virtual events with our leading journalists
Already have an account? sign in
Join our new commenting forum
Join thought-provoking conversations, follow other Independent readers and see their replies