Paris attack: Police and security powers extended across Europe after massacre
Director of the police agency Europol admits that Europe is likely to face further Isis attacks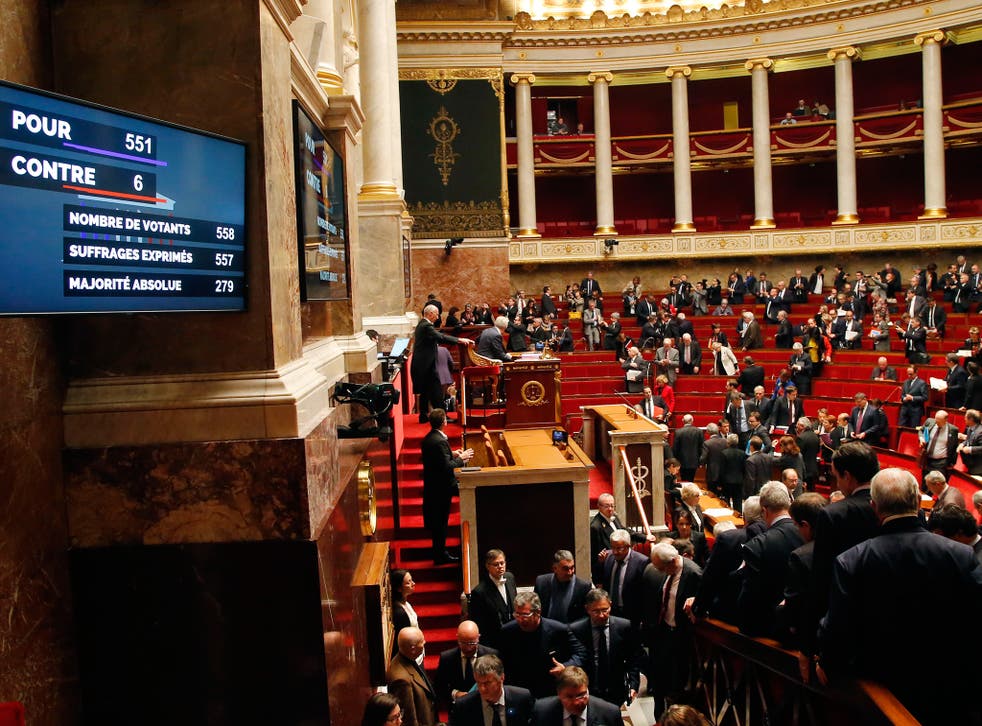 Across Europe plans to curb civil liberties and reintroduce border controls have been announced, following the Paris massacre.
Announcing plans to extend France's state of emergency by three months, Prime Minister Manuel Valls warned that the country faced a "risk" of chemical attack by jihadists.
Mr Valls said the "macabre imagination" of Isis was "limitless". Members of the National Assembly overwhelmingly approved a first reading of a law to impose a three-month state of emergency, which will suspend some civil liberties and give police sweeping powers of search, arrest and detention.
Officials said later that there was no reason to suspect an immediate threat of a chemical or biological attack but that Mr Valls thought it necessary to place the country on guard. Successful amendments by the centre-right opposition hardened the proposals by giving the government the right to close websites which advocate terrorism and to fit electronic tags to suspects placed under house arrest.
Mr Valls also announced that the government would soon open a holding camp for "young radicals" who had decided to "repent". The centre would not be an internment camp for Islamist suspects or for French-born jihadis returning from the Middle East, he said.
The State of Emergency law – which now goes to the Sénat – gives the government power to search and arrest on "suspicion" without need for a formal investigation or a warrant from a judge. Some left-wing politicians and commentators have expressed fears that France is going down the same authoritarian road as the post 9/11 Patriot Act in the US.
The draft law also gives the government power to ban public demonstrations. Among the first victims will be two marches planned during a global climate conference in Paris from 30 November.
The government points out, however, that it has excluded control of press, radio and TV and limits on defence lawyers access – all of which were used after the original "emergency powers" law was introduced during the Algerian civil war in 1955. This – the second time that a state of emergency has been declared since then – is first time parliament has been asked to impose it for as long as three months.
In Brussels, Prime Minister Charles Michel unveiled plans to spend €400m (£280m) on measures to deal with home-grown terrorism threats, including jail for fighters returning from Syria and electronic tagging for suspected radicals. "We need to do more, we need to do better," Mr Michel told the Belgian parliament just hours after police launched raids on suspects across the capital.
The proposals provide Belgium's intelligence and security services with more staff and new technologies. Prosecutors will have the power to take suspected terrorists into temporary custody for 72 hours, up from 24.
Mr Michel also rejected implied French jibes over security lapses. "I do not accept the criticisms which are aimed at denigrating the work of our security services," he said. The government also issued a private diplomatic protest to Paris, arguing that homegrown jihadism is as much a problem for France as it is for Belgium.
Meanwhile, the director of the police agency Europol, has admitted that Europe is likely to face further Isis attacks. Speaking to the European Parliament, Rob Wainwright said Paris represented a "very serious escalation", and a "more sophisticated and threatening" enemy than ever before.
Europol has a list of 2,000 people who are known to have travelled to fight in Syria and Iraq, although Mr Wainwright admitted the true figure could be as high as 5,000. He said the database held 10,000 names, of which 2,000 were confirmed fighters the rest were suspects or facilitators.
He said Europol would "upgrade its capabilities" to tackle the problem by opening a new EU-wide counterterrorism centre next January.
Today, Sweden will propose to the EU the introduction of biometric passport controls at the borders of the passport-free Schengen zone.
Join our new commenting forum
Join thought-provoking conversations, follow other Independent readers and see their replies