Paris attacks anniversary: Parisians say the pain is still 'palpable' as they pay homage to victims
The day of mourning culminated in hundreds of lanterns being lit and set afloat along the canal close to the bars and restaurants targeted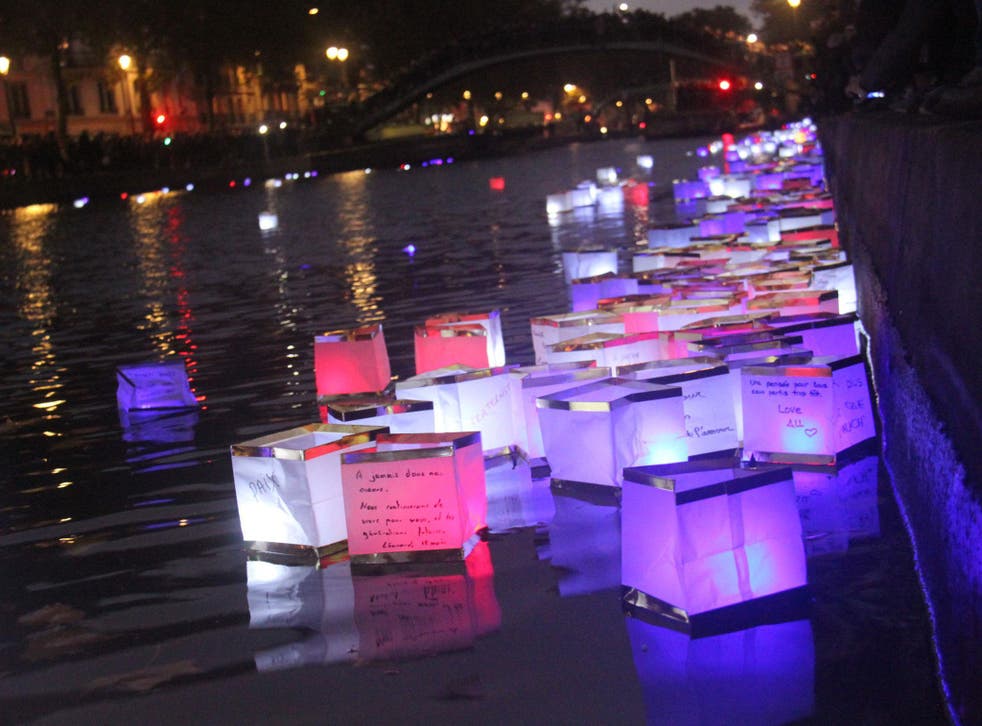 Red, white and blue paper lanterns have been set afloat on Paris's Canal Saint Martin in a moving homage to the 130 victims of last year's terror attacks as Parisians are still struggling to come to terms with the tragic events.
The ceremony closed an emotional day of mourning after French President François Hollande joined survivors and families of the fallen at all six of the places targeted by Islamic State in series of short commemorative events.
The day culminated in hundreds of lanterns being lit and set sail along the canal just steps from where Le Petit Cambodge restaurant and Le Carillon bar were targets, as crowds looked on in silence.
Despite the solidarity, Anne-Charlotte, who lives in the 10th arrondissement, said that the city's pain is still "palpable".
She told The Independent: "I walk pass the Petit Cambodge everyday, it's hard not to think about it, it really hit everyone living in the area."
"The lantern ceremony acts like a healing action, it helps us to move on with our lives and go out again. For the first few months it was hard to be outside without thinking about it."
Paris attacks anniversary: Bataclan survivors remember the terror
Geraldine, another local, said the ceremony adds some "sweetness" to the pain following the atrocities.
"Life goes on but there are important moments and today is one of them. I think tomorrow people will go on with their daily lives, but against a backdrop of insecurity," she said.
Geraldine added that the attacks brought the neighbourhood closer together.
"The attacks created a certain intimacy and solidarity, I now feel like I am living in a village, which is rare in a city like Paris."
The lantern ceremony was inspired by a Hindu tradition and supported by victims association Toujours Paris [Always Paris] and Fraternite Verite [Brotherhood and Truth].
"According to some traditions, the lanterns symbolise people that have passed away in the year preceding the ceremony", the organisers said.
Over the last two years France has experienced unspeakable loss.
The country has been on the receiving end of a spate of large terror attacks, from the shootings at Charlie Hebdo in January 2015, to the attack in Nice that killed 86 people on Bastille day in July. The same month, two French-born radicalised teenagers killed an elderly priest in Normandy.
Prime Minister Manuel Valls on Sunday said France is likely to extend the state of emergency implemented after the attacks last year.
The world mourns Paris attacks - in pictures

Show all 25
"It is difficult today to end the state of emergency. Especially since we are going to begin a presidential campaign in a few weeks with meetings, with public gatherings. So we must also protect our democracy" Mr Valls said.
On Saturday, a concert by British pop star Sting marked the reopening of the Bataclan theatre, where 90 people lost their lives. A year on, a single bullet hole in the wall of the front of the theatre serves as a reminder of the horror of November 13 as do the flowers still tied to barriers surrounding the venue
Join our new commenting forum
Join thought-provoking conversations, follow other Independent readers and see their replies