Paris attacks: Pregnant woman who was filmed hanging from Bataclan theatre window ledge is 'doing well'
The pregant woman's loved ones managed to track down the man who saved her Twitter, and found he also survived the attacks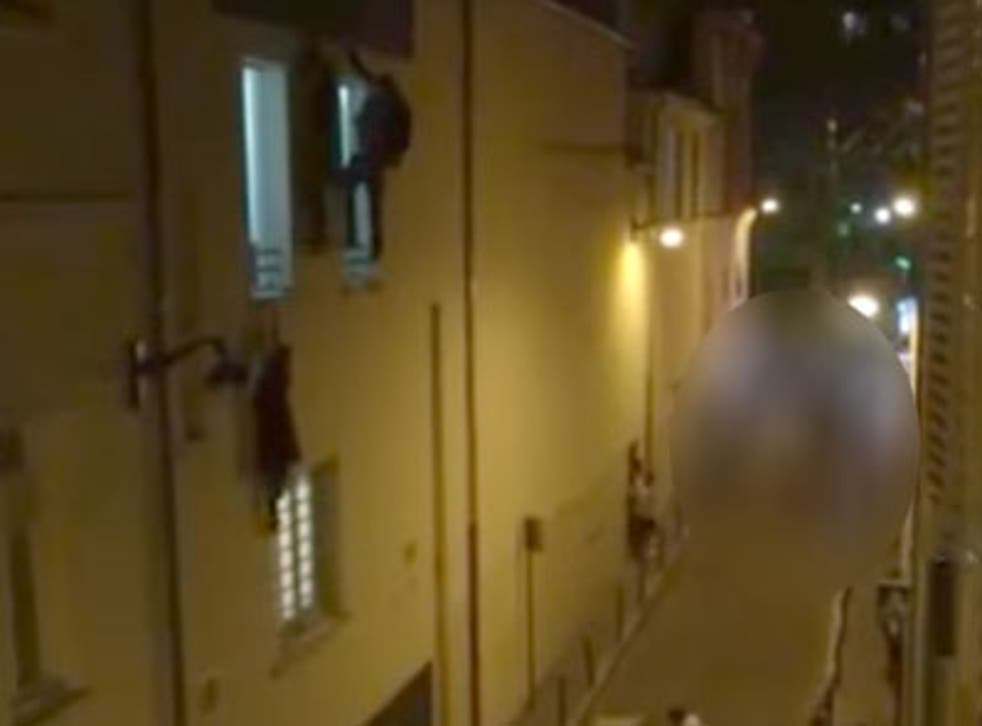 A pregnant woman who was filmed hanging from a window ledge by her fingers at the Batclan theatre on the night of the Paris attacks is reportedly doing well, as is her unborn baby.
A dramatic video of people fleeing the concert venue after the shooting began was filmed by someone who lived on the street, and was shared widely on social media.
Among the escaping concertgoers was one woman, holding on to a second floor window ledge, shouting: "I'm pregnant."
In the panic a man came to her aid, holding his hand out the window to pull her back inside.
The woman has remained anonymous, but her friend, Frans Torreele, told The Huffington Post France that both she and her baby are doing well.
Torreele said: "She wanted to thank everyone who helped her, in particular the man who quickly held out his hand and helped her back up."
In pictures: Paris attacks

Show all 25
After the chaos had subsided, her loved ones took to Twitter in an effort to find the man who saved her.
Amazingly, the man, who is also remaining anonymous, was found.
Torreele said the man's brother contacted her, and he and the pregnant woman exchanged numbers.
"He too is doing well, and that's essentially what we wanted to know," she said.
"She was saved thanks to a succession of small gestures, a little bit of attention, and, in this moment of total craziness, these minuscule gestures accomplished big things," Torreele said.
129 people were killed in Friday's attacks, most of them at the Bataclan theatre.
Most of the attackers died on Friday, but the suspect Salah Abdeslam, who hired the car which parked outside the theatre before the attack began, is still on the run.
Join our new commenting forum
Join thought-provoking conversations, follow other Independent readers and see their replies