Paris attacks: President Barack Obama visits Bataclan to honour terror victims
Obama was joined at the site by French President Francois Hollande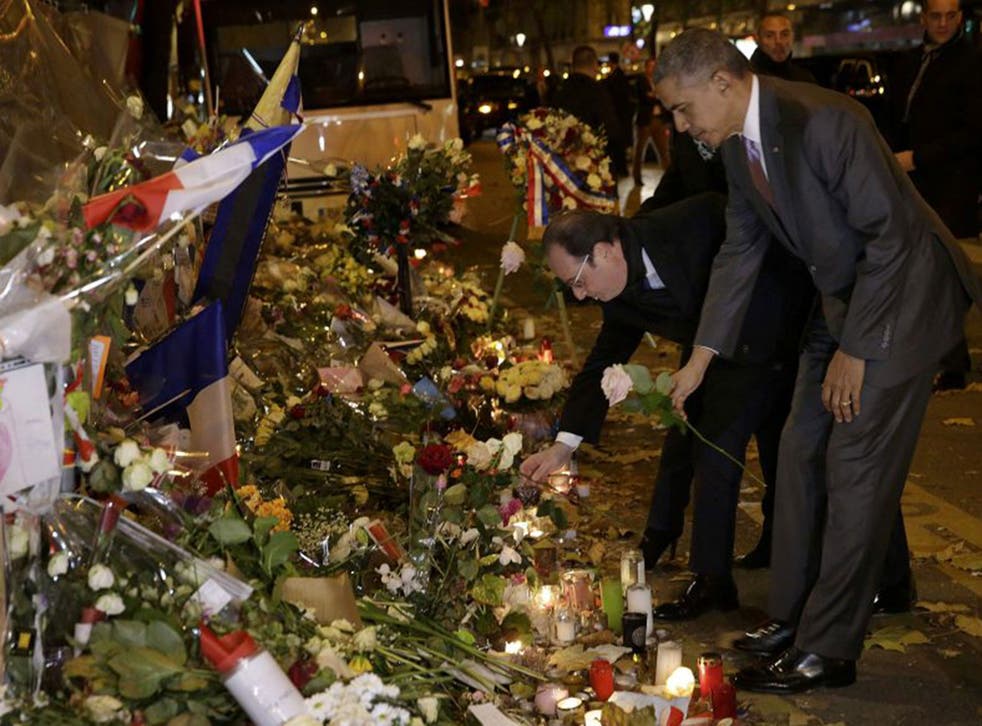 President Barack Obama paid tribute to the victims of the Paris attacks on Monday shortly after arriving in the city, visiting the Bataclan, the concert hall where the deadliest attacks took place during the onslaught.
Obama, who is in town for international talks to curb climate change, was joined at the site by French President Francois Hollande not long after Air Force One touched down around midnight local time.
The Eiffel Tower was lit up in green and environmentally conscious messages projected on the monument as Paris prepares to host critical talks on reducing global warming.
UN Secretary-General Ban Ki-moon participated in a ceremony beneath the tower Sunday along with actress Marion Cotillard and artist Naziha Mestaoui to light up the tower like an enormous metallic tree.
Ban will launch two weeks of climate talks aiming at a long-term global agreement for all countries to reduce man-made emissions that heat the planet.
REUTERS
Register for free to continue reading
Registration is a free and easy way to support our truly independent journalism
By registering, you will also enjoy limited access to Premium articles, exclusive newsletters, commenting, and virtual events with our leading journalists
Already have an account? sign in
Register for free to continue reading
Registration is a free and easy way to support our truly independent journalism
By registering, you will also enjoy limited access to Premium articles, exclusive newsletters, commenting, and virtual events with our leading journalists
Already have an account? sign in
Join our new commenting forum
Join thought-provoking conversations, follow other Independent readers and see their replies