Paris attacks suspect Salah Abdeslam refuses to answer questions in Belgian court: 'Do as you want with me'
Isis militant on trial over gun battle with police while he was on the run in Belgium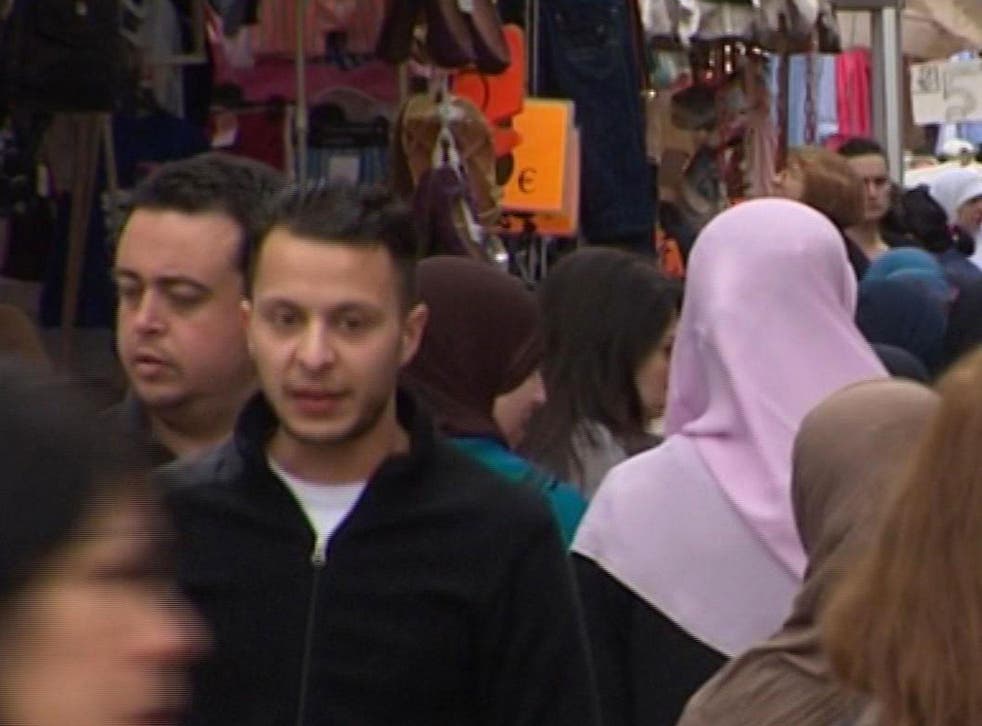 The only surviving member of the Isis cell that carried out the Paris attacks has refused to answer questions as a trial over a gun battle with police opened in Brussels.
Salah Abdeslam became the world's most wanted terrorist when he fled the massacres of 13 November 2015, calling friends to drive him back to Belgium after his own brother blew himself up at a restaurant.
The 27-year-old passed through a police checkpoint unhindered and disappeared with the suspected help of accomplices linked to the criminal underworld, where he was formerly known as a drug dealer and thief.
The trail went cold until March 2016, when Belgian and French police stormed what they believed was an empty terrorist safe house in the Brussels district of Forest.
But they were met by a hail of bullets from a militant armed with a Kalashnikov, who was shot dead as two suspects fled across surrounding rooftops.
A search of the flat resulted in the recovery of Abdeslam's fingerprints on a glass, convincing authorities that he was still in Brussels, and the renewed search led police to his hideout just metres from his former home in Molenbeek.
Abdeslam has been charged with involvement in the Paris attacks, while he and suspected accomplice Sofiane Ayari were separately charged with attempted terrorist murder over the gun battle in which Algerian Isis militant Mohamed Belkaid was killed.
Suspects linked to Paris attackers sentenced in Belgium
At Monday's hearing, Abdeslam refused to stand when told to rise and identify himself, adding: "I do not wish to answer questions."
Citing his right to silence and declaring his Muslim faith, he accused the media of condemning him before his trial: "Judge me. Do as you want with me," he told the judge. "I put my trust in my Lord."
After a first session during which his alleged accomplice admitted to having fought for Isis in Syria and said both accused were present during the shootout with Brussels police, the judge again asked Abdeslam to speak.
"I remain silent. That is a right which I have," he said, adding: "My silence does not make me a criminal or guilty. I am defending myself by remaining silent."
Abdeslam asked the prosecution to base itself on forensic evidence "and not swagger about to satisfy public opinion", adding: "Muslims are judged and treated in the worst kind of ways. They are judged without mercy. There is no presumption of innocence.
"I'm not afraid of you, I'm not afraid of your allies. I place my faith in Allah."
His participation in the November 2015 attacks will be the subject of a separate trial in France.
Abdeslam has previously refused to speak to investigators about the shooting and bombing attacks that left 130 victims dead.
In pictures: Paris attacks

Show all 25
The precise role of Abdeslam, a former small-time criminal who helped run his brother's bar in Molenbeek, is unclear but he is suspected of helping manufacture explosives, hiring cars, renting hideouts and transporting jihadists for the 13 November attacks.
Investigators believe he drove three suicide bombers to the Stade de France before travelling to the 18th arrondissement and abandoning the hire car in Place Albert Kahn.
Isis' initial claim of responsibility listed an attack in the district that never materialised, and a suicide vest later found in a bin in Montrouge fuelled speculation that Abdeslam had violated orders and fled.
Just four days after his eventual capture, Isis militants struck in Brussels.
Mohamed Abrini, a childhood friend of Abdeslam who was filmed with him at a petrol station two days before the Paris attacks, was among the bombers but failed to detonate his device and went on the run.
He became known as "the man in the hat" after footage showed him fleeing Brussels airport, and was arrested in the Belgian capital weeks later.
The complex web of connections between the terrorists behind the Paris and Brussels attacks has led to analysts dubbing the group a "supercell", which had been dispatched by Isis commanders in Syria with specific roles drawing on their criminal past.
Paris attacks ringleader Abdelhamid Abaaoud, Abdeslam and his brother Ibrahim were all involved in crime in the Brussels suburb of Molenbeek – with Abdelhamid and Salah jailed together in 2010.
Abdeslam was also known to be friends with Najim Laachraoui, the bomb-maker for the Paris and Brussels attacks, who blew himself up at Brussels Airport, and travelled to Hungary with Abdeslam and Belkaid in September 2015.
The raided flat where Abdeslam and Ayari hid in Rue du Dries, Forest, had been rented by Brussels metro bomber Khalid el-Bakraoui, who also procured another flat used as a rendezvous ahead of the Paris attacks in Charleroi.
The property contained DNA traces of both Abdeslam brothers, Stade de France bomber Bilal Hadfi, Abaaoud and Chakib Akrouh, who both died during a raid by Paris police five days after the attacks.
​Abdeslam denied previous knowledge of the Brussels bombings, but investigators have suggested the perpetrators may have been rattled by his arrest and struck early.
His reluctance to engage with the court may prove a disappointment to Parisians who hoped he might end more than two years of silence to give some indication of how and why the attacks were organised.
"We want to see what elements will be provided in order to have a better understanding of this series of events and terror attacks, in France and in Belgium," said Guillaume Denoix de Saint Marc, a member of V-Europe, a victims' association.
"This trial is one of the pieces of a global puzzle, which will answer some of our questions. But at the same time, we expect to be disappointed and to learn nothing."
Additional reporting by agencies
Join our new commenting forum
Join thought-provoking conversations, follow other Independent readers and see their replies