Brexit: Paris business district launches campaign to lure UK companies after EU withdrawal
'Tired of the fog? Try the frogs. Choose Paris La Defense,' says advertising campaign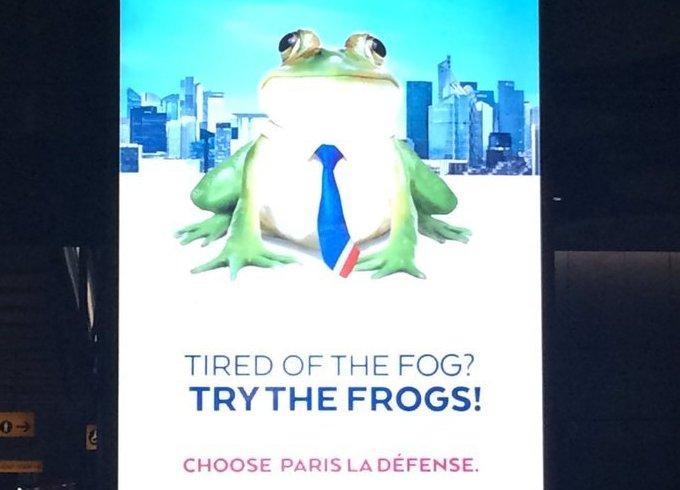 Paris's financial district has launched an advertising campaign with the aim of attracting business from London to the French capital following the Brexit vote.
Billboards showing a green frog wearing a tie sporting the colours of the French flag above the slogan: "Tired of the fog? Try the frogs. Choose Paris La Defense" have been put up in London Heathrow Airport and St Pancras train station in a bid to lure UK business to La Defense, a major business district in the west of the city.
Officials from La Defense said the campaign, launched on Monday, aimed to underscore the attractiveness of Paris for business in the wake of the Leave vote, adding that although Brexit was "regrettable", the French capital had to use it as a way to promote itself.
Patrick Devedjian, head of the elected council representing the Hauts-de-Seine district where La Defense is located, said in a statement: "As regrettable as Britain's exit from the European Union may be, we have to be pragmatic and promote our own assets."
Meanwhile Marie-Celie Guillaume, CEO of Defacto, a public institution managing the business area of La Defense area, told Le Monde: "The Brexit is a real opportunity for Paris-La Défense.
"A number of international companies now settled in London will likely seek to relocate, including banking, finance and insurance."
In reaction to the advert, mounted on a billboard in Heathrow Airport, one traveller said: "Paris getting sassy in its we're-better-than-London advertising". Another tweeted that the campaign was "adopt[ing] cliches to lure City workers".
What experts have said about Brexit
Show all 11
London contains 85 per cent of European-based hedge funds. Switzerland and Paris are its closest European competitors.
In July France's Prime Minister Manuel Valls said the government was working on new initiatives to lure major international firms from London to Paris following the vote for a Brexit, adding that while he didn't want Britain to vote to leave the EU it could be an opportunity for Paris.
Join our commenting forum
Join thought-provoking conversations, follow other Independent readers and see their replies