Paris stabbing Isis attack victim 'made entire thing up'
The Paris prosecutor has announced that the teacher who was apparently attacked in an Isis-related stabbing had fabricated the story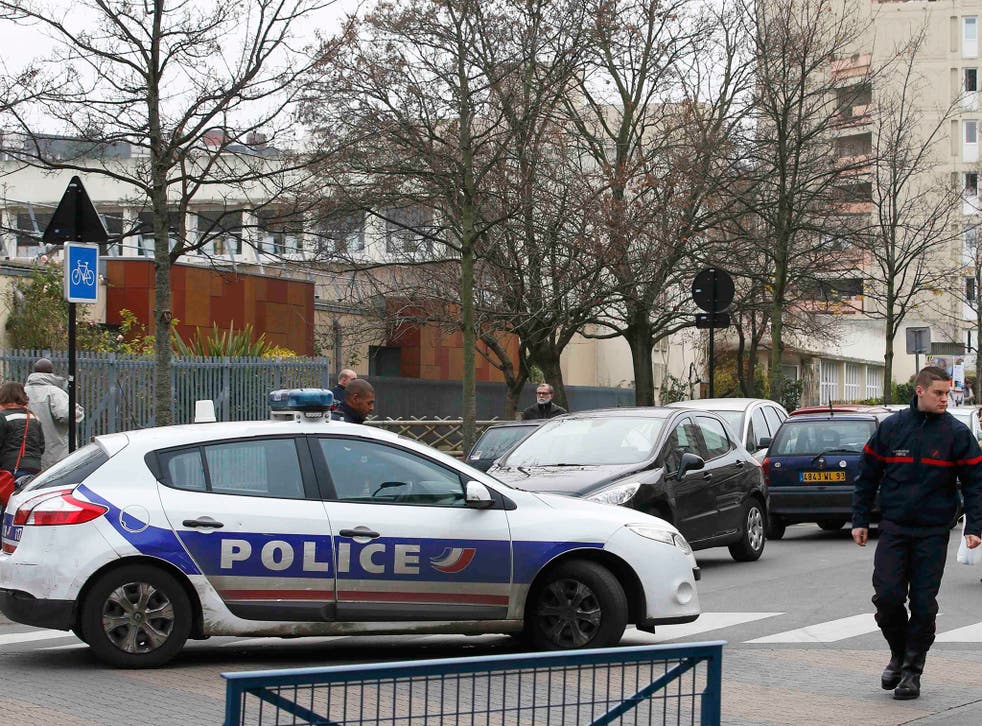 The Paris teacher who was apparently stabbed in the neck by an assailant who shouted pro-Isis slogans made their story up, French prosecutors have announced.
The teacher claimed he had been attacked in a classroom at the Jean Perrin d'Aubervilliers school in the north of Paris by a balaclava-wearing attacker who shouted "it is for Daesh [another term for Isis], this is a warning," before fleeing on foot.
The 'victim' said he had been stabbed in the neck and stomach with a pair of scissors and a box-cutter knife early on Monday morning. He was taken to hospital with non-life-threatening injuries.
In pictures: Paris stabbing

Show all 8
The incident sparked a manhunt for the attacker, but Paris prosecutors have now said the teacher's story was fabricated. Authorities believe that his minor injuries were self-inflicted.
A hearing has been opened to determine the unclear motives of the injured teacher and the other staff member who confirmed the attack.
Before prosecutors announced that the story had been made up, police officials raised questions about the attack. Speaking to French newspaper L'Express, Gregory Goupil from the Alliance police union said: "This method seems rather unusual for a terrorist group. It is not yet ruled out that the attacker is a completely independent individual who does not enjoy all of his mental faculties."
Local officials said that the 45-year-old teacher, who had worked at the school for 20 years, was being questioned by police.
The false report comes as France remains in a state of emergency following the Isis attacks in central Paris on 13 November, which left 130 people dead.
Isis propaganda videos and texts have recently warned that French schools might be the next target. French education minister Najat Vallaud-Belkacem visited the school in the wake of the incident, saying: "This is an act of enormous gravity... We will continue to tighten security because, yes, schools feel that they are under threat."
Strict security measures have been imposed at French schools since previous attacks in January, with doors locked during the day, ID checks for visitors and random bag searches.
Parents dropping off children are no longer allowed to linger at the school gates, and children are not allowed to wait outside for the doors to open.
Join our new commenting forum
Join thought-provoking conversations, follow other Independent readers and see their replies