Paris prosecutor opens terror probe after 'Isis flag' found on body of Barbes police station attacker
A piece of paper was found on the body, carrying a 'clear written claim in Arabic' and an Isis emblem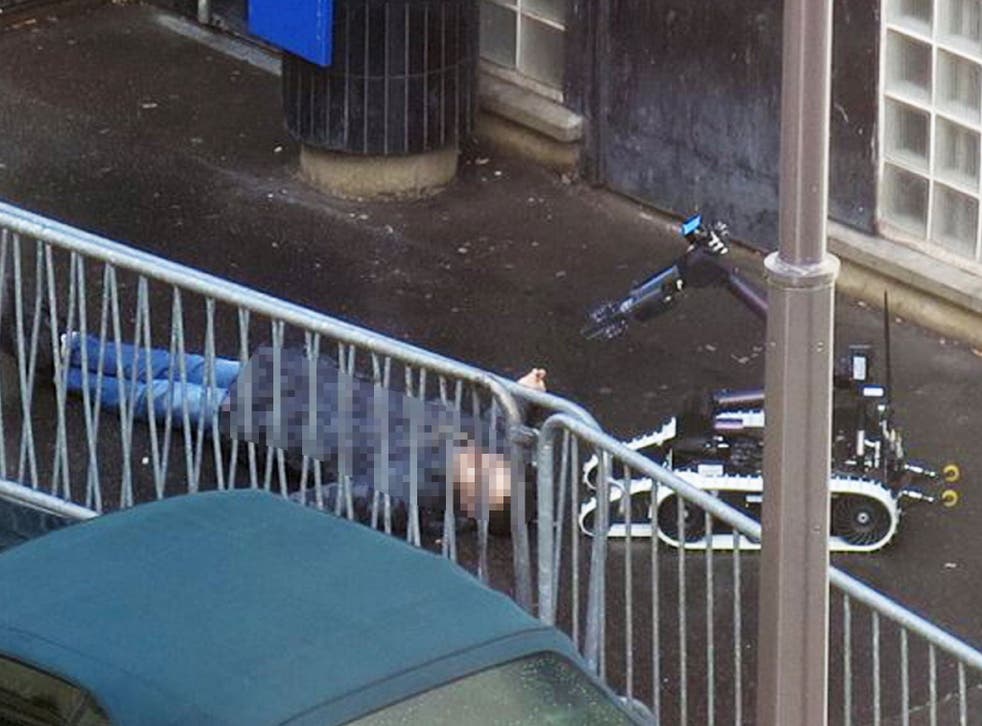 A terror investigation has been opened into the death of a man outside a police station in Paris, after he was found to be carrying a note appearing to claim the attack on behalf of Isis.
The man charged at armed officers outside the station in the Barbes neighbourhood of northern Paris, wielding a large butcher's knife and wearing what was later discovered to be a fake bomb vest.
Eye witnesses said the man shouted "Allahu akbar" before he was shot three times by police, killing him on the pavement. Officers searched the local area but, finding no accomplices or other attackers, later lifted restrictions on local transport routes.
Apart from one minor injury to a police officer the attack appeared entirely in vain, and it was only confirmed that the incident was being treated as "terrorism" after a search of the body.
"A mobile phone and a piece of paper, on which appear the Daesh [Isis] flag and a clear written claim in Arabic, were found on the individual," said Francois Molins, the Paris prosecutor, in a statement.
At this stage, investigators have said nothing to suggest the failed attack was coordinated from outside France – or to explain why only a fake vest was used.
But the incident came on the anniversary of attacks at the offices of the Charlie Hebdo magazine and elsewhere when three gunmen killed 17 people.
Barbes resident Nora Borrias was unable to get to her home because of the police barricades set up after the 11.30am shooting on Thursday. She told reporters: "It's like the Charlie Hebdo affair isn't over."
In pictures: Paris police shooting

Show all 10
In what seems a strange coincidence, the shooting took place just minutes after the French President Francois Hollande, speaking elsewhere in the capital, praised police for their bravery in the line of duty.
Marking the Charlie Hebdo anniversary, Mr Hollande said officers die protecting others "so that we can live free". Three members of the force were killed in last January's shooting.
In his speech, Mr Hollande said a "terrorist threat" continues to weigh on the country, and called for better surveillance of "radicalised" citizens who join jihadist groups before returning to France.
"We must be able to force these people - and only these people - to fulfil certain obligations and if necessary to put them under house arrest... because they are dangerous," he said.
Join our new commenting forum
Join thought-provoking conversations, follow other Independent readers and see their replies