Charlie Hebdo video: Shocking footage from witness shows Paris gunmen on rampage as policeman is shot
Another video shows journalists hiding from gunmen on roof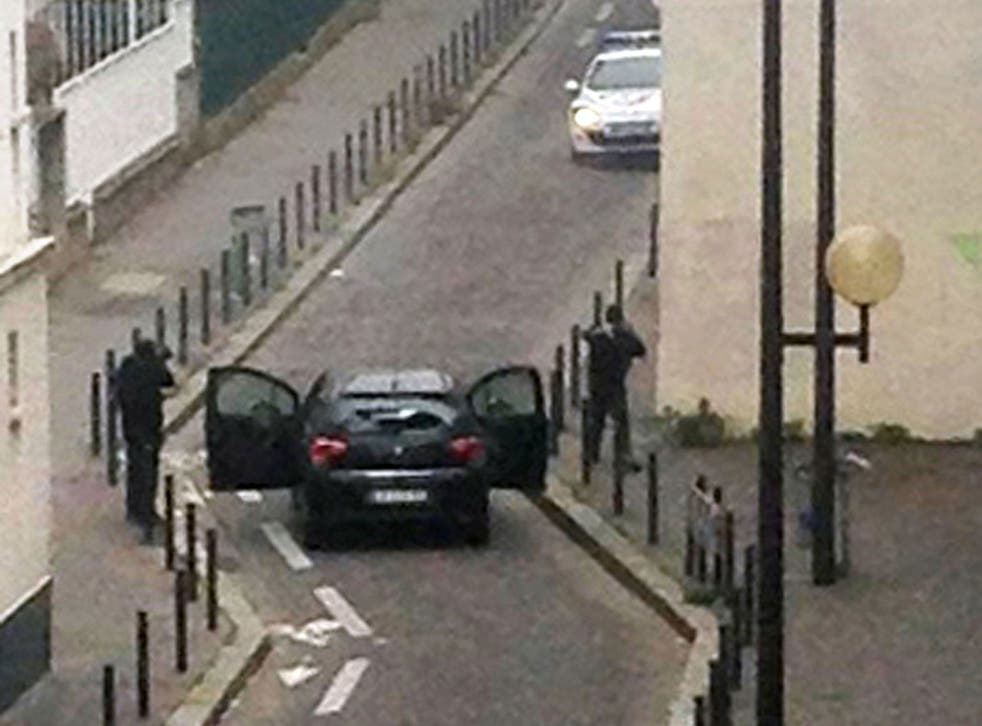 A video appearing to show shots being fired at a policeman near the Paris office of French satirical weekly Charlie Hebdo, where 12 people have been killed, has emerged.
The shocking footage, which was posted on social media by a person believed to be a witness but has since been removed, appears to show a policeman on the floor.
Two men wearing balaclavas and armed with guns run past and appear to shoot him before getting in a car and driving off.
The video, which is filmed from above, has not been independently verified. The Independent has chosen not to show the moment the victim is shot twice by his attackers.
In another video, filmed from the roof of a building close by, shots can clearly be heard in the background. The group filming the exchange are hiding behind a low wall.
The footage is understood to have been taken by Premieres Lignes journalist Martin Boudot. Reports say shouts of "Allahu akbar" can also be heard.
A Paris police spokesperson told The Guardian some people fled to the roof after the attackers opened fire.
The Charlie Hebdo magazine published a controversial series of cartoons depicting the Prophet Mohammed in 2012.
The latest post sent by the Charlie Hebdo Twitter account was a picture of the Isis militant group leader, Abu Bakr al-Baghdadi.
The gunmen sped off in a car after the attack.
Register for free to continue reading
Registration is a free and easy way to support our truly independent journalism
By registering, you will also enjoy limited access to Premium articles, exclusive newsletters, commenting, and virtual events with our leading journalists
Already have an account? sign in
Register for free to continue reading
Registration is a free and easy way to support our truly independent journalism
By registering, you will also enjoy limited access to Premium articles, exclusive newsletters, commenting, and virtual events with our leading journalists
Already have an account? sign in