Women's rights activist charged for taking part in Polish abortion protests
Marta Lempart charged with insulting a police officer among other alleged offences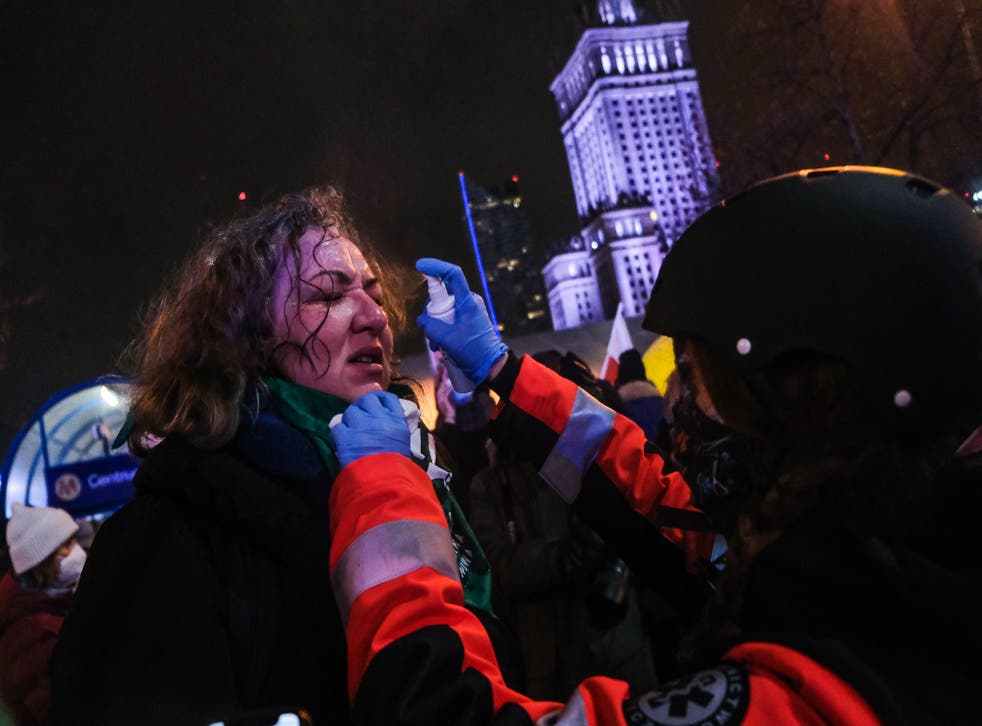 A woman's rights activist involved in protests against the widely criticised near-total abortion ban in Poland has been charged.
In recent months Poland has been rocked by the largest protests since the collapse of communism after the government unveiled plans to further tighten already restrictive abortion laws last October - with demonstrations erupting again last month after the court's justification for the original ruling was enshrined into law.
Marta Lempart, a leader of the Polish Women's Strike, which has led mass nationwide protests against the ban, told The Associated Press on Thursday she was formally read the charges at the district prosecutor's office in Warsaw a day earlier.
The charges against Ms Lempart include insulting a police officer and causing an epidemiological threat for organising protests during the coronavirus pandemic. Under Polish law, a person can face from six months to eight years of imprisonment for causing an epidemiological threat.
The activist was also charged with praising the vandalism of churches and the "malicious obstruction" of religious services after favourable comments in a radio interview about protesters who had sprayed paint on church facades and disrupted Masses during their protests.
Ms Lempart said she sees the charges as an intensification of political pressure on the movement.
During the initial Autumn protests, human rights campaigners warned police applied excessive force to peaceful protesters who were "arbitrarily detained" without being allowed to have access to lawyers.
Concerns about the erosion of democratic standards in Poland have been frequently raised by the European Union, while members of the European Parliament have condemned the new abortion policy.
While having a pregnancy terminated in Poland is illegal except in cases of rape, incest, when a female's life is at risk, or if there is a severe foetal abnormality, abortions, even in cases of foetal defects, are now illegal under the new measures.
The ultra-conservative ruling nationalist Law and Justice (PiS) party, which came to power five years ago on a promise to instil more traditional values, is founded on a socially backwards, Catholic ideology and has rolled back female reproductive rights.
Many protesters have previously been charged for taking part in the protests - with Ms Lempart saying the courts have dropped the charges in almost all of the cases.
Speaking to The Independent at the end of last month, Antonina Lewandowska, an abortions' rights activist based in Warsaw, said: "It amounts to torture in the middle of Europe. This is about forcing women to give birth to a foetus that won't survive or will be born with a severe disability for the rest of its life. It may not have several body parts - children are sometimes born without eye sockets. It is a nightmare."
Ms Lewandowska, who works for the Federation of Women and Family Planning, a Polish NGO which works with the United Nations and the European parliament, said in some cases parents will be raising a child who cannot speak or move and has no brain consciousness, as she warned the government had "sentenced women" to torture.
Additional reporting by Associated Press
Register for free to continue reading
Registration is a free and easy way to support our truly independent journalism
By registering, you will also enjoy limited access to Premium articles, exclusive newsletters, commenting, and virtual events with our leading journalists
Already have an account? sign in
Register for free to continue reading
Registration is a free and easy way to support our truly independent journalism
By registering, you will also enjoy limited access to Premium articles, exclusive newsletters, commenting, and virtual events with our leading journalists
Already have an account? sign in
Join our new commenting forum
Join thought-provoking conversations, follow other Independent readers and see their replies