Controversial Poland abortion ruling turns women into 'walking coffins', say campaigners
'It is terrifying when you pick up the phone to women who are alone and crying into the phone asking what to do,' says activist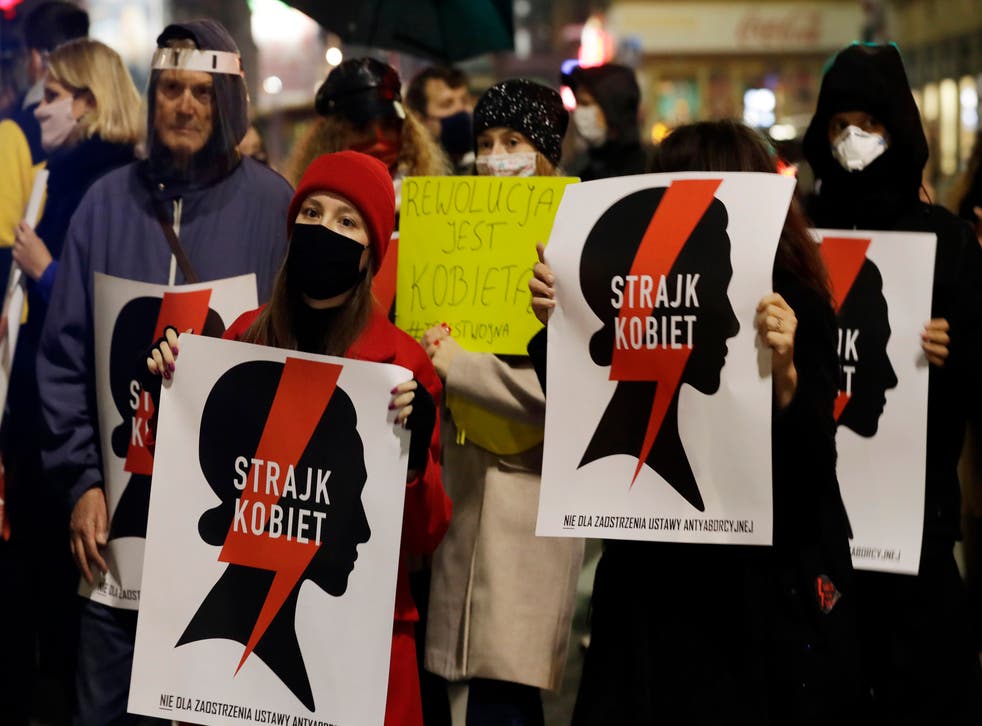 "The government is turning women into walking coffins by forcing them to carry malformed pregnancies to term," Antonina Lewandowska, an abortions rights activist based in Warsaw, tells The Independent. "It puts women's life at risk. It is incredibly dangerous. The government will be torturing women."
Poland has been catapulted into chaos in the wake of last month's hugely controversial court ruling, which amounts to an almost total ban on abortion. The eastern European country has been rocked by the largest protests since the collapse of communism - with police shutting down protesters blocking a street in Warsaw on Monday in what was the 19th consecutive day of demonstrations.
While having a pregnancy terminated in Poland is illegal except in cases of rape, incest, when a female's life is at risk, or if there is a severe foetal abnormality, the court has now ruled abortions, even in cases of foetal defects, are illegal.
Ms Lewandowska, who has attended the protests, said women are being wrongly denied abortions in light of the ruling - even though the law on abortion has not officially changed yet.
The activist said she has helped over 60 women who need an abortion but have been denied one since the protests erupted at the end of October, to get their pregnancy terminated.
"These women are all pregnant with a malformed pregnancy and their abortions would be legal with the previous law which is currently still in place," Ms Lewandowska adds. "It hasn't officially changed yet. It is terrifying when you pick up the phone to women who are alone and crying into the phone asking what to do. They hate the thought of becoming an incubator or a walking coffin who will not survive. It is abhorrent. It is torture."
She warned women with foetal defects, who would be banned from having abortions under the newly proposed law, could die from septic shock or from suicidal thoughts.
"We have to consider the mental health of such women," the activist, who is also studying sociology at university, adds. "The decision is highly dangerous and could pose a real danger to the lives of women and other pregnant people. We only have around 1000 abortion procedures each year in a country of 37 million."
Ms Lewandowska noted that around 98 per cent of the 1,000 abortions were provided because of foetal defects - adding that this would mean there were only around 30 or 40 abortions each year when the ruling comes into force.
The campaigner, who said the ruling "effectively" amounts to "banning abortion outright", noted the atmosphere of the protests, which have seen hundreds of thousands descend on the streets, had changed dramatically since they kicked off on 23 November.
"It started off as abortion rights orientated and now it's turning into a general anti-governmental protest," she adds. "About 60 per cent of protesters are women and 40 per cent are men. People are extremely angry with both the government and their actions in the past years. The tribunal's decision was the last straw after years and years of scandals. There is a lot of anger, to put it mildly."
Ms Lewandowska said the ultra-conservative ruling nationalist Law and Justice (PiS) party had been caught off guard and shaken up by the protests due to not anticipating such an outpouring of anger.The Polish government has postponed introducing the controversial abortion ruling into the predominantly Catholic country which already had one of the most restrictive abortion laws in Europe - with campaigners hailing the delay as a victory. Andrzej Duda, the president who is aligned to PiS, has instead proposed a new measure which permits having a pregnancy terminated in instances where the baby has life-threatening birth problems but not for conditions like Down's syndrome.
Hillary Margolis, a women's rights researcher for Human Rights Watch, told The Independent the choice to delay "any further restrictions on abortion is welcome" but argued the fight for women's rights in the European Union nation is "far from over".
She added: "Hundreds of thousands of Polish citizens have called for protecting the health and lives of women and girls. That is what the government should now commit to doing. Poland's leaders can no longer ignore the people's demands for it to respect reproductive rights and stop undermining democracy and the rule of law.
"After years of concerted efforts by the government to demonize women's rights, Poland's people have sent a message loud and clear: they will not be silent in the face of attempts to trample on their rights and undercut the legitimacy of institutions meant to be upholding those rights.
"Poland's women's rights movement and peaceful protesters have become a beacon of hope for so many during these turbulent and uncertain times. Their willingness to raise their voices peacefully, day after day, to fight for human rights and democratic values should be met by a government committed to doing the same, not by hateful rhetoric or punishment."
More than 100,000 people came together on the streets of the capital of Warsaw on the Friday before Halloween for what was the biggest demonstration so far. Far-right groups have attacked demonstrators, while human rights campaigners warn police have applied excessive force to peaceful protesters who have been "arbitrarily detained" without being allowed to have access to lawyers.
PiS, which came to power five years ago on a promise to instil more traditional values, is founded on a socially conservative, Catholic ideology and has waged a war on female reproductive rights.
Join our new commenting forum
Join thought-provoking conversations, follow other Independent readers and see their replies