Poland considers complete ban on abortion
The plans have been prompted by bishops from the Catholic Church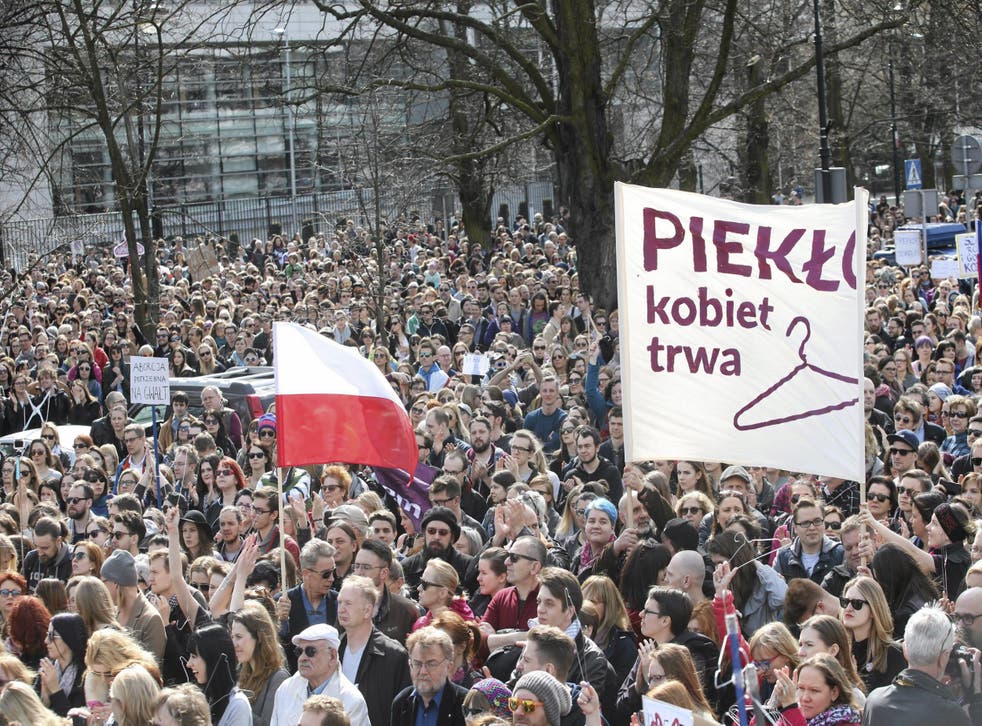 Poland is considering legislation that would completely ban abortion in the EU member state country.
The proposals – criticised as "medieval"- would mean abortion would be illegal even in cases of rape or if the foetus has a severe health issue.
Poland currently has some of the strictest abortion laws in Europe but allows terminations where rape or incest is involved or if the child would be born severely ill.
The ban has been promoted by bishops of the Catholic Church and politicians at the highest level have voiced their support for the proposals.
The ruling conservative Law and Justice Party, which has only been in power since October, has close links with the Church.
Jaroslaw Kaczynski, Chairman of Law and Justice and seen as its most powerful figure, said he was "subject to the teachings of bishops" on abortion.
A conservative legal group known as Ordo Iuris - who also want to ban same-sex marriage - drafted the legislation and it was endorsed by the Conference of Polish Episcopacy.
Prime Minister Beata Szydlo, seen by some as a puppet for Mr Kaczynski, also came out in support of completely banning abortion and said many of her party's politicians will too.
The Law and Justice party controls both sections of the Polish parliament.
Many see the proposals as a returning of favours by the Law and Justice party to the Catholic Church, which has strong influence in Poland, for mobilising support during elections.
However, despite the weighty amount of official support for the proposals, there is strong opposition among many Polish women.
Within days of the announcement, Facebook groups of citizens troubled by the proposals sprung up, one of which now numbers 67,000 members. Many members marched across Poland in protest on Sunday.
"I feel shocked and terrified by this," Marta, a 33-year-old woman from Krakow, told The Independent.
"I didn't feel that our country could become medieval in the 21st century, but it seems to be happening and that really scares me."
"I have close friends who wanted to have a child and were planning to get pregnant but now they decided they won't do it.
Marta believed that the ban would affect the poorest most harshly, as wealthier women could travel to get a safe abortion in other European countries.
She believed that underground abortions would become common.
"If you're an uneducated 15-year-old whose mother is a hardcore Catholic what are you going to do? You can't admit it to her, she's not going to help you."
Referencing incidents of abandoned babies, Marta said, "If you have no knowledge or resources, what are you going to do? You're going to do something stupid."
There is already a market in Poland, strongly Catholic country, for medication which causes terminations, according to Marta and another woman who wished to remain anonymous. Some is sold as liver medication but taken in large enough doses can terminate a foetus. There are also reportedly blogs dedicated to the subject.
"It's going to get much worse than it already is," said Marta.
Marta said she believed that preventing women from getting an abortion, particularly those who have been raped or know their child will be born severely ill or deformed, is especially cruel.
"I think it's unusual punishment, it's basically torturing women," Marta said.
Another woman, who wished to remain anonymous but is aged 31 and lives in Warsaw, also thought the move would be like "returning to the Middle Ages."
"Poland will be a country whose representatives will be able to sit down and have a cup of tea with the government of El Salvador," she told The Independent.
"We will share the same rights on abortion."
She was dismayed at the Catholic Church's influence over the government.
"Abortion is a strictly secular topic and I have no idea why any church should be involved into political discussion on how to change this law."
World news in pictures

Show all 50
Furthermore, she says conservative doctors may not always have the best interests of the pregnant woman at heart.
"Conservative doctors tend to hide the truth. If the baby is sick they won't tell women," said the woman.
This sentiment is given credence by the landmark 'P. and S. vs Poland' case, which heard that a 14-year-old girl was refused an abortion by several doctors, despite being legally entitled to one because of her age.
The European Court of Human Rights ruled in 2012 the Polish state's treatment of the girl violated the European Convention on Human Rights.
The Law and Justice party came to power in October 2015, and their rule has already proved controversial.
In addition to the abortion plans, they have been accused of causing a constitutional crisis and tightening control over the civil service and media.
Register for free to continue reading
Registration is a free and easy way to support our truly independent journalism
By registering, you will also enjoy limited access to Premium articles, exclusive newsletters, commenting, and virtual events with our leading journalists
Already have an account? sign in
Register for free to continue reading
Registration is a free and easy way to support our truly independent journalism
By registering, you will also enjoy limited access to Premium articles, exclusive newsletters, commenting, and virtual events with our leading journalists
Already have an account? sign in
Join our new commenting forum
Join thought-provoking conversations, follow other Independent readers and see their replies