Police called to meeting of beard fans in Sweden after passer-by confuses them with Isis terrorists
The group was waving a black flag which, a member has admitted, looks a bit like the Isis emblem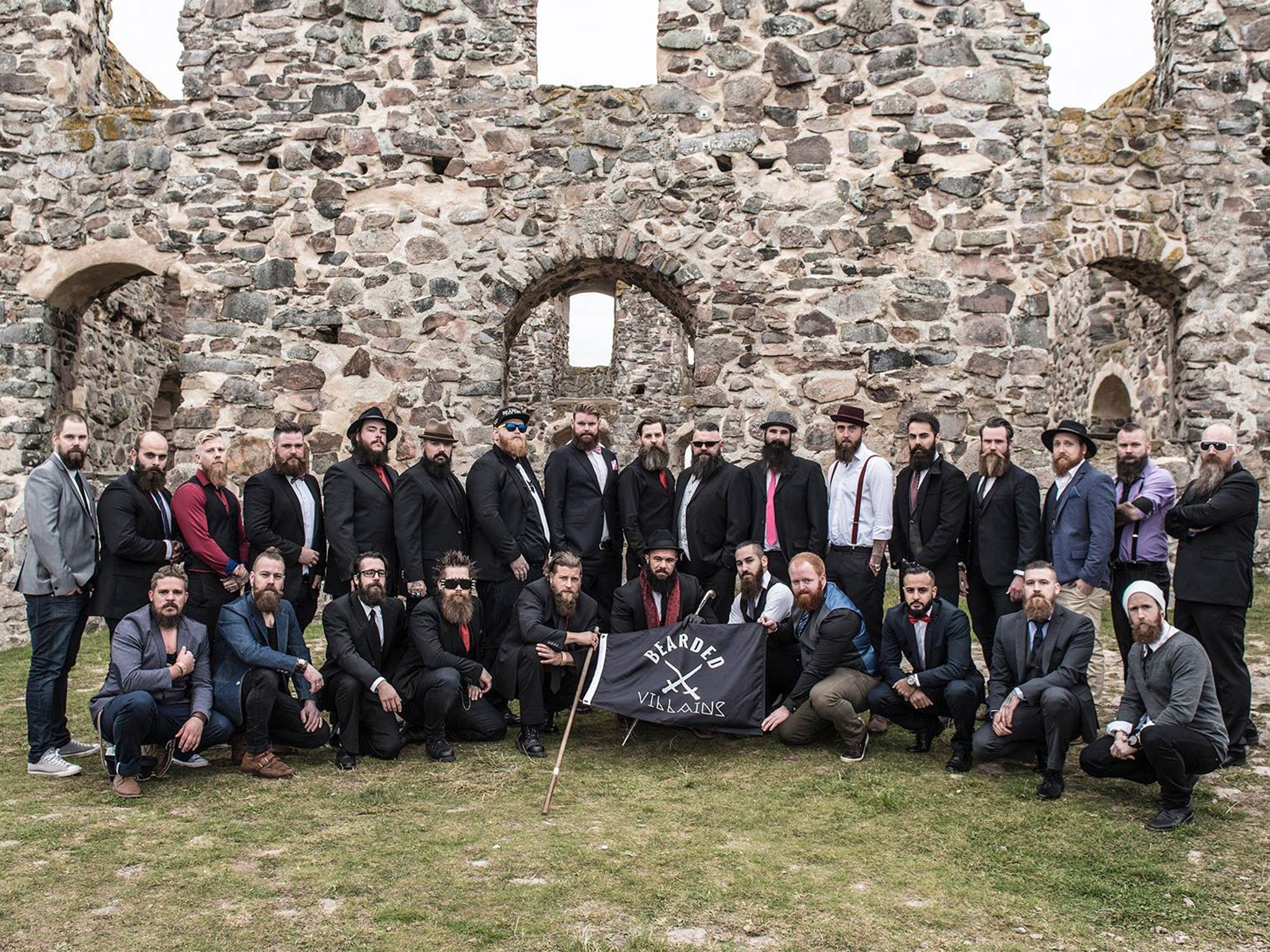 Terror police in Sweden have been called to reports of a group of bearded men in dark clothes raising a black flag above a remote castle.
But instead of Isis militants, officers responding to the scene stumbled across a meeting of an international organisation of beard aficionados.
The Swedish chapter of the "Bearded Villains" met on Saturday for a photo shoot at the ruined castle of Braehus, with members excited to be pictured with the organisation's black-and-white flag.
And while the group might have looked menacing from a distance, when they got closer police found around 30 young men hugging and laughing dressed in formal clothes, not militant garb.
Andreas Fransson, a Bearded Villains member and founder of Ratemybeard.se, wrote on Facebook later that the run-in with officers was "not what we set out for".
Speaking to The Independent, he explained that it was the Swedish group's turn to look after the organisation's crossed-swords flag, and a special effort had been made to organise a photoshoot with it.
"After about an hour the police showed up," he said. "They told us they got a call from someone driving past on the highway, saying that there were Isis terrorists at the ruins.
"The police saw of course that we weren't terrorists, just very happy and nice bearded gentlemen," he said.
Mr Fransson said it was "strange how people are so fast to react" to first appearances.
"We had a laugh with the police and they left," he said. "It was a surreal experience."
John Ekeblad, co-leader of the Swedish group, told Sweden's Metro newspaper that while they laughed about the incident at the time, it highlighted the prejudices bearded men can face.
"It's one of the foundations of our brotherhood, that you should not judge others before you know the facts," he said. "It's the same with beards – each and every day you hear someone say you are a terrorist."
In pictures: The rise of Isis
Show all 74
The Bearded Villains movement was founded in the US in 2014, and on its website says it was created "with the purpose of showcasing bearded men with character". Mr Fransson said it was now active in more than 80 countries, and is responsible for a great deal of charity work as well as "standing up against injustice".
Asked if their flag had some similarities to the Isis flag, Mr Ekeblad agreed – but said it nonetheless felt strange that their besuited group could be confused with terrorists. "It was so unreal," he said.
Austria: Fan-TASH-tic facial hair rolled out for World Beard Championships
Join our commenting forum
Join thought-provoking conversations, follow other Independent readers and see their replies