Pope Francis calls on European Parliament to accept migrants: 'We cannot allow the Mediterranean to become a vast cemetery'
The leader of the Catholic Church compared the continent to a grandmother who has lost her vibrancy
Antonia Molloy
Tuesday 25 November 2014 13:07 Comments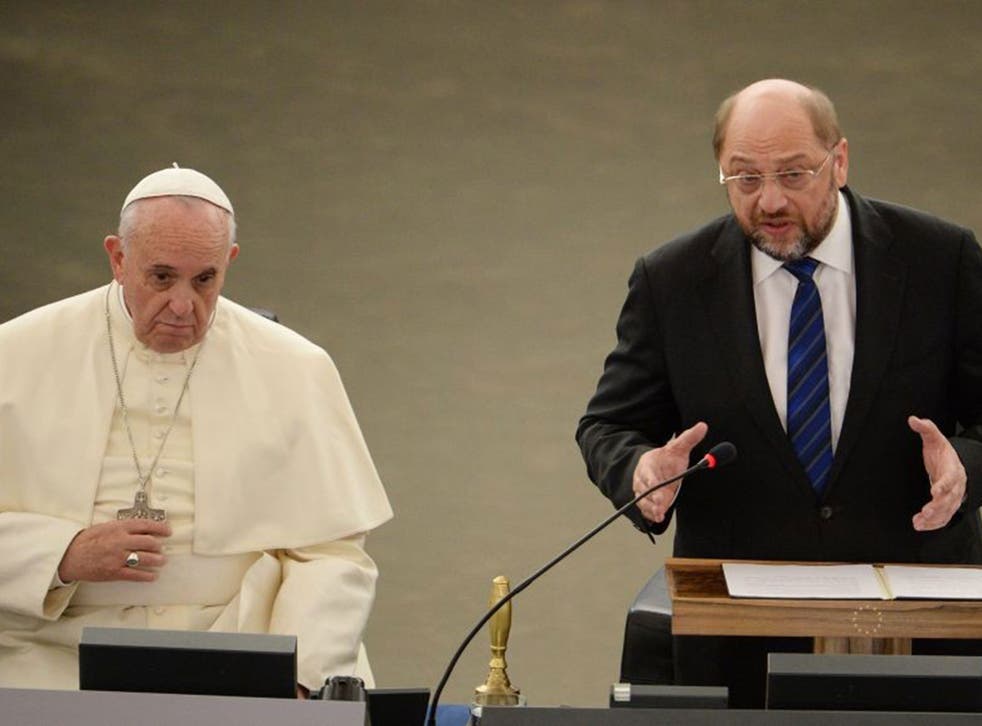 Pope Francis has called on Europe's leaders to do more to help migrants arriving on their shores - in order to inject new impetus and energy back into the "somewhat elderly and haggard" continent.
And the leader of the Catholic Church said legislators risk turning the Mediterranean into a "vast cemetery" if they do not do more to tackle the immigration crisis, which every year sees thousands of poor and desperate migrants drowning as they attempt to reach Europe.
In an address to the European Parliament in Strasbourg, Pope Francis compared the continent to a grandmother who is no longer fertile and vibrant and urged law-makers to create jobs and not allow the bureaucracy of its institutions to suffocate the ideals which once defined it.
"We cannot allow the Mediterranean to become a vast cemetery," he said.
"The boats landing daily on the shores of Europe are filled with men and women who need acceptance and assistance" he said.
He called for leaders to work together to protect immigrants from human traffickers and establish a Europe that "revolves not around the economy but around the sacredness of the human person".
"The time has come to promote policies which create employment, but above all there is a need to restore dignity to labour by ensuring proper working conditions," he said.
In pictures: 'The many popes of Pope Francis'

Show all 12
The Argentine pope has made defence of migrants and workers a key plank of his papacy. He has attacked the global economic system for failing to share wealth and chose the tiny southern Italian island of Lampedusa, which many migrants have died trying to reach, as the venue for his first trip as pontiff.
Unemployment is about 10.1 per cent in the 28-nation European Union and about 11.5 per cent in the 18-nation euro zone. It is more than double that level in Spain and Greece and youth unemployment is more than 40 per cent in some areas.
The International Organisation for Migration (IOM) estimates that 3,200 migrants have died attempting to cross the Mediterranean so far in 2014.
Additional reporting by Reuters
Register for free to continue reading
Registration is a free and easy way to support our truly independent journalism
By registering, you will also enjoy limited access to Premium articles, exclusive newsletters, commenting, and virtual events with our leading journalists
Already have an account? sign in
Join our new commenting forum
Join thought-provoking conversations, follow other Independent readers and see their replies