Pope Francis: Did pontiff help push out Rome's beleaguered Mayor?
Reports claim the Vatican was at odds with Ignazio Marino over his outspoken support of gay marriage and his failure to prepare the city adequately for the papal jubilee year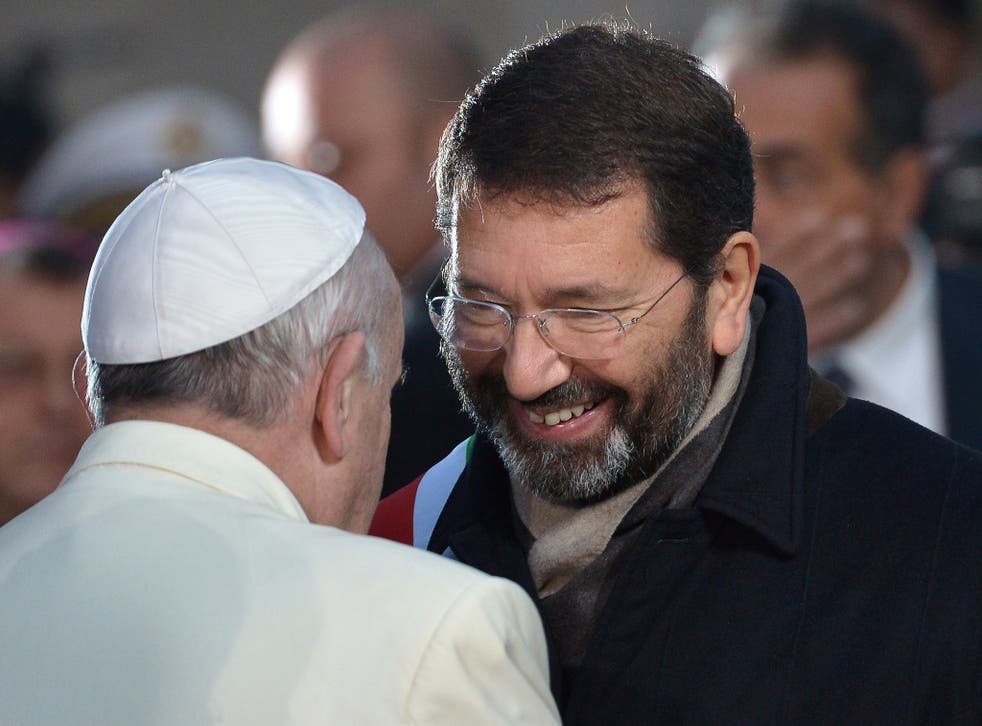 Even Pope Francis is claimed to have stuck the knife in Rome's Mayor, Ignazio Marino, who was dramatically forced from his post this week, leaving a capital city already under siege from debt and corruption in a state of political chaos.
Mr Marino quit after most councillors in his own centre-left Democratic Party (PD) turned against him, following a series of scandals and PR blunders, as well as attacks that appeared motivated more by spite than reason.
But the Vatican had already signalled that it was unhappy with the Mayor. And on Friday, the Dagospia political website reported that Pope Francis's right-hand man, the Vatican Secretary of State Cardinal Pietro Parolin, had told one of Prime Minister Matteo Renzi's closest allies, the infrastructure minister man Graziano Delrio: "Arrange for the Mayor to be dismissed."
Mr Delrio, one of the many devout Catholics in the PD, was said to have replied that it would not be possible. Nonetheless, Mr Renzi made little effort to disguise his satisfaction at news of the resignation of Mr Marino, who is from the left of his own party.
Another senior church figure, Monsignor Enrico Feroci, the director of Caritas in Roma, said he "appreciated" Mr Marino's resignation and that it been necessary to "unblock a situation that had become negative for the city".
The claims in Dagospia follow a series of reports suggesting that Pope Francis was at odds with the Mayor on account of his outspoken support of gay marriage and his failure, at least in the Vatican's eyes, to prepare the city adequately for the papal jubilee year, which is from 8 December this year to 26 November 2016 and will celebrate the 50th anniversary of the close of the Second Vatican Council.
Mr Marino is said to have further annoyed the Pope by falsely indicating that he had been officially invited by the Vatican to join Francis's recent US tour – and even crashing one of the Pope's photo opportunities wearing his mayor's sash. If claims that the Vatican attempted to interfere in the affairs of Rome city council are true, this would scotch the belief that Pope Francis has stopped the sort of meddling in politics that marked the reigns of his predecessors.
Pope Francis gives life advice: in pictures

Show all 10
The scandal that finally tipped the balance against Mr Marino, however, was the evidence that he'd paid for several restaurant bills with his city hall credit card when the meals in question were not work related. He subsequently announced he would refund expenses of €20,000 (£15,000) from his own pocket, but this did little to placate opponents, including some within his own party.
Mr Marino was elected in June 2013. He beat the right-wing incumbent Gianni Alemanno, who is now being investigated for his suspected role in the Mafia Capitale racketeering scandal that Mr Marino helped to expose last year. But as a non-Roman, the former transplant surgeon faced an uphill struggle from day one, battling debt, cronyism and vested interests.
Mr Marino, who will continue to run the city until a commissioner replaces him ahead of elections next year, said an array of forces conspired to force him out of office. "If it hadn't been for the receipts, sooner or later they'd have said that I have holes in my socks or they'd have planted cocaine in my pockets," he told La Stampa. He said he feared that the "mindset of illicit private interests, of cronyism and of the corrupting, mafioso methods" might return to the city's governance once again.
Join our new commenting forum
Join thought-provoking conversations, follow other Independent readers and see their replies