Palm Sunday: Pope Francis poses for mass selfies
Pontiff seemed more at ease with public outside than he did delivering impromptu Palm Sunday message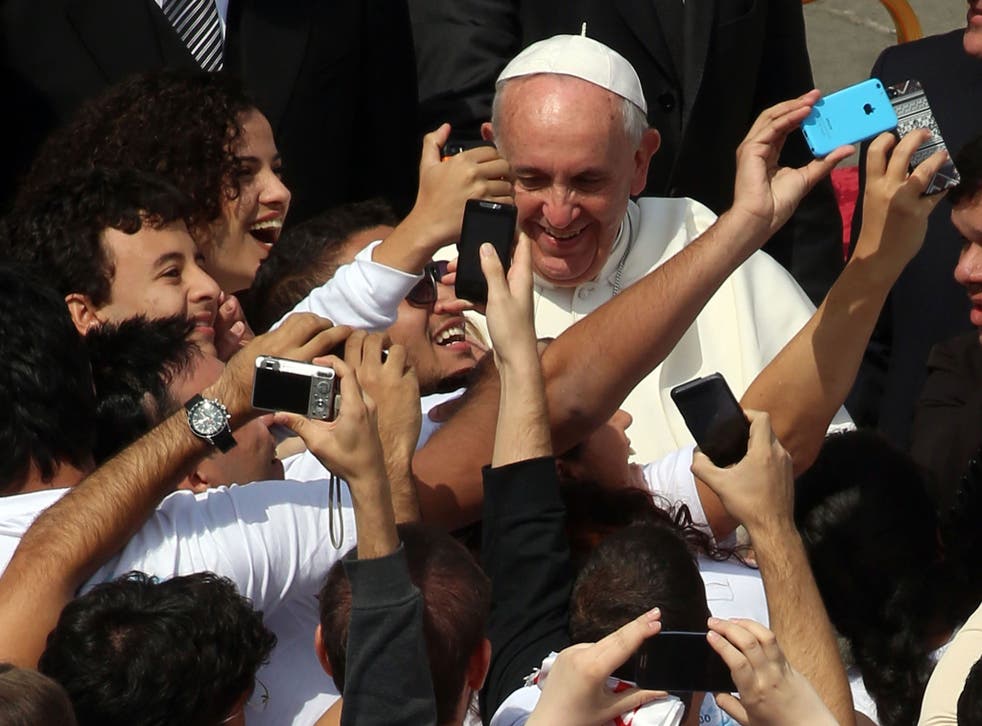 Pope Francis has let loose with an unusually casual performance to mark Palm Sunday, spending more time posing for selfies with young members of the crowd in St Peter's Square than he did delivering a prepared homily.
In what was reported to be a remarkable departure from normal practices on one of the most important days in the Christian calendar in the week before Easter, the Pope abandoned his planned speech and improvised for around 15 minutes.
Having just head a Gospel story of how Jesus' disciples fell asleep before he was betrayed by Judas, Francis asked: "Has my life fallen asleep?
He added: "Am I like Pontius Pilate, who, when he sees the situation is difficult, washes my hands?
The Palm Sunday Mass is usually a solemn opener to Holy Week for the Catholic Church.
But sounding weary in the brief homily, Francis called on people to look into their own hearts to see how they feel they are living their lives.
His energy only seemed to return once the two-hour ceremony had concluded, as he shed his red vestments to chat with more-formally-dressed cardinals.
The Pope then posed for selfies with young people from Rio de Janeiro who had carried a large cross into the square.
And Francis had barely climbed aboard his open-topped "popemobile" when another group, this time of Polish youths, called for him to pose for photos with them. He hopped off, not even waiting for the vehicle to fully stop, to oblige.
In a crowd of around 100,000 Romans, tourists and pilgrims, people clutched olive tree branches, tall palm fronds or tiny braided palm leaves shaped like crosses that were blessed by Francis at the start of the ceremony.
Holy Week culminates next Sunday with Easter Mass, also in St. Peter's Square.
Join our new commenting forum
Join thought-provoking conversations, follow other Independent readers and see their replies