Pope Francis 'praised exorcists', says group who warn 'the battle against evil is an emergency'
A priest known for his exorcisms warned a conference that he believes Halloween is the prime time for occult sects to recruit members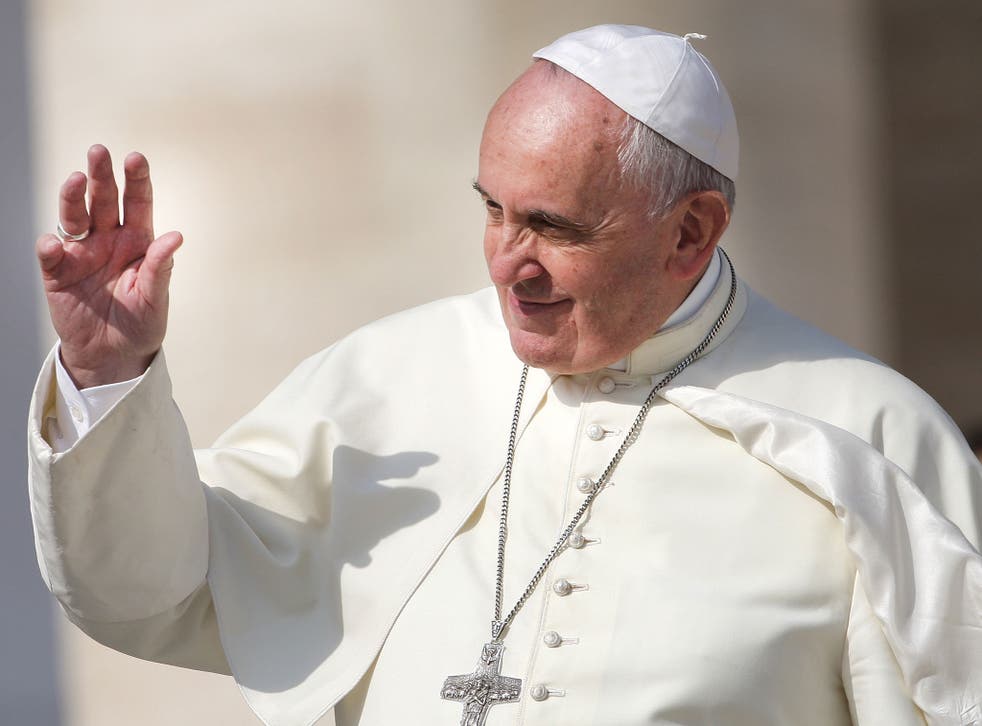 Pope Francis has praised a convention of exorcists, according to the group who has warned that the "battle against evil and the devil" is becoming an "emergency".
Some 250 members of the International Association of Exorcists came from over 30 countries to meet in Rome last week, to discuss what its members consider to be pressing issues including the occult and Satanism.
Dr Valter Cascioli, a psychiatrist and spokesman for the group, told Vatican Radio that the Pope praised exorcists for proving that the Catholic Church "welcomes those suffering from the Devil's work" by helping those who are apparently possessed.
But Dr Cascioli also suggested that the organisation's fight is far from over, by warning listeners of Vatican Radio against a supposed "extraordinary increase in demonic activity", the Mail Online reported.
He added that he believes there is a growing number of people turning to the occult and Satanism, which are "psychologically, spiritually and morally" damaging and are "constantly growing" as movements.
The temptation to take part in "ordinary demonic activity" poses a further threat, he added, which leaves people vulnerable to greater attacks by Satan.
In pictures: 'The many popes of Pope Francis'

Show all 12
And in societies where residents are guilty of "rushing, superficiality, exaggerated individualism and secularization, "the battle against evil and the devil increasingly is becoming an emergency", he said.
Further warnings were issued at the convention itself, where members of the group founded in 1990 congregated.
At the convention, Pope Francis told the exorcists to treat people they believe to be possessed with "kindness". His message comes after The International Association of Exorcists had its statutes officially recognised under Church law.
Father Aldo Buonaiuto, renowned for his exorcisms, told the crowd of priests and psychiatrists that Halloween was to blame for what he claimed was a spike in demonic possessions in the month of October. During this period, he said the Association receives around 40 calls a day from parents who fear their child has been initiated into the occult.
"Many say Halloween is a simple carnival, but in fact there is nothing innocent or fun about it - it is the antechamber to something much more dangerous.
"There are always more evil rituals, animal sacrifices, desecrations of cemeteries and thefts of sacred bones at the time of the 31 October," he claimed.
In addition, Halloween is regarded by cults as the "best time of the year" to recruit their latest members, from which "the door to the devil can be opened," he said - stressing the dangers should not be underestimated.
Instead, he urged people to take part in the Church's new 'Holyween' festivities.
"While most people are steeped in zombies and horror we put on our door or windows a light or an image evocative of the saints.
"And then there will be masses, prayer vigils and worship to celebrate the saints and victory of good over evil," he said.
Register for free to continue reading
Registration is a free and easy way to support our truly independent journalism
By registering, you will also enjoy limited access to Premium articles, exclusive newsletters, commenting, and virtual events with our leading journalists
Already have an account? sign in
Register for free to continue reading
Registration is a free and easy way to support our truly independent journalism
By registering, you will also enjoy limited access to Premium articles, exclusive newsletters, commenting, and virtual events with our leading journalists
Already have an account? sign in
Join our new commenting forum
Join thought-provoking conversations, follow other Independent readers and see their replies