Pope's visit to Spain is met by gay kiss protest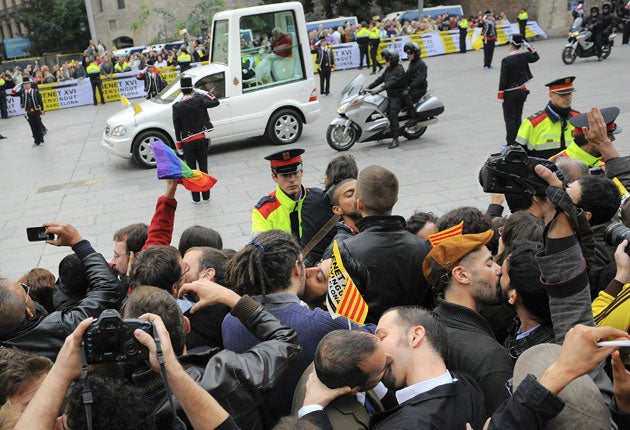 In some ways, Barcelona's reception for Pope Benedict XVI yesterday was rather cool. Crowds were sparser than expected as he sped through the streets from Barcelona's cathedral to consecrate the Sagrada Familia church, Antoni Gaudi's unfinished Modernist masterpiece and one of Spain's top tourist sites. And Jose Luis Rodriguez Zapatero, the Prime Minister who legalised gay marriage, didn't turn up for the debut Mass.
But the welcome could also be considered especially warm – hot and steamy even – as roughly 100 gay and lesbian couples greeted the Pope with a "collective kiss" to protest against the Vatican's stance on sexual freedom, divorce and condom use.
"This is a peaceful act of protest to demonstrate that love is the same in the hearts of everyone," said Jordi Petit, leader of the Catalonian activist group that organised the smooch fest.
The protest kiss is the most visible sign of the controversy sparked by the visit. A Catholic country, Spain might be expected to rejoice at the Pope's decision to bless Gaudi's life's work, under construction for 125 years. And more than 3,000 turned out to watch the consecration ceremony on giant television screens in Barcelona. The Mass was even broadcast on national television, giving viewers a glimpse of Gaudi's bone-like columns, Modernist lamps and cavernous nave filled with 6,000 invited guests, including the Spanish King and Queen.
But the visit has touched a sensitive nerve in Spanish society, divided between traditional Catholics and a growing movement to eliminate Church influence in state affairs.
The Socialist Prime Minister, who figured this was a good weekend to surprise Spain's 1,500 troops in Afghanistan, is on the secular side. He has stopped short of scrapping the teaching of Catholic doctrine in state-supported schools, but during his six-year tenure he has infuriated the Church hierarchy by legalising gay marriage, simplifying divorce proceedings and, most recently, allowing first-trimester abortion on demand.
Meanwhile, church attendance in Spain continues its steep decline.
So it is not surprising that the Pope on Saturday declared Spain the "epicentre" of a battle between "faith and modernity" in Europe.
The Pope continued to sound the alarm during his homily at Gaudi's church, which he described as "the admirable sum of technique, art and faith".
After waxing poetic on the relationship between beauty and religion, he took aim at Spain's abortion law, calling on the state to "defend the life of a child from the moment of conception".
He also registered a plea for state support of the traditional family. "Generous love between a man and a woman is the efficient framework and basis of human life," he said.
The Prime Minister was expected to return to Spain yesterday in time to say "adios" to the Pope at the airport.
Join our commenting forum
Join thought-provoking conversations, follow other Independent readers and see their replies