President Erdogan shames EU with Turkish stance on Syrian refugee crisis
Mr Erdogan wants to solve the refugee crisis by training the Syrian opposition, declaring a safe zone along the border in northern Syria, and creating a no-fly zone
Leo Cendrowicz
Brussels
Monday 05 October 2015 19:22 Comments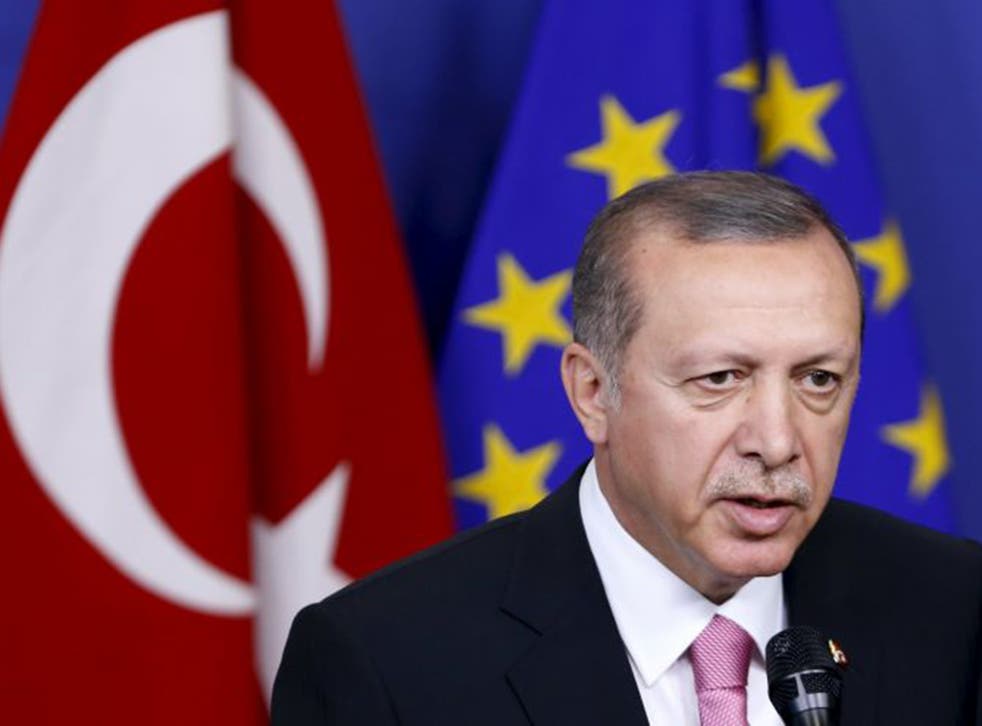 Turkish President Recep Tayyip Erdogan milked the European Union's awkward response to its refugee crisis, pointing out during a series of meetings in Brussels that the 2.5 million Syrians currently based in Turkey dwarfed the numbers the EU was struggling to absorb. He also explicitly linked the refugee crisis with the campaign against Isis, and demanded Europe's support for a "safe zone" in northern Syria.
In turn, EU leaders pleaded with Mr Erdogan to do more to staunch the flow of Syrian refugees toward the West, exacerbating a migration crisis that is already testing the limits of European solidarity.
Mr Erdogan said that despite the huge refugee influx, which had so far cost Turkey around €8bn, "We continue to maintain our open-door policy."
Mr Erdogan's Brussels visit included meetings with the presidents of the three main EU bodies: the European Council's Donald Tusk, the European Commission's Jean-Claude Juncker, and the European Parliament's Martin Schulz. They all expressed their appreciation to Turkey for hosting so many refugees, but were cautious about the president's proposed solutions, which they fear will be a cover to attack Kurdish separatists.
The migrant crisis could be solved in three easy steps, Mr Erdogan said: training and equipping the Syrian opposition, declaring a safe zone along the border in northern Syria where Isis fighters would be cleared and refugees could be resettled, and creating a no-fly zone. Speaking after meeting Mr Tusk, Mr Erdogan anticipated questions about his attacks on the Kurdish separatist group PKK – which is also fighting Isis – insisting that both were terrorist groups. "The PKK should not be given some kind of cloak of legitimisation by fighting against Daesh [Isis]," he said.
But for Mr Tusk, the priority was for Ankara to do more to stop the boats carrying thousands of refugees daily across sea lanes between Turkey's Aegean coast and the Greek islands. He said the EU was ready to talk about aid, border management, the fight against people smugglers, visa-free travel for Turks in the EU, and even the proposed buffer zone in Syria.
"However, Turkey needs to be equally ready to act. The situation where hundreds of thousands of people are fleeing to the EU via Turkey must be stopped," Mr Tusk said. "Europe has to manage its borders better. We expect Turkey to do the same." Mr Juncker echoed Mr Tusk, and added his own support for visa liberalisation, saying: "I'm strongly in favour of the visa issue being accelerated."
The welcome for Mr Erdogan contrasted with the derision Turkey has endured from key European figures over the past two decades over its bid to join the EU. Mr Erdogan underlined that Turkey's stalled EU accession process should be revitalised and "devoid of artificial political considerations".
The visit comes at a critical time for Mr Erdogan, ahead of the 1 November Turkish elections and the November G20 Summit in the southern Turkish city of Antalya.
Register for free to continue reading
Registration is a free and easy way to support our truly independent journalism
By registering, you will also enjoy limited access to Premium articles, exclusive newsletters, commenting, and virtual events with our leading journalists
Already have an account? sign in
Join our new commenting forum
Join thought-provoking conversations, follow other Independent readers and see their replies