President Recep Tayyip Erdogan approves new Turkish government formed by ally Binali Yildirim
Binali Yildirim replaced the former Prime Minister Ahmet Davutoglu following his resignation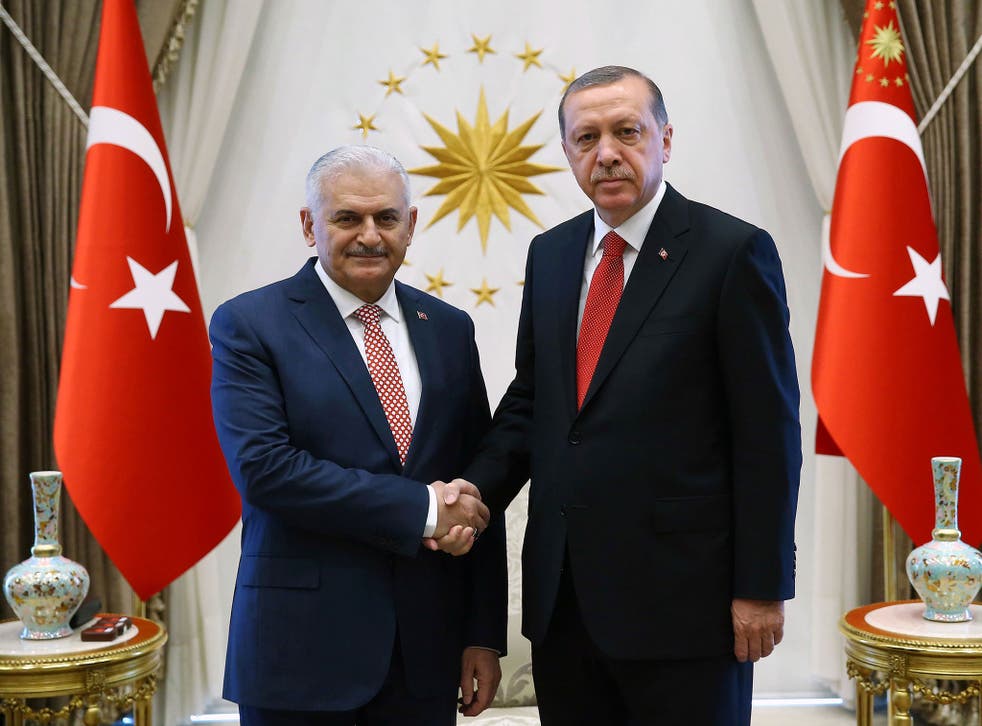 The Turkish President has approved a new government after the country's Prime Minister dramatically resigned.
Recep Tayyip Erdogan's trusted ally, Binali Yildirim, announced the new cabinet after a meeting on Tuesday.
The 60-year-old replaced Ahmet Davutoglu on Sunday following a reported falling-out, and is said to be backing controversial constitutional reforms that would expand Mr Erdogan's powers.
The issue was one of several that the President and former Prime Minister were thought to be at odds over, including military operations against Kurdish groups in south-east Turkey.
"I feel no reproach, anger or resentment against anyone," Mr Davutoglu said after announcing his resignation. "No one heard or will ever hear a single word from my mouth, from my tongue or my mind against our President."
Mr Yildirim was elected as leader of the AKP unopposed on 22 May. He has served as transport and communications minister since 2002, with a short interruption in 2015, and is a founding member of the ruling Justice and Development Party (AKP).
He was implicated in a corruption scandal in 2013 but denied wrongdoing and has generated controversy by appearing to support gender segregation and overseeing growing government surveillance and censorship.
Turkey ratifies bill to strip MPs of immunity
Many fear that Turkey is moving towards an executive presidency that will concentrate too many powers in Mr Erdogan's hands, in the wake of a crackdown on critics in the media and government.
As the country faces security threats including increased attacks by Kurdish and Isis militants, parliament is in disarray after a government-backed constitutional amendment left 138 politicians vulnerable to prosecution.
The move officially strips immunity from prosecution but has been condemned as a move to expel opposition members, following calls from Mr Erdogan for pro-Kurdish MPs to face terrorism charges.
Negotiations also continue over Turkey's possible ascension to the European Union after the controversial refugee deal was agreed with a package of concessions on visa-free travel.
Join our new commenting forum
Join thought-provoking conversations, follow other Independent readers and see their replies