Ahmet Davutoglu: President Erdogan's handpicked Prime Minister resigns
Mr Davutoglu's resignation comes after he was chosen to succeed Mr Erdogan as Turkish Prime Minister in 2014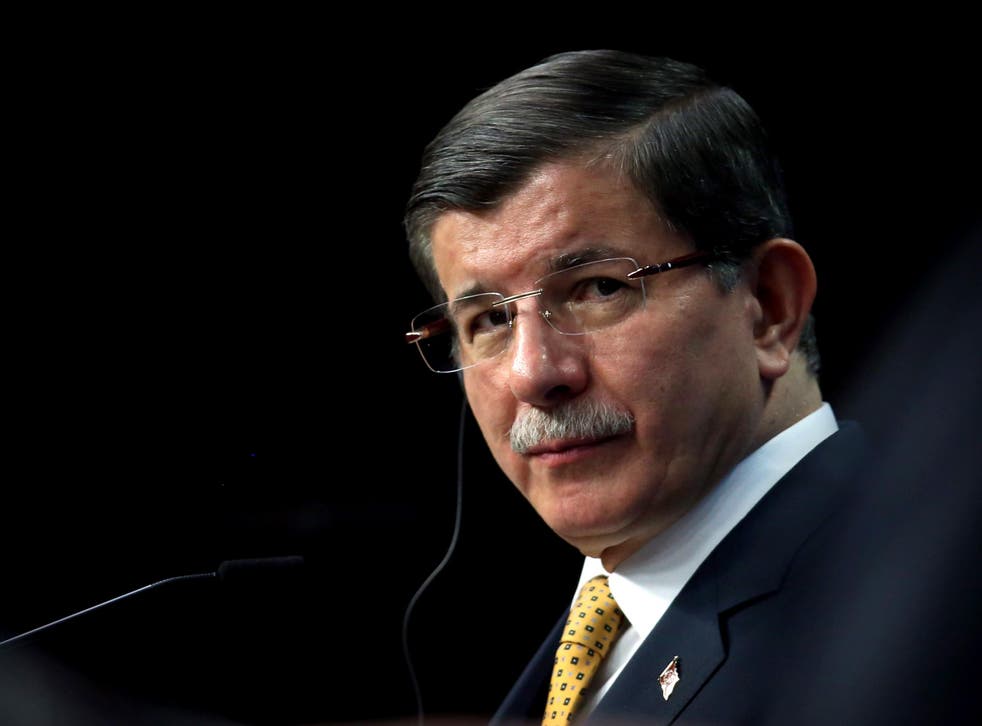 The Turkish Prime Minister Ahmet Davutoglu has is to resign after tensions with President Recep Tayyip Erdogan over the refugee crisis, European Union deal and terror attacks by Isis and Kurdish groups created a rift between the political pair.
Mr Davutoglu has confirmed he will formally step down at his party's congress on 22 May following local media reports of his imminent resignation.
Who is Ahmet Davutoglu?
A former professor of political science and international relations, Mr Davutoglu has overseen Turkey's foreign policy since 2003 as the country's foreign minister and as Mr Erdogan's chief adviser.
He is a veteran Islamist politician and a long-term ally to Mr Erdogan. He had long been expected to take over as Prime Minister and was installed in the role in 2014 by Mr Erdogan himself.
Why has he resigned?
An ongoing power struggle between the President and the Prime Minister reached a climax on Friday when the ruling AK Party - co-founded by Mr Erdogan – absolved him of powers to appoint local leaders; a move which has left Mr Davutoglu without party insiders to support him.

Some have argued Mr Davutoglu has been victim to a "palace coop", with the country's main opposition party leader, Kemal Kilicdaroglu, saying Mr Davutoglu, who was elected with the will of 23 million AKP voters, "was forced to leave his seat through the will of one person."
Isn't Davutoglu an Erdogan loyalist?
After being elected president in 2014, Mr Erdogan handpicked Mr Davutoglu to succeed him as Prime Minister and leader of the AKP party. Mr Davutoglu was expected to play a backseat role as Mr Erdogan pushed to make the largely ceremonial presidency into an all-powerful position.
Speaking on Thursday, Davutoglu said he never intended to be a caretaker prime minister, recalling a phrase from a speech by Mr Erdogan when he took over the party: "This is the era of a strong president and a strong prime minister."
Mr Davutoglu often attempted to act autonomously on many political issues proving to be a more moderating force to Mr Erdogan. The attempts include his discussion with German Chancellor Angela Merkel over a migrant deal that would allow Turk's to travel visa-free into Europe.
What is his relationship with Angela Merkel?
Mr Davutoglu continually made his ambitions for Turkey to become member of the EU clear. In 2009 he said: "We want to be a member of the EU. I am an academic. Statistics say something. All the countries that start accession negotiations with the EU, they became members of the EU," the BBC reports.
Visiting a refugee camp in April, Mr Davutoglu took pains to highlight his connections with European leaders, wishing Donald Tusk, European Council president, happy birthday and saying he often texted Ms Merkel.
His resignation will be an upset to Ms Merkel who made efforts to quash tensions with Turkey in a bid to stem the flow of migrants to Europe. Many Western officials preferred Mr Davutoglu as an interlocutor to Mr Erdogan, who has over the past few years sharpened his anti-Western rhetoric.
The EU and Turkey reached a deal in which refugees attempting to enter Europe via the Aegean Sea will be relocated back to Turkey. As part of the deal 80 million Turks were granted visa-free travel into Europe, which was approved on Tuesday.
The conclusion of the deal now remains unclear as the venture was run solely by Mr Davutoglu and his team.
Recep Tayyip Erdogan's most controversial quotes

Show all 8
Have Davutoglu's policies faced criticism?
As foreign minister, Mr Davutoglu initially won praise for his "zero problems with neighbors" policy, which aimed to strengthen ties with the Middle East. However, critics have since said errors and miscalculations in the policy have left Turkey with few allies in the region.
His interest in territories formerly ruled by the Ottoman Empire has drawn accusations he has an "imperialistic streak" and his foreign policy ideals have been described as Neo-Ottoman or Pan-Islamist. Mr Davutoglu has denied accusations of imperialism.
In the past, he has also been criticised for failing to tackle political corruption and for growing government authoritarianism. In 2015, the implementation of a new national security bill sparked members of the opposition to accuse his government of turning Turkey into a police state.
Additional reporting by agencies
Register for free to continue reading
Registration is a free and easy way to support our truly independent journalism
By registering, you will also enjoy limited access to Premium articles, exclusive newsletters, commenting, and virtual events with our leading journalists
Already have an account? sign in
Register for free to continue reading
Registration is a free and easy way to support our truly independent journalism
By registering, you will also enjoy limited access to Premium articles, exclusive newsletters, commenting, and virtual events with our leading journalists
Already have an account? sign in
Join our new commenting forum
Join thought-provoking conversations, follow other Independent readers and see their replies