President Vladimir Putin hails Russia's 'defence of traditional values' in his state of the nation speech
Mr Putin criticised the West's more liberal attitudes toward gay rights and US attempts at intervention in Syria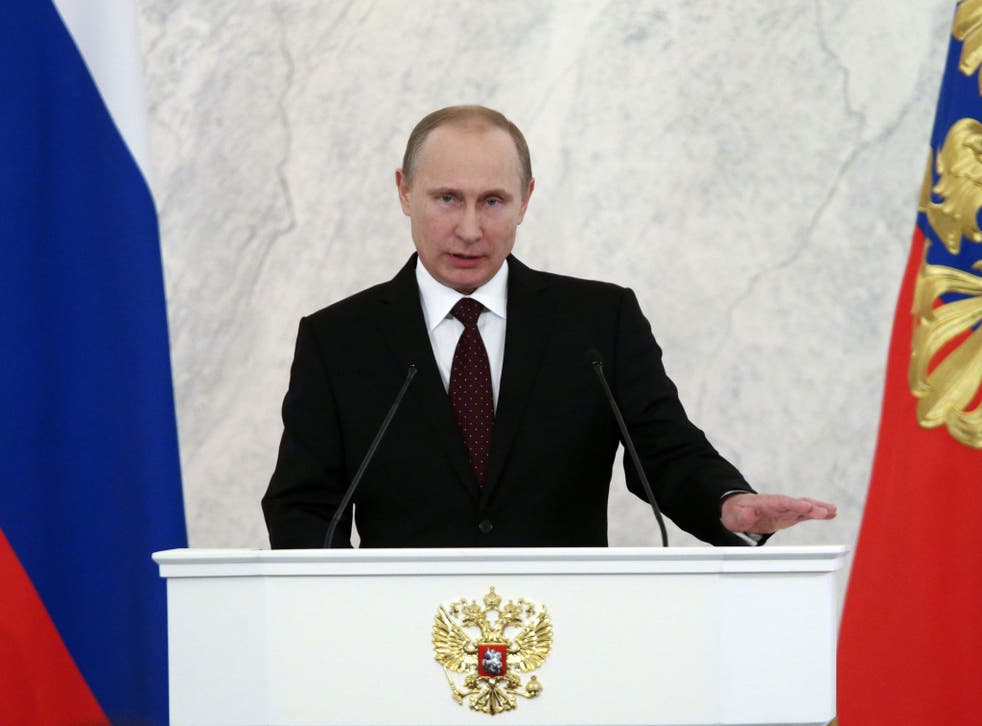 President Vladimir Putin has painted a picture of Russia as the world's last bastion against countries bent upon destroying traditional values in his annual state of the nation speech at the Kremlin.
In a ceremony full of pomp and circumstance, Mr Putin made a particularly thinly-veiled attack on the West's more liberal attitudes toward gay rights, saying Russia would defend against "genderless and fruitless so-called tolerance" which he said allows "good and evil" to be equal.
"In many countries today, moral and ethical norms are being reconsidered; national traditions, differences in nation and culture are being erased," Putin said, speaking in a gilded Kremlin hall packed with hundreds of officials, journalists and other public figures.
"They're now requiring not only the proper acknowledgement of freedom of conscience, political views and private life, but also the mandatory acknowledgement of the equality of good and evil, which are inherently contradictory concepts," he said.
In contrast, more and more people around the world are supporting Russia's "defence of traditional values," the president argued. In addition to a recent blasphemy law, Russia passed a controversial law against "gay propaganda" in June - a vague term for behaviour seen to "promote" homosexuality to minors. Activists say the law in essence condones homophobia and violence.
The passing of the law has also cast doubt on the treatment of LGBT spectators and athletes at the forthcoming Winter Olympics in Sochi, where Russian officials have said repeatedly that the "gay propaganda" law will be enforced.
Russian Orthodox spiritual leader Patriarch Kirill sat front and centre in the first row for the speech, which took place on the 20th anniversary of the Russian constitution.
Mr Putin also took a swipe at the United States for its perceived imperialist foreign policy and meddling in Russia's sphere of influence, noting that Russia does "not aspire to be called some kind of superpower."
"We do not infringe on anyone's interests, we do not force our patronage on anyone, or try to teach anyone how to live," Mr Putin said, in an apparent reference to criticisms he has made previously against the US.
Mr Putin also said Russia had facilitated "international law, common sense and the logic of peace," in an apparent reference to his role in averting US intervention in Syria, a deal that resulted in Forbes magazine naming the Russian president the most influential person in the world, ahead of US President Barack Obama.
The latest disagreement between the former Cold War foes has involved restive Ukraine, where the capital has been beset by three weeks of anti-government protests after President Viktor Yanukovich abruptly reversed course on an expected Association Agreement with the European Union. US Assistant Secretary of State Victoria Nuland handed out cookies to protesters in Kiev's Independence Square on Wednesday as lawmakers said they would adopt sanctions against Ukraine if violence against protesters escalates.
Meanwhile, Mr Putin met with Yanukovich last week to discuss a deal on trade and economic cooperation that could alleviate financial woes of Ukraine.
"We're not forcing anything on anyone," Mr Putin said about Russia's Customs Union with Belarus and Kazakhstan and the possibility that Ukraine will join it. Deputy Prime Minister Igor Shuvalov also admitted on Thursday that Moscow had acted "harshly" but within the law in forcing Ukraine to choose between East and West.
In his speech, Mr Putin notably did not mention the amnesty legislation that he introduced to the parliament on the occasion of the constitutional anniversary, which could pardon thousands of non-violent prisoners including two Pussy Riot members jailed for their "punk prayer" in a Moscow cathedral. Instead, he dwelled extensively on issues of healthcare, education and housing, and said that parts of the constitution need to be changed, especially as regarding municipal governance.
In continuing the theme of Russia-under-siege, Mr Putin blamed internal ethnic strife on an "amoral internationale" made up of "out-of-hand, overbold immigrants from some southern regions, corrupt law enforcement officials who protect ethnic mafias, and so-called Russian nationalists, so-called separatists, ready to turn any tragedy into an excuse for vandalism and bloody rows."
The statement was an obvious reference to the anti-immigrant rioting that has gripped various Russian cities this year and struck Moscow in October after an Azerbaijani immigrant was accused of killing a Russian man during an argument.
Register for free to continue reading
Registration is a free and easy way to support our truly independent journalism
By registering, you will also enjoy limited access to Premium articles, exclusive newsletters, commenting, and virtual events with our leading journalists
Already have an account? sign in
Register for free to continue reading
Registration is a free and easy way to support our truly independent journalism
By registering, you will also enjoy limited access to Premium articles, exclusive newsletters, commenting, and virtual events with our leading journalists
Already have an account? sign in
Join our new commenting forum
Join thought-provoking conversations, follow other Independent readers and see their replies