Prodi's resignation opens door for return of Berlusconi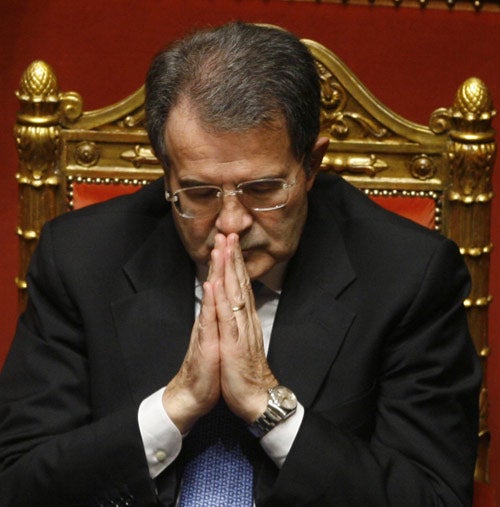 The Italian Prime Minister Romano Prodi handed in his resignation to the President Giorgio Napolitano, the head of state, last night after losing a vote of confidence in the Senate by 161 votes to 156, following the defection of a coalition ally.
Mr Napolitano asked him to stay on as caretaker during consultations on what to do next. Mr Prodi's incoherent nine-party coalition, ranging from hardline communists to Christian democrats, squeaked into power 20 months ago and though it never looked stable it lasted longer than all but six of Italy's 61 post-war governments, largely due to Mr Prodi's understated but stubborn leadership.
The leader of the opposition, media mogul Silvio Berlusconi, called for immediate elections, which his centre-right coalition would probably win. But first there will be an interregnum during which President Napolitano holds talks with party leaders.
Mr Berlusconi, Italy's richest man, who has weathered numerous accusations of corruption, heads Italy's biggest party, Forza Italia, with 28 per cent support.
And while the ruling centre-left coalition has steadily torn itself to pieces, the unlikely group of rightist forces that ruled Italy for five years under Mr Berlusconi has been mending its bridges and prepared for a return to power.
Mr Prodi had been quietly effective in salvaging Italy from the damage done by Mr Berlusconi, restoring a measure of fiscal sanity, and making a start on important reforms. But with the Italian economy stagnant and his coalition mired in endless bickering, the mumbling economics professor and former president of the European Commission steadily lost popularity.
Mr Berlusconi's return is an event for which many Italians even on the right have little relish. Almost his last act before the general election of 2006 was to hobble his centre-left rival by bequeathing him an electoral system almost guaranteed to produce stalemate – giving disproportionate influence to Italy's innumerable small parties.
Without a new electoral system, any new government will face the same problem. And Italy's collective crisis of confidence, which has led to a prolonged bout of popular disillusionment with the institutions of the state, will grind on.
Had Mr Prodi won yesterday's vote of confidence the attritional war within his coalition would have continued unabated, and every subsequent Senate vote would have been another battle to survive.
But now he has been defeated, the uncertainty becomes even more acute.
What happens next remains to be decided by Mr Napolitano, in consultation with the main political leaders, of whom there are plenty. It is a process that will take some time. From having a weak, lacklustre and ineffective government Italy will proceed to having no government at all.
Opening the Senate debate yesterday, Mr Prodi referred to this fact as he urged waverers to support him. "The country needs more than ever to be governed," he told senators.
"A power vacuum is a luxury that Italy cannot allow itself. Italy risks finding itself in a negative economic cycle which we will face with still imperfect economic structures."
Mayhem broke out during the debate when one senator from the small Udear party, Nuccio Cusumano, announced that he would defy the party whip and vote for Mr Prodi.
The leader of the party in the house, Tommaso Barbato, burst into the chamber and hurled a string of insults at the senator. Another colleague spat in his face, whereupon Cusumano fainted and was carried out on a stretcher. It was a measure of the tensions within a house whose members knew that, if Mr Prodi lost, they would lose their pension rights – which only clock in after two years.
A possible next stage will be for the President to appoint a "technical government" to usher in electoral reform, hopefully ensuring stronger governments in future. But Mr Berlusconi has threatened to fill Italy's cities with demonstrators if elections are not called.
Professor James Walston of the American University in Rome said he thought Mr Napolitano would have little option but to call for immediate elections under the existing system – elections which Berlusconi and his House of Liberties coalition are almost certain to win, but inheriting the structural weaknesses that beset Mr Prodi. "It will be a disaster for Italy's political system," he commented. "The situation is desperate."
Join our commenting forum
Join thought-provoking conversations, follow other Independent readers and see their replies