Pussy Riot commandeer government buildings with LGBT+ flags to mark Putin's birthday
'It was wildly comic, but the message is serious. You can't win by banning love'
Oliver Carroll
Moscow Correspondent
Wednesday 07 October 2020 16:08 Comments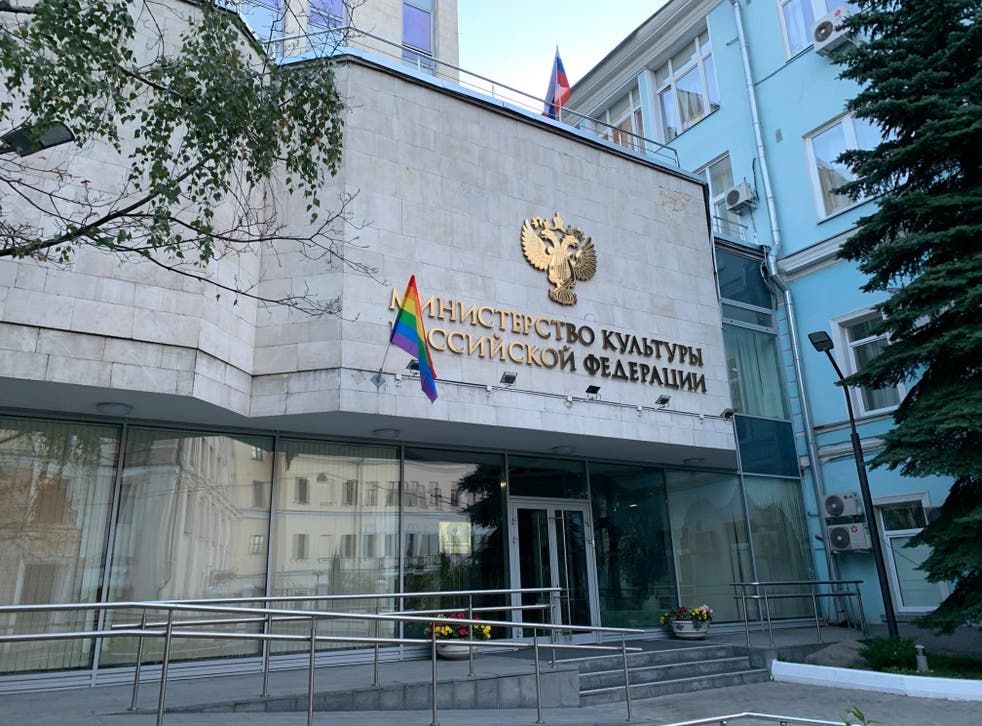 Top Russian officials were met with an unexpected sight of LGBT+ flags as they arrived at their workplaces on Wednesday, the day of Vladimir Putin's birthday.
The pride symbols, planted courtesy of activist art collective Pussy Riot, appeared shortly after 10am at the headquarters of Russia's security agency, the presidential administration, Supreme Court, Culture Ministry and central police station.
Claiming responsibility on social media, Pussy Riot said the rainbow flags were birthday presents for the president. They were gifted as symbols of the "lack of love and freedom" in Russia, they added.
In a series of birthday demands, the group called on Mr Putin to begin an investigation into the murder of and abduction of gay people in Chechnya, legalise same-sex partnerships and end discriminatory legislation. They also stipulated that 7 October, Vladimir Putin's birthday, be marked on the Russian calendar as a "day of LGBT+ visibility".
Pussy Riot's Maria Alyokhina told The Independent how the group was able to evade high-level security by dressing in clothing of maintenance workers and claiming they were in charge of birthday decorations.
"It was wildly comic, but the message is serious. You can't win by banning love. If you are the person who is smashing the hands of lovers as they walk hand in hand, you've already lost."
Police were later issued new orders to "impede flag flying on government buildings", according to unconfirmed reports carried by a local journalist for state news.
Vladimir Putin's 20-year reign has been associated with the growth of official homophobia and violence against LGBT+ people.
In 2013 a much-derided law on "gay propaganda" was introduced – the equivalent of Britain's long-ditched Section 28. Other anti-gay bills have followed since, including this year a rewrite of the constitution to promote "family values" and ban same-sex marriage. Last week, unnamed sources at the Investigative Committee of Russia hinted at a new war on gay couples having children via surrogacy.
Authorities are also yet to begin an investigation into the disappearance, murder and torture of hundreds of gay men in the largely Muslim republic of Chechnya.
At the same time, the rise in official homophobia has been accompanied by a growing acceptance of LGBT+ people among some urban constituencies, and especially the young.
Ms Alyokhina said the idea for Wednesday's action came about after watching a group of students in St Petersburg plant pride flags on the roof of their school.
"The head teacher called it an act of sabotage," she said. "Alexander Sofiyev, a member of our collective, suggested it was time to show them what sabotage really meant."
Pussy Riot, a loose activist collective sometimes described as a punk band, came to prominence in 2012 after performing an anti-Putin "punk prayer" inside Russia's main Orthodox cathedral.
Ms Alyokhina was one of two members who spent nearly two years in a high-security prison for her efforts.
Register for free to continue reading
Registration is a free and easy way to support our truly independent journalism
By registering, you will also enjoy limited access to Premium articles, exclusive newsletters, commenting, and virtual events with our leading journalists
Already have an account? sign in
Join our new commenting forum
Join thought-provoking conversations, follow other Independent readers and see their replies