Gay men in Russia with surrogate children warned they face arrest
LGBT+ community draws breath as state investigators equate single fathers to baby traffickers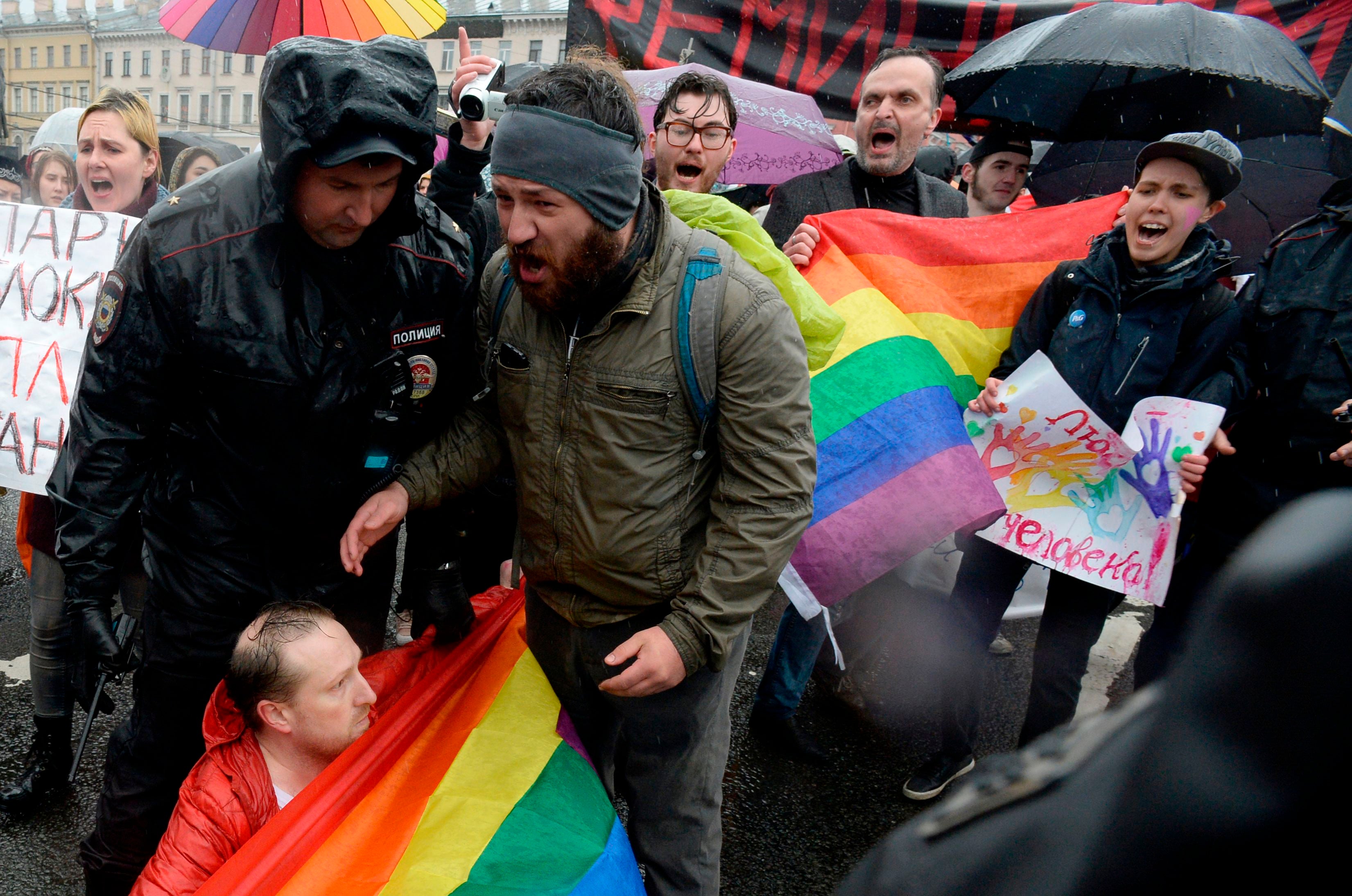 Russian authorities have warned of the arrest of gay men who have fathered children to surrogate mothers, firing what appears to be another salvo across the bow of LGBT+ rights.
Commenting on a long-running criminal case to state media, a source in the country's Investigative Committee equated LGBT+ surrogacy to baby trafficking. It was an offence for men with "non-traditional orientation" to provide sperm for in vitro fertilisation, the source asserted.
"We plan to arrest a number of suspects, single men, and Russian citizens, who have used surrogate mothers to give birth to children," he added.
The unattributed source has not yet been supported by official statements. Kremlin spokesman Dmitry Peskov declined to comment during his daily call with journalists on Friday. But the note in TASS appeared to be a warning the state is preparing to take a much closer interest in the most intimate aspects of citizens' lives.
State investigators have already jailed seven people – and put three kids in care – in connection to the criminal case, which was opened in January following the tragic cot death of a baby boy. The baby was discovered alongside four other children and two women in a Moscow flat. In July, investigators declared this constituted baby trafficking and arrested the medical staff and lawyers they said had facilitated it.
In fact, the babies were being cared for by the women, who were nannies, while documents were prepared for their Filipino parents to take them back home. There is no evidence to demonstrate the young boy died of anything but natural causes.
"Babies, unfortunately, do die, and especially when we are talking about [IVF] technology," says the lawyer Igor Trunov, who is representing the parents in the case. "Whatever you do, you should not believe state investigators when they say they are acting out of interests of child  welfare. They have chosen to send three eleven-month-old kids to a children's psychiatric facility."
Mr Trunov said his clients were taking the unusual step of suing the Russian government for "abducting" their children, who are de jure "foreign citizens."
The lawyer said state investigators knew their case was unwinnable and had chosen to resort to underhand means to get their way. When news of the case first broke, Russian public opinion sided with the parents and doctors, he said. So the investigators are now turning to a tried and tested tactic – summoning the idea of "gay bogeyman" in an attempt to win the public over.
"They want to connect baby trafficking to the idea of sexual orientation, knowing how that resonates with the wider public," he said. "They understand no one is going to stand up for gays."
Russian law explicitly allows IVF treatments for couples and single women. It neither permits nor prohibits the practice for single fathers – but the principle of single fathers parenting via surrogacy has already been already successfully defended hundreds of times in Russian courts.
Konstantin Svitnev, the lawyer who first established that principle in 2010, also happens to be main "suspect" in the ongoing criminal case. Mr Svitnev, currently based abroad, tells The Independent that he has committed no crime. He says he will not be returning to Russia in the near future over what he describes as "fears for his life".
"I am the only person who can document the full truth behind this case, and major interests are at stake," he said. "The investigators are desperate for something to supplement their non-existent case. That's the only reason why they are keeping doctors behind bars, for example. It's dangerous."
Mr Svitnev said his defence of the right for single men to parent surrogate kids was, after fathering his own children, his "biggest achievement" in life. "I managed to open the door for hundreds of families," he said. "The right to have children is something given from above. It's as basic as the right to life."
The Russian state now appeared intent on "controlling" that right, he said. "They are also directly contradicting the constitution by discriminating against people on the basis of their sex, marital status and their sexual orientation."
While polling data suggests younger generations are becoming more tolerant towards LGBT+ communities, Russian authorities have traditionally chosen to feed more negative attitudes.
A controversial bill introduced in 2013 outlawed the so-called "propaganda of non-traditional sexual relations." In July this year, Vladimir Putin used a promise to ban same-sex marriage to set his term-resetting constitutional amendments to the population. Moscow has also pointedly refused to investigate compelling evidence of the murder and torture of hundreds of gay men and women in Chechnya.
Lawyer Igor Trunov said he had no doubt a "political order" was driving the state investigators' interest in surrogacy.
According to state media reports, investigators are poised to arrest at least 10 unmarried men on "people trafficking" laws. Mr Trunov predicted that number could be the tip of the iceberg, with many more children ending up in care homes.
"Half of Russian showbiz stars have produced children this way," he said.
The news has been met with concern among liberal society and Russia's LGBT+ communities. Veteran activist Igor Kochetkov said there was significant cause for worry, but he cautioned against making conclusions far beyond the realm of one criminal case.
"This could be the initiative of the State Investigative Committee alone," he said. "It could just be their own very weird point of view. We can't yet be sure it's a done deal across the government."
Join our commenting forum
Join thought-provoking conversations, follow other Independent readers and see their replies