Putin plays to the crowd as he prepares presidential return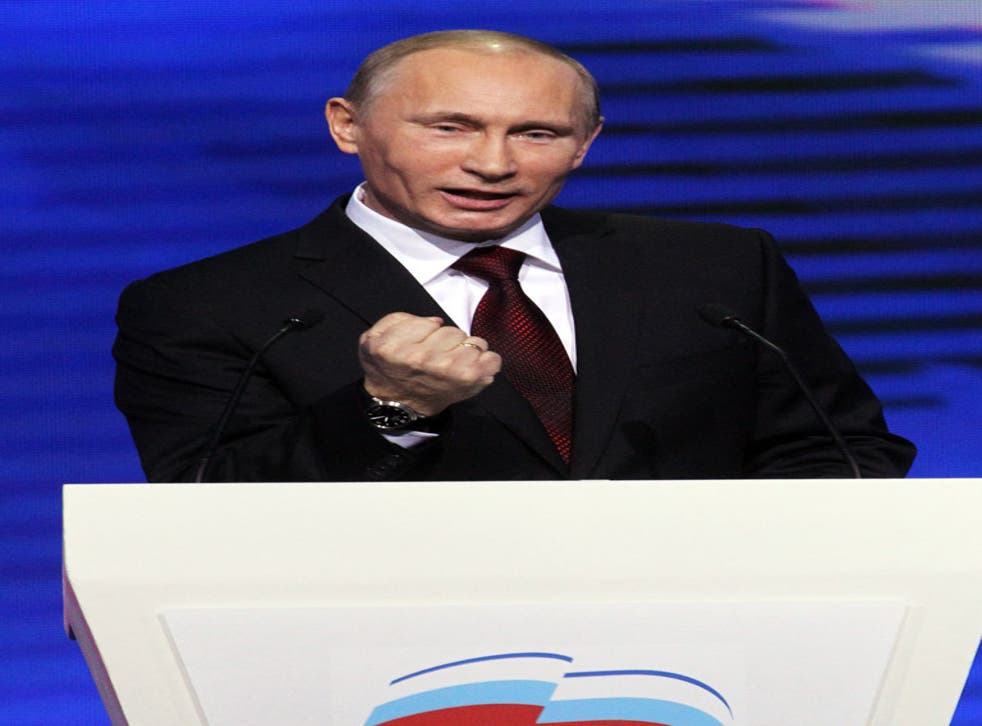 Vladimir Putin accused the West of meddling in Russian politics yesterday, in a carefully choreographed event during which he was officially nominated by his United Russia party to run for a return to the presidency next year.
Mr Putin, in a speech to over 10,000 delegates packed into a Moscow stadium, was repeatedly interrupted by football-style chants of his name, as he laid out his credentials.
Mr Putin moved aside for Dmitry Medvedev in 2008, and has spent the past four years as Prime Minister, but two months ago he announced that he planned to return to the top job, and will stand in March elections. With sliding but still high popularity ratings, and complete control of the airwaves, he is almost guaranteed to win.
A crude nationalism coursed through Mr Putin's speech to the assembled faithful, and on several occasion he led the crowd in chants of "Russia! Russia!" He said that unspecified, nefarious foreign countries trying to influence Russia's elections were "throwing money to the wind," and added that Western countries should focus instead on paying off their own debts.
Mr Medvedev, still technically the President, was clearly playing second fiddle, as his speech was interrupted with "Putin" chants.
Mr Putin is eligible for another two six-year terms, meaning he could be in power until 2024.
Mr Medvedev has said he will be Prime Minister under a new Putin presidency, but some analysts say this is unlikely, and that he will be nudged into a lower profile role.
United Russia is expected to get a healthy majority in parliamentary elections this Sunday, but the ruling elite is concerned at rapidly falling popularity figures. Mr Putin was booed last week as he addressed a stadium of martial arts fans.
Register for free to continue reading
Registration is a free and easy way to support our truly independent journalism
By registering, you will also enjoy limited access to Premium articles, exclusive newsletters, commenting, and virtual events with our leading journalists
Already have an account? sign in
Register for free to continue reading
Registration is a free and easy way to support our truly independent journalism
By registering, you will also enjoy limited access to Premium articles, exclusive newsletters, commenting, and virtual events with our leading journalists
Already have an account? sign in
Join our new commenting forum
Join thought-provoking conversations, follow other Independent readers and see their replies