Radovan Karadzic: Ultra-nationalists protest in Belgrade as former Bosnian Serb leader is found guilty of genocide
Conviction in The Hague for Srebrenica massacre is greeted with dismay in Serbia
Andrew Macdowall
Belgrade
Thursday 24 March 2016 22:09 Comments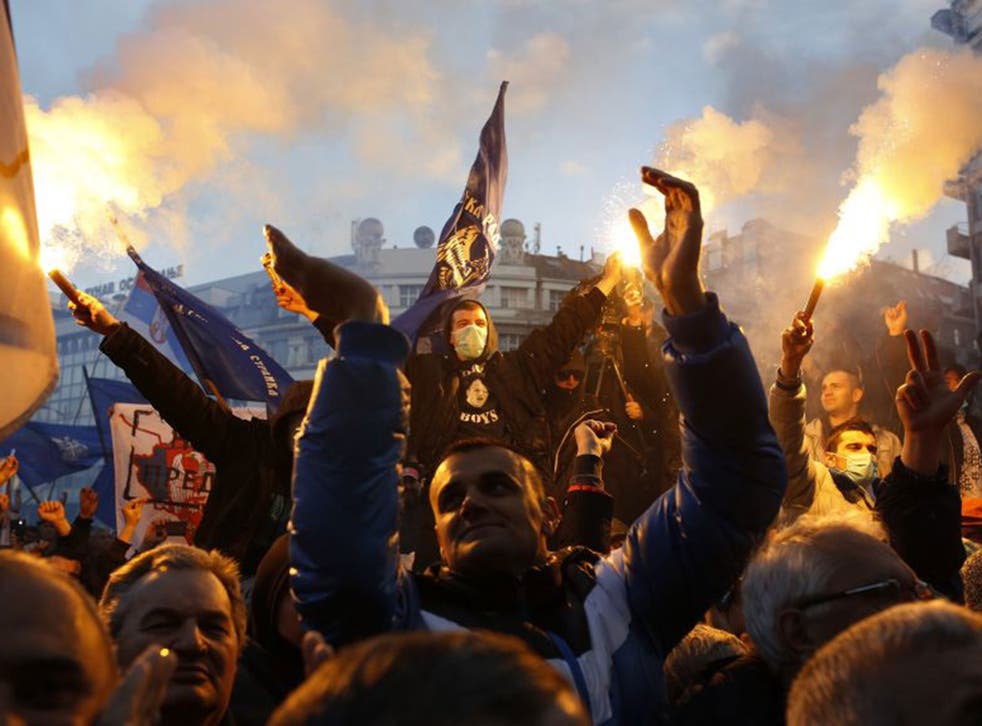 Radovan Karadzic, the Bosnian Serb leader responsible for the slaughter of more than 7,000 Muslim men and boys at Srebrenica, has been found guilty of genocide, closing the bloodiest chapter of Europe's history since the Second World War.
The 70-year-old was impassive as his 40-year sentence was handed down at The Hague, 21 years after the massacres during the break-up of Yugoslavia.
Throughout his eight-year trial, Karadzic had maintained the atrocities were the actions of rogue individuals. Few could countenance that explanation. Presiding judge O-Gon Kwon said: "With full knowledge of the ongoing killing, Karadzic declared a state of war in Srebrenica."
"I am so disappointed," said Bida Smajlovic, 64, whose husband was killed in the massacres. She watched a live broadcast of the proceedings in Potocari, a Srebrenica suburb. "We have been in shock ever since the first gunshot and this is yet another one," she said.
But in Belgrade, thousands of ultra-nationalists praised Karadzic, attending a rally to hear Vojislav Seselj – himself indicted for war crimes – condemn the court that found Karadzic guilty.
"The criminal Hague, the false court of the Western powers, has condemned Karadzic to 40 years," bellowed Mr Seselj, to boos and whistles from the crowd, at a rally called to commemorate the beginning of the 1999 Nato bombing of Serbia. "They convicted him when he was innocent, only because he led the Serb people in Bosnia during a crucial moment."
Mr Seselj compared European prisons holding Karadzic and other Serbs to "Hitler's camps", as supporters waved flags with his name and slogans of the Second World War nationalist Cetnik movement: "With Truth in God, Freedom or Death!". Russian President Vladimir Putin's face loomed out of placards and badges. "His conviction is a tragedy," said one smartly-dressed old man in a sweater and tie as he left the demonstration.
Earlier in the afternoon, Karadzic was found guilty on 10 of 11 charges brought at the International Criminal Tribunal for the Former Yugoslavia in The Hague. Karadzic was the President of the self-declared Serb Republic (Republika Srpska) in Bosnia from 1992 to 1996, and seen as a leading actor in the War. He was found culpable for genocide the Srebrenica massacre, in which more than 7,000 Bosnian Muslim men and boys were killed, and the 44-month siege of Sarajevo, during which 11,500 perished.
"The accused was the sole person within Republika Srpska with the power to prevent the killing of the Bosnian Muslim males," said presiding judge O-Gon Kwok, in reference to the Srebrenica deaths. However, the court did not convict him of genocide in seven municipalities outside Srebrenica – a ruling that some in Bosnia hoped for.
"We are going to have to wait for the verdict on [Bosnian Serb general] Ratko Mladic," said Asya Hafner, an artist who survived the siege, by telephone from Sarajevo. "I guess what they're doing is making a distinction between army and politics. I was hoping that he would be convicted for genocide in the other municipalities, which is what it was – genocide. I don't think this is a full sentence for Karadzic."
Chilling photographs expose the aftermath of the Srebrenica massacre

Show all 5
Between 1997 and his arrest in suburban Belgrade in 2008, Karadzic lived as a fugitive, including a period posing as a "new age" healer. Serbia is now in negotiations to become an EU member, and has made steps towards reconciliation with Bosnia, Croatia, and even Kosovo, over which it fought a war in 1998-99 with ethnic Albanian guerrillas. The Kosovo War led to Nato's bombing of Serbia, in which hundreds of civilians were killed. As Mr Seselj spoke, supporters broke into a chant: "Russia, Russia, we don't need the EU." The predominantly male crowd included old men resting against bus stops to listen to the radical leader, and youths swigging beer, clambering atop flowerpots to get a better view. One waved a flag of the Army of the Republika Srpska, which conducted the Sarajevo siege and is held responsible for the Srebrenica massacre. The names of postwar democratic leaders were booed.
Several demonstrators said that the numbers of dead at Srebrenica had been inflated, or distorted, in an attempt to discredit Serbs. "Many were killed who were not civilians," said Ivana Kovacevic. "There weren't that many people, Srebrenica was a village."
Mr Seselj looked and sounded remarkably robust for a man on provisional release from The Hague due to cancer and deteriorating health. His Radical Party is expected to re-enter parliament in next month's election with a staunchly pro-Russian manifesto, opposed to the pro-EU government of Prime Minister Aleksandar Vucic, albeit with less than 10 per cent of the vote. Many see Serbia at a crossroads, caught between old ally Russia, and the promise of EU membership. "All Europe targeted us, and now unfortunately – unfortunately – that's happening to them today, they are reaping what they sowed," said Sanja Todorovic, a 42-year-old court official, in a bleak reference to the Brussels and Paris attacks. "The innocent are killed as they were in the Yugoslav Wars."
The Radical Party rally was originally called to mark the start of the 1999 Nato bombing campaign on Serbia. That the Karadzic verdicts were announced on the same day only added tension to what is already a highly-charged date for many Serbs of all political backgrounds. "Everyone in Serbia sees the fact that they chose 24 March deliberately in order to humiliate Serbia," a government source told The Independent. "It was taken very badly. But we did expect those 40 years, no-one was surprised.
"Serbia today is sad and disappointed. But we won't give anyone the satisfaction to use that in order to deny our people the better future they deserve."
The sense that Serbs have been victimised lingers on, 17 years after the Kosovo War. "I don't think [the Karadzic verdict] is so important," said Jelena, 35, selling Serbian nationalist regalia and Putin T-shirts alongside tourist paraphernalia in Kalemegdan Park, high above the River Danube. "What about the bombing of Belgrade? The Americans and the others are bad, they killed the people, that's clear."
However, for most Serbs, the wars of the 1990s are best left far behind, either condemned, or simply put out of mind. "Forty years, it's big, but it's unavoidable," said Zeljko Mitrovic, a 30-year-old civil servant walking down the elegant pedestrianised Knez Mihailova Street, a centrepiece of Belgrade's newfound tourist promotion drive. "We want peace in the region."
Register for free to continue reading
Registration is a free and easy way to support our truly independent journalism
By registering, you will also enjoy limited access to Premium articles, exclusive newsletters, commenting, and virtual events with our leading journalists
Already have an account? sign in
Join our new commenting forum
Join thought-provoking conversations, follow other Independent readers and see their replies