Recep Tayyip Erdogan slams 'fascist and cruel' Europe and says Turkey may review ties after powers referendum
President says Turkey can no longer be threatened by EU membership process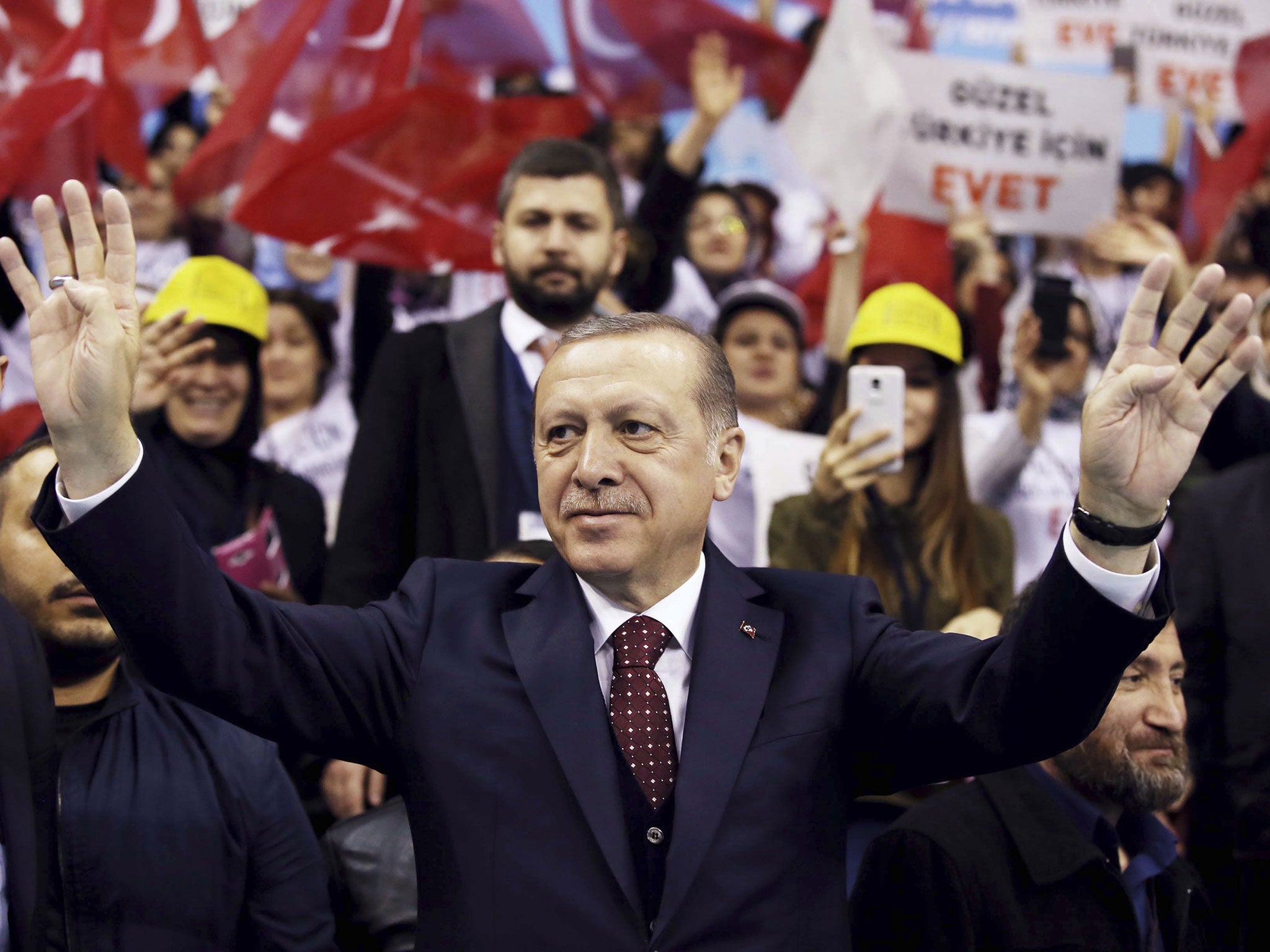 Turkish President Recep Tayyip Erdogan has described Europe as "fascist and cruel" and said it resembles the pre-World War Two era amid a row over the banning of several Turkish rallies.
Mr Erdogan said Turkey may review its ties with Europe after an April referendum he hopes will give him sweeping new powers.
Turkey is mired in a diplomatic crisis with Europe after Germany and the Netherlands banned several rallies intended to bolster support for the referendum, leading Mr Erdogan to brand the Netherlands "Nazi remnants" and accuse Germany of "fascist actions".
Mr Erdogan said Turkey will no longer be threatened by the European Union membership process and added that, from now on, it will not allow any Europeans on Turkish soil to carry out "spying" under various pretexts.
He also said Turkey could no longer be pressured by considerations such as a $6bn (£4.9bn) deal under which it agreed to stop illegal migrants from crossing into Greece in exchange for financial aid and accelerated EU membership talks.
Erdogan accuses Merkel of Nazi practices: Any country that harms a Turk will "face the consequences"
German Chancellor Angela Merkel has demanded Turkey stop comparing the bans to Nazi tactics and the head of the Central Council of Jews in Germany accused Mr Erdogan of disrespecting the memory of the victims of the Holocaust.
"The comparisons between today's Federal Republic of Germany and National Socialism, which we have heard in recent days, are not only insulting and absolutely false — they also relativize the Nazis' rule of terror," Josef Schuster said, German newspaper Die Welt reported.
"The comparison is monstrous and denigrates the suffering of the victims of the Shoah."
Mr Schuster added: "In a time in which anti-semitism and right-wing populism are on the rise, this completely inappropriate comparison and the trivialisation it entails of the horrific deeds of the Nazis downplay the true threat."
Ms Merkel said Turkey should stop Nazi comparisons "with no ifs or buts."
"Unfortunately, we have observed that these comparisons have not stopped, and we will not tolerate that every taboo is broken," she told reporters at the CeBIT technology fair in Hanover over the weekend
The controversy deepened last week when a Turkish pro-government newspaper depicted Ms Merkel as Adolf Hitler on its front page, branding her "Mrs Hitler."
The right-wing tabloid accused the German chancellor of attempting to lead a fascist movement against Turkey.
It came days after Germany's biggest-selling newspaper Bild attacked Mr Erdogan for threatening the stability of Europe through his "lust for power."
"Bild tells the truth to Erdogan's face — you are not a democrat! You are hurting your country! You are not welcome here!" the German newspaper said.
In pictures: Turkey coup attempt
Show all 17
Turkish hackers also spread Nazi accusations across high profile Twitter accounts, posting pro-Erdogan messages from accounts including Amnesty International, BBC North America and Forbes.
Mr Erdogan has also vowed to reinstate capital punishment "without hesitation" after the referendum and accused Europe of starting a "clash" between Christianity and Islam after a ruling allowed employers to ban headscarves as part of wider restrictions on religious and political symbols.
EU Commissioner Johannes Hahn told Bild Turkey's prospects for joining the EU would be "increasingly unrealistic" unless it changed course and stopped moving away from European values.
Mr Hahn said the EU had repeatedly voiced its concerns about the "increasingly authoritarian path of President Erdogan."
"Threats are no way to make policies," he said. "They make a reasonable dialogue impossible."
Join our commenting forum
Join thought-provoking conversations, follow other Independent readers and see their replies