Refugee crisis: 700 children a day now claiming asylum on European soil
Exclusive: Unicef calls on UK to act as figures reveal more than 190,000 children have sought asylum in Europe this year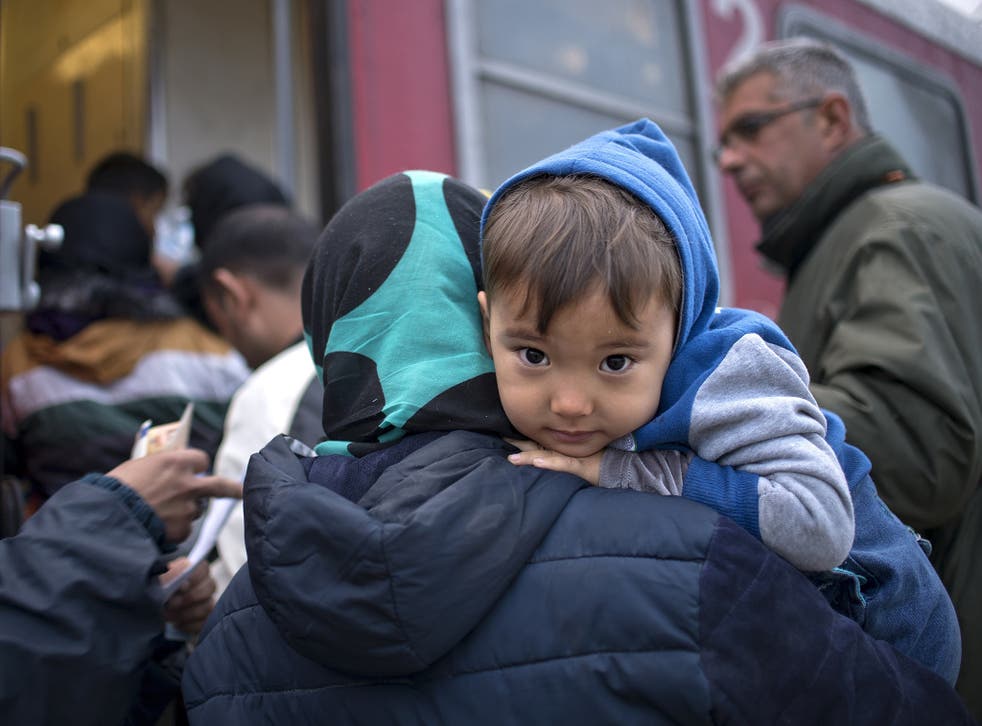 Up to 700 children a day are now claiming asylum on European soil, as new figures reveal that twice as many child refugees are arriving this year compared to 2014.
Unicef is calling on the UK to act over the crisis as pressure mounts on David Cameron to do more to help the most vulnerable refugees before the arrival of winter.There are calls to prioritise protecting children from violence in advance of the first world humanitarian summit next year.
In a new report, seen exclusively by The Independent, Unicef UK reveals that between January and September this year, more than 190,000 children sought asylum asylum in Europe, compared to 98,000 in the same period last year. The charity says conflict across the Middle East is forcing families to make the increasingly perilous journey to Greece and across Europe.
One in 10 of the world's children are now growing up in a conflict zone – some 230 million children, while in Syria one in five children are forced to cross a conflict line to take exams or get to school, according to the report.
In Yemen, 573 children have been killed since fighting escalated in March, while child labour has been recorded among Syrian refugees. There have also been widespread reports of sexual violence against girls.
The charity, which said it helped protect more than three million children last year, placing 33,000 unaccompanied children in places of safety, is asking people to call on the Prime Minister to protect children from violence.
Austria: Refugees make fires for warmth at the Slovenia border
"Children have been killed while studying in the classroom, recovering in hospital or sleeping in their beds. Many have been orphaned, forced to become soldiers, kidnapped, raped and traumatised," said Unicef's UK deputy executive director Lily Caprani.
"Protecting children from violence is life-saving, just as much as water, shelter and medicine, yet it isn't prioritised in the same way. This has to change."
Yvette Cooper, the chair of Labour's refugee taskforce, who recently visited the Greek island of Lesbos to witness the 7,000 refugees who arrive on the island on a daily basis, said: "Children are suffering most in this refugee crisis – and it is getting worse not better... too many of them are enduring things that no child should ever have to go through.
"For Britain to take just 4,000 refugees this year is not enough... We will look back with shame if we allow more children to die needlessly because of our inaction."
The Unicef figures have also prompted renewed concern over the safety of unaccompanied children arriving in Europe, after a refugee boy was allegedly kidnapped from a refugee centre, abused and killed. Germany's federal commissioner for child sexual abuse warned that there was a risk of sex offenders gaining access to refugee camps.
Johannes-Wilhelm Roerig said there was a "scandalous" lack of control at asylum centres as overburdened authorities struggle to cope with thousands of refugees arriving in Europe daily.
Refugees settle in Germany

Show all 12
According to Save the Children, more than 13,000 unaccompanied children arrived in Italy alone last year, which at the time was the major route into Europe.
The charity said that it expects that figure to double this year as more unaccompanied children arrive through Greece and the Balkans.
Gemma Parkin, a spokeswoman for Save the Children, said: "Action is not going in the right direction. Unaccompanied children remain the most vulnerable, at risk of the gravest form of exploitation and trafficking.
"Save the Children is calling for the UK government to offer to relocate up to 3,000 unaccompanied children, in order to do our fair share."
There are also concerns among aid workers in the Balkans that winter weather and prolonged periods outside will lead to fatalities among young children travelling across Europe, not just on the shores of Greek islands.
Gorana Dojcinovic, a Unicef co-ordinator in Croatia, said that the charity was already concerned at the number of cases of nappy rash and diarrhoea among young children.
You can sign Unicef's petition calling on David Cameron to protect children in emergencies at unicef.uk/protect
Register for free to continue reading
Registration is a free and easy way to support our truly independent journalism
By registering, you will also enjoy limited access to Premium articles, exclusive newsletters, commenting, and virtual events with our leading journalists
Already have an account? sign in
Register for free to continue reading
Registration is a free and easy way to support our truly independent journalism
By registering, you will also enjoy limited access to Premium articles, exclusive newsletters, commenting, and virtual events with our leading journalists
Already have an account? sign in
Join our new commenting forum
Join thought-provoking conversations, follow other Independent readers and see their replies