Refugee crisis: Angela Merkel appeals to Turkey for border controls to stop fresh wave of Syrian refugees
German Chancellor announces joint diplomatic efforts with leaders in Turkey to stop Syria's escalating conflict. Laura Pitel reports from Istanbul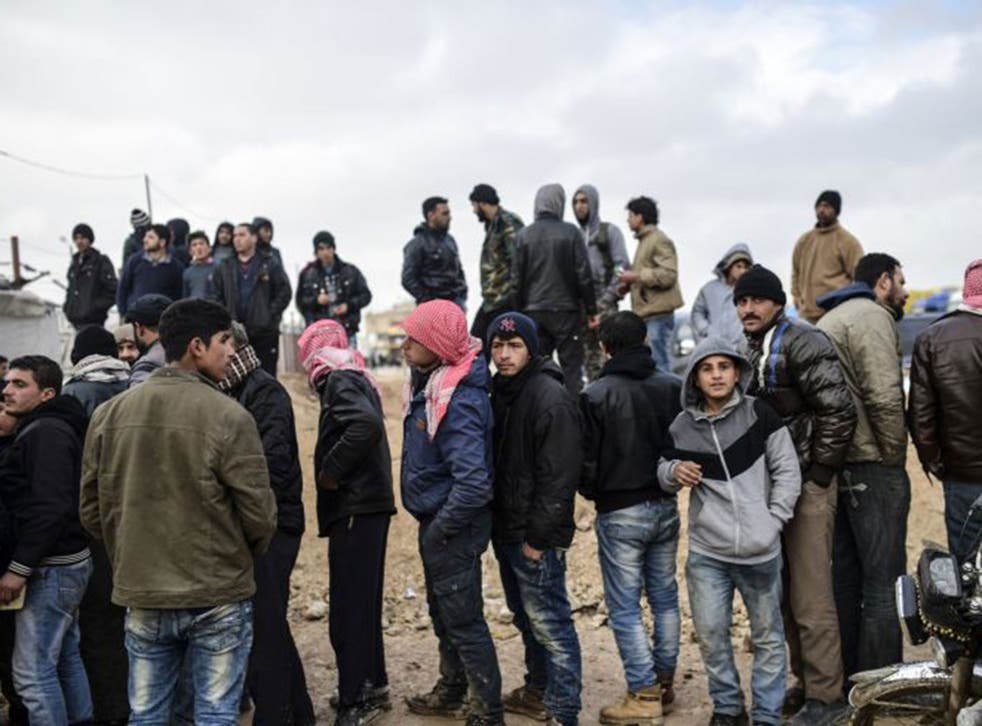 The German Chancellor Angela Merkel has said that she was "not just appalled, but horrified" by Russian attacks on Syrian civilians that have created a fresh wave of refugees, as she asked Turkey to make sure they cannot reach Europe.
Speaking on a visit to Ankara, Ms Merkel said that recent days had seen "human suffering for tens of thousands of people by bombing – primarily from the Russian side".
Her visit came as forces loyal to President Bashar al-Assad made further gains in Syria's northern Aleppo province in an offensive that strengthened Damascus and made an estimated 35,000 people homeless. It has prompted fears that hundreds of thousands more refugees could head for Europe, exacerbating a crisis that has already strained the very foundations of the European Union.
Even before the recent military push, leaders from London to Athens were deeply alarmed that, despite a €3bn (£2.3bn) deal with Turkey aimed at avoiding a repeat of last year's huge tide of migration, the number of arrivals has remained stubbornly high even during the harsh winter months. Yesterday alone, at least 38 people drowned in two separate incidents off the Turkish coast as they tried to reach Greek islands.
The fractious relationship has been further strained by the arrival of tens of thousands of refugees from Aleppo at the Turkish border. Europe has demanded that they be let into Turkey, but Turkish authorities have so far refused, prompting speculation that it could be seeking to unilaterally create the "safe zone" for refugees that it has long demanded from the United States.
The scale of the tensions between Brussels and Ankara was blown into the open yesterday in an explosive leaked memo, just minutes before Ms Merkel stood up for a joint press conference. According to the account of an October meeting to thrash out the EU-Turkey refugee deal announced the following month, Turkish President Recep Tayyip Erdogan is said to have warned the President of the European Commission, Jean-Claude Juncker: "We can open the doors to Greece and Bulgaria any time and we can put the refugees on buses.
The memo, obtained by the Greek news site Euro2day, said Mr Juncker reminded Mr Erdogan that Europe had delayed a report that was critical of the human rights situation in Turkey until after crucial elections in November. He is said to have told him: "We have treated you as a prince in Brussels." The Turkish president allegedly retorted: "Like a prince? Of course, I'm not representing a third-world country."
Four months on, the rhetoric appears to have changed little. Turkey's deputy prime minister, Yalcin Akdogan, yesterday accused Europe of doling out lessons in morality without taking any responsibility. He said: "On the one hand they say 'Open your borders, take everyone in'. On the other hand they say 'Close your border don't let anyone through'. Is it just us that must act with conscience?... Why don't you take them in?"
Refugee crisis - in pictures

Show all 27
Speaking alongside Ms Merkel, the Turkish Prime Minister Ahmet Davutoglu struck a more measured note but also sounded the alarm: "No one can expect Turkey to take on the burden on its own."
Ms Merkel faces pressure at home over her "open door" refugee policy that allowed more than a million migrants to enter Germany last year.
Turkey, meanwhile, is home to the world's largest population of Syrian refugees, an estimated 2.5 million people.
Since striking the deal with Brussels in November, Ankara has promised to build new schools and announced plans to issue work permits for Syrians in an effort to improve their living conditions and reduce the compulsion to leave in search of a better life. However, thousands have continued to set sail for Europe. Last month alone almost 70,000 migrants reached Greece.
Mr Davutoglu said he and the German chancellor had agreed a series of joint measures to reduce that figure, including an emergency aid group to help refugees at the border and an initiative aimed at combining the work of the Turkish coastguard with the EU border agency Frontex.
Aid groups warn, however, that the intensifying conflict in Syria means that the number of refugees will only continue to grow.
Pro-government troops, aided by Russia and Iran, have advanced to within 16 miles of the Turkish border after capturing the town of Kfeen, monitoring groups said, while Aleppo city is still under heavy bombardment.
Analysts say that the fall of the rebel-held districts of Syria's second city could prove a decisive moment in a conflict that has dragged on for five years and claimed the lives of at least 250,000 people.
Ms Merkel said the bombardment must be "brought to an end quickly", and promised that Turkey and Germany would push to halt the fighting in Aleppo. But, with UN-sponsored Syrian peace talks "paused" last week after barely getting under way, the chances of a ceasefire look slim.
Join our new commenting forum
Join thought-provoking conversations, follow other Independent readers and see their replies