Refugee crisis: Armed men shoot at international aid workers in attack on rescue ship patrolling Mediterranean
The attack near Libya on the Bourbon Argos vessel is believed to be the first of its kind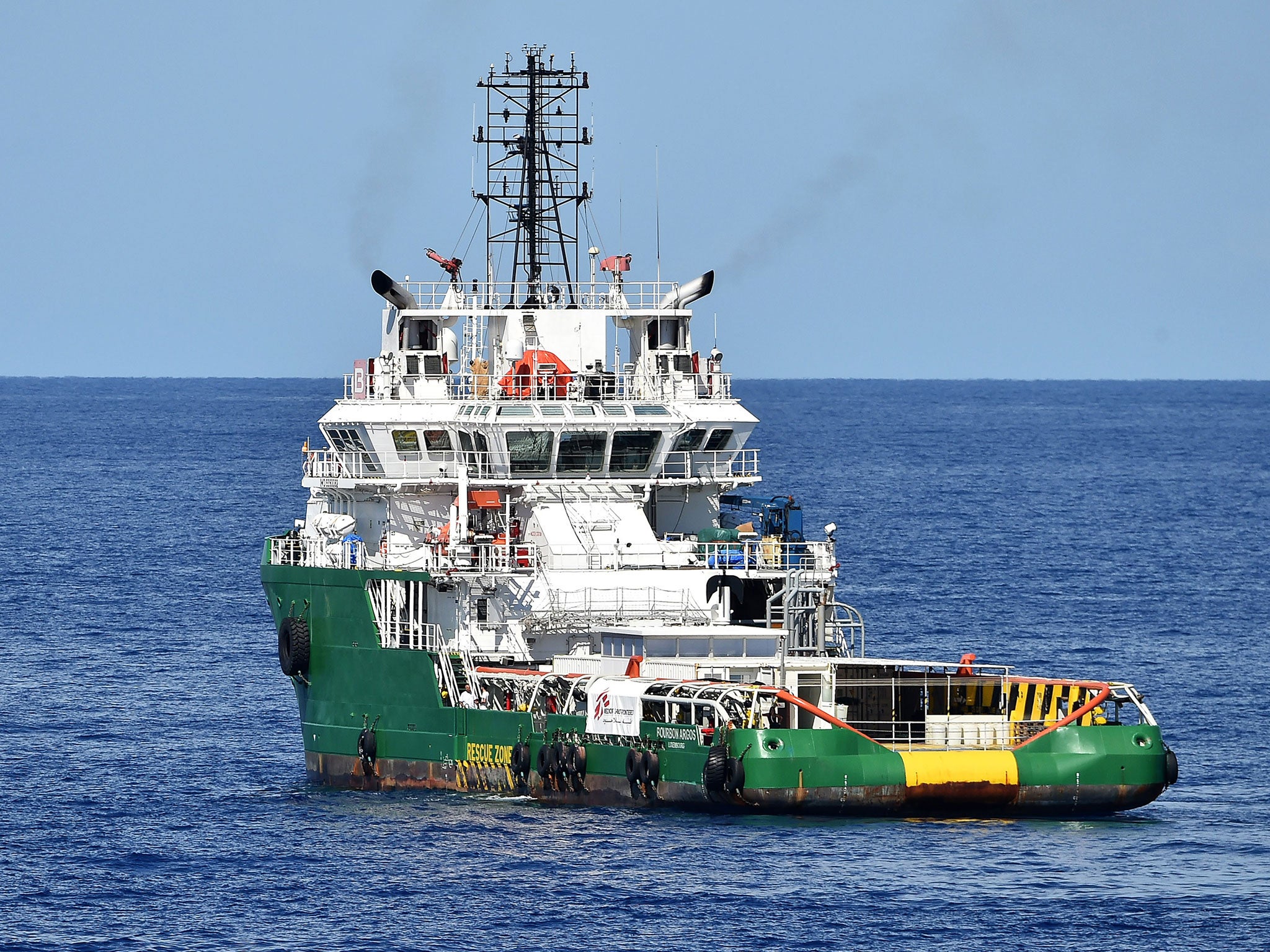 Gunmen have attacked a charity-funded boat rescuing refugees in the Mediterranean Sea, shooting at international aid workers before boarding the vessel.
The Bourbon Argos, which is operated by Doctors Without Borders (MSF), was patrolling around 24 nautical miles north of the Libyan coast when a speedboat approached.
Those on board failed to identify themselves or answer radio contact, then opened fire from around 500 metres away as rescue workers sought refuge in a designated safe area.
The armed men then boarded the Bourbon Argos and searched the vessel, which had no refugees on board at the time, for almost an hour.
MSF said they did not steal or remove anything and left minimal damage, although staff emerged to find bullet holes in the ship.
"Although we don't know the identity of the attackers or their motivation, our initial assessment of the facts shows that they were professional and well-trained," said Stefano Argenziano, MSF's operations co-ordinator.
"This was a serious and worrying attack, with shooting toward our boat which could have put our staff in acute physical danger."
The attack on 17 August was believed to be the first of its kind in the refugee crisis, where several naval and humanitarian ships are patrolling the Mediterranean and Aegean seas in efforts to prevent boat disasters that have killed more than 3,000 asylum seekers so far this year.
Desperate journeys: Rescued at sea, refugees detail abuse in Libya
The main launching point is the north-western coast of Libya, where instability and lawlessness since the country's civil war has enabled smuggling gangs to set up a ruthless and profitable trade.
Libya's fragile government is struggling to stop warring militias battling for territory after years of chaos and prevent the spread of Isis, which has recently been driven out of the city of Sirte with the aid of British and American special forces and air strikes.
The so-called Islamic State is considered an unlikely culprit for the attack on the Bourbon Argos, which is a more probable target for gangs looking to extort refugees on board.
The Central Mediterranean has become the deadliest sea crossing in the world, with traffickers frequently forcing untrained migrants to sail unseaworthy and overcrowded vessels towards Italy.
Refugee crisis - in pictures
Show all 27
MSF said it would not withdraw three ships carrying its teams in the region and vowed to continue its work to save people fleeing armed conflict, persecution and extreme poverty.
The charities SOS Méditerranée and Migrant Offshore Aid Station are also carrying on their search and rescue missions, having prepared for the possibility of attacks at sea.
Mr Argenziano hit out at the "inadequate" response to the crisis by the EU, reiterating calls for safe and legal routes to Europe for those seeking safety.
"With the number of deaths continuing to dramatically increase and the deteriorating situation in Libya, we continue to consider the European focus on deterrence and security dangerously myopic and completely inadequate to respond to this crisis," he added.
Britain is among the countries supporting the EU's anti-smuggling Operation Sofia mission and is training Libyan coastguards and naval personnel in an attempt to stem the number of boats being launched from the country's shores.

Join our commenting forum
Join thought-provoking conversations, follow other Independent readers and see their replies