Refugee crisis: Asylum seekers start hunger strike as they refuse to leave Hungarian border
Hungary closed its border with Serbia overnight, leaving hundreds of migrants and refugees who had reached the boundary stranded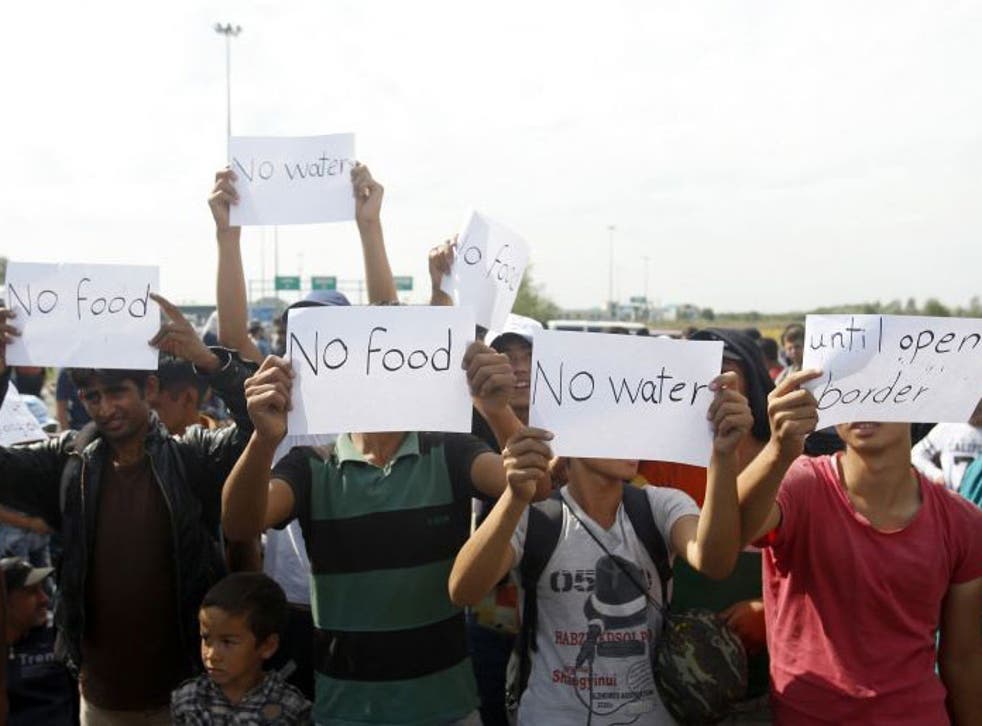 Desperate refugees being turned away from the Hungarian border have gone on hunger strike as they refuse to give up their quest to reach safety in Europe.
Up to a thousand men, women and children are gathered at a crossing point in Horgoš, Serbia, where lines of police wait on the other side of the 13ft wire fence keeping them out of the Schengen zone.
Laura Padoan, who was at the border with the UN refugee agency (UNHCR) told The Independent that a group of asylum seekers started a hunger strike on Tuesday afternoon.
They hoisted a baby grow on to the barbed wire of the barrier, reading "hunger strike: no food, no water, open this border", as people protested beneath.
"They say they will have no food, no water and they are refusing to move until the border is open," Ms Padoan said.
"It's difficult to say how many of the refugees are involved but some of them have small babies, and there are pregnant women and elderly people. There are children passed out with exhaustion.
"There are some really vulnerable people here who have disabilities, in really dire conditions."
Under Hungary's new anti-migration laws, which came into effect at midnight local time, railway crossings from Serbia into Hungary have been stopped, while the 110-mile border between both countries has been sealed by the fence and squadrons of police.
Anyone found trying to cross illegally will face criminal charges, with 30 judges on standby to try expected offenders, while others will be detained in processing centres or turned back to Serbia if their applications are refused.
Hungary declared a state of emergency on Tuesday, causing chaos as hundreds of people piled up in border zones and the Serbian government accused its neighbour of treating the country like a "concentration camp".
But refugees who have already risked their lives crossing the Aegean Sea and journeying on foot for hundreds of miles from war-torn countries including Syria and Afghanistan are refusing to give up their journey.
"They can't go back," Ms Padoan said. "Many of them have travelled a long way to get here and they want to seek refuge."
As she spoke, hundreds of asylum seekers had started protesting along the border in scenes she described as "frustrated" but peaceful.
Many more people are expected to join the crowds over the coming days as refugees travelling along the Western Balkans route into Europe continue to make their way through Greece, Macedonia and Serbia – all heading towards Hungary.
Horgoš is around 160 miles from the Croatian border and further from Romania, and with no transport away from the border zone, there are few options for refugees to divert around Hungary.
Serbia's foreign minister declared it was "unacceptable" that migrants were being sent back from Hungary while more and more were arriving.
"(Serbia) wants to be part of the solution, not collateral damage. There will have to be talks in the coming days with Brussels and other countries," Ivica Dacic said in Prague.
According to Frontex, the EU's border agency, 37,766 "illegal crossings" were made from Serbia to Hungary between April and June this year, up 1,176 per cent from the same period in 2014.
Zakariah Sharfo Surian, a mechanic from the Syrian city of Aleppo boarding a bus from Hungary to Austria, said he couldn't understand the new hard-line Hungarian laws.
"Those who leave their country are fleeing because of the pressures of war," he told the Associated Press. "To escape death for a better life and to escape the pressures in our country. No one would leave their country without a good reason."
The refugee crisis - in pictures

Show all 70
As Hungary's border closure loomed, a record of 9,380 asylum seekers crossed on Monday alone, almost all hoping to travel onwards to Germany and other parts of Western Europe.
The exponential rise came as hundreds of thousands of refugees continued to reach Europe over the Mediterranean Sea, landing in Italy and on Greek islands.
More than 500,000 people had crossed into the EU in 2015 by the end of August and the numbers are not falling, according to Frontex figures.
Meanwhile, European leaders have been unable to reach a common immigration policy and agree on how to distribute 120,000 refugees between the 28 nations.
This newspaper has started a campaign for the UK to welcome a fair share of refugees.
Click here to sign The Independent's petition
Additional reporting by AP
Join our new commenting forum
Join thought-provoking conversations, follow other Independent readers and see their replies