Libyan coastguard 'opens fire' during refugee rescue as deaths in Mediterranean Sea pass record 1,500
Toddlers among dozens of migrants drowned in new disaster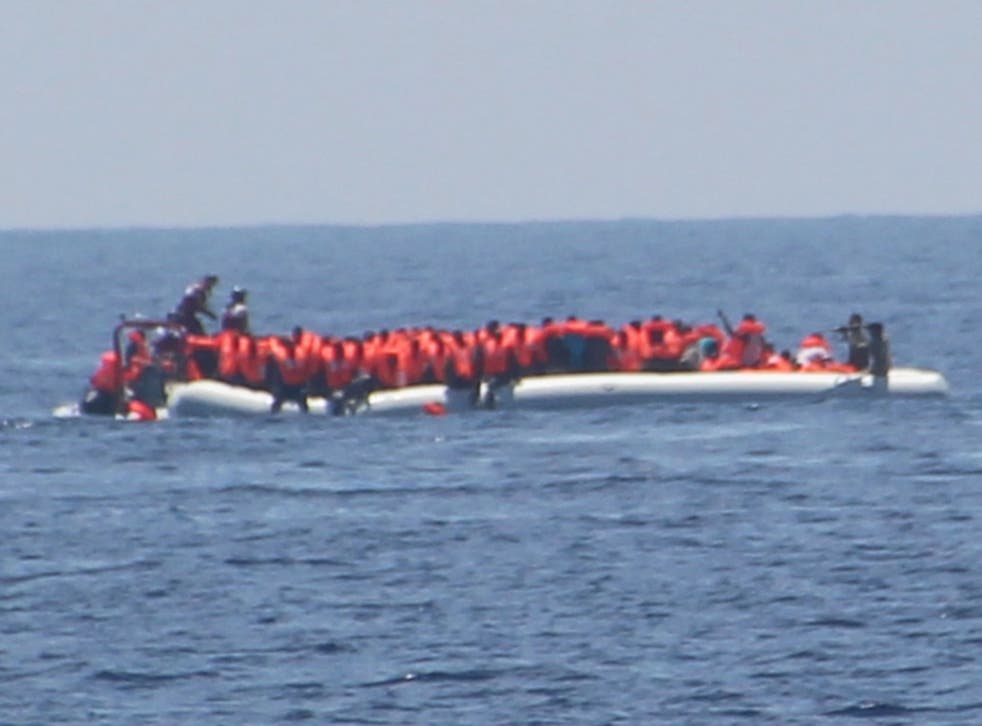 Members of the EU-backed Libyan coastguard have allegedly opened fire while forcing refugees back to the war-torn country in the latest clash with international rescue ships.
It came as more than 30 migrants, including several toddlers and children, drowned in the Mediterranean Sea in the deadliest period ever recorded.
The Luventa, a vessel operated by German charity Jugend Rettet, was among the vessels deployed by maritime commanders in Rome to help around a dozen refugee ships carrying more than 1,800 people on Tuesday.
Crew members said they were on the scene when the Libyan coastguard arrived in several speedboats, despite the refugee vessels having reached international waters.
"The personnel of the Libyan boats were armed and first fired in the direction of a fishing boat," a spokesperson said.
"Afterwards they directed shots to the [refugee] boats in distress."
The Luventa's crew photographed a member of the coastguard on a migrant dinghy pointing what appeared to be a large weapon at refugees, saying officers also beat those on board.
Around 100 people jumped into the sea in the ensuing panic, swimming towards Jugend Rettet's ship and others waiting nearby.
In pictures: A day of refugee rescues in the Mediterranean Sea

Show all 7
The Iuventa's captain, Jonas, said the refugees were saved by life vests provided by his crew before they were forced back.
"For ourselves, the situation was extremely tough," he added. "We are here to help, but we were compelled to stand inactive, so we would not catch a bullet."
Save the Children, which had also been deployed to the rescue, said the coastguard started off by sinking empty boats but changed to "aggressive behaviour" as missions continued.
"They boarded several boats and multiple gun shots were fired," a spokesperson said.
"While we believe these were warning shots, this hostile behaviour caused panic and tens of people entered the water as a result…this type of aggressive behaviour during rescues of multiple dinghies is extremely dangerous and endangers lives."
It was unclear whether the coastguard unit involved was among those trained by countries including the UK as part of the EU's Operation Sophia mission.
Libya has also recently received new boats from Italy, while the EU considers a lengthy list of requested equipment including armed ships.
Authorities linked to the fragile Government of National Accord (GNA) have been forcing boats launched by smugglers back to the coast in what human rights organisations say is a violation of non-refoulement protections under international law.
Libyan Coast Guard puts refugees and rescuers in danger during rescue operation at sea
While intercepting another rescue earlier this month, a Libyan coastguard ship was filmed cutting across the bow of a vessel operated by charity Sea-Watch.
Aid workers said they were "lucky to be alive" after the near miss, which followed another incident where officers shot at a MSF rescue ship.
​Ayoub Qassem, a spokesperson for the coastguard, accused NGOs of "trying to hinder" the agency's work. A representative of the GNA has not yet responded to The Independent's request for comment.
Tensions have been rising as the number of smugglers' boats launch from Libya rockets to record levels with improving weather, seeing almost 60,000 people arrive in Italy so far this year and more than 1,500 killed attempting the world's deadliest crossing.
More than 30 asylum seekers drowned on Wednesday after a wooden boat packed with hundreds of migrants suddenly listed, throwing them into the water.
Chris Catrambone, co-founder of the Migrant Offshore Aid Station (MOAS), documented chaotic scenes from on board his organisation's ship as hundreds of people fought to stay afloat.
Comparing the situation to a "horror film", he said at least 31 bodies had been brought on board, adding: "Most are toddlers."
A Spanish search and rescue plane dropped inflatable rafts for those in the water, while an Italian navy helicopter and the coastguard helped recover victims and bodies.
The death toll from the disaster was expected to rise as commercial vessels called to help reported new sightings of bodies.
The Italian coastguard said around 1,800 migrants were rescued in from four rubber boats and six wooden vessels on Wednesday, with the Royal Navy's HMS Echo among those deployed off the coast of Libya.
The GNA has so far been unable to bring stability the the country two rival governments, tribes and Isis fight for territory in its ongoing civil war.
Widespread lawlessness has allowed people smugglers to expand their lucrative trade, linking up with gangs who detain and extort migrants, ransoming them or forcing them into labour at "slave markets" and prostitution.
At least 20,000 migrants are believed to be held in irregular detention centres in the country, where survivors report torture, rape and starvation in dire conditions – sparking a probe by the International Criminal Court.
The dire humanitarian situation has slowed moves by the EU to back detention centres as part of a package of support to bolster Libyan to stem boat crossings in the Mediterranean Sea.
Waning European will to stop refugee deaths has seen NGOs accused of aiding or even colluding with smugglers – charges they all vehemently deny.
"Our role as NGOs in the search and rescue zone is to stop people drowning," a spokesperson for Save the Children said.
"It is deeply concerning that people appeared to be returned to Libya. Rescued refugees and migrants should not be returned to places where their security and well-being cannot be guaranteed."
Join our new commenting forum
Join thought-provoking conversations, follow other Independent readers and see their replies