Charities call on UK and EU to pull support from Libyan coastguard that opened fire during refugee rescue
Rescue workers say backing is 'endangering lives' amid chaos in the Mediterranean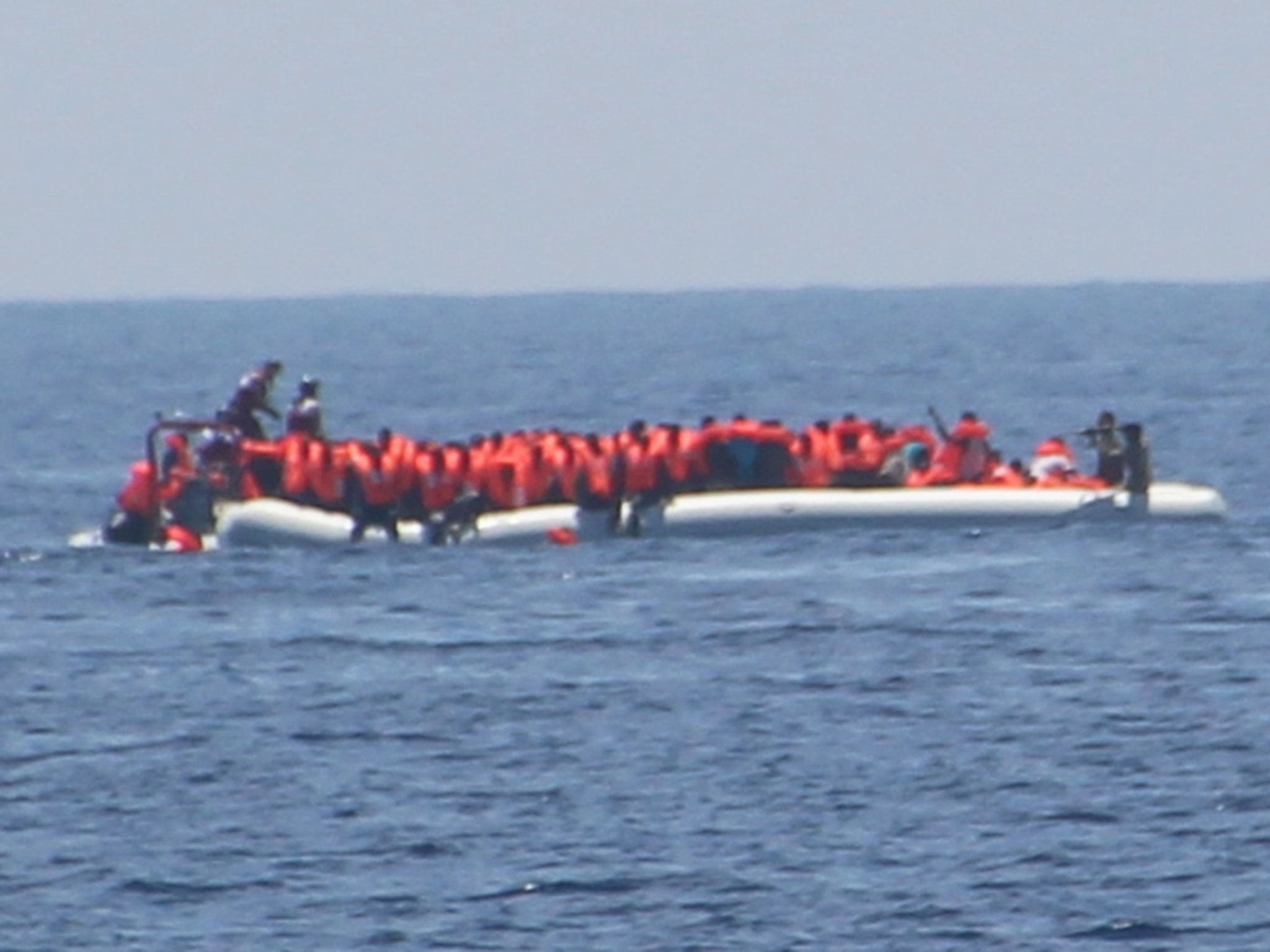 Humanitarian agencies are calling on the UK and European Union to pull support from the Libyan coastguard after officers opened fire during battles to save almost 2,000 refugees.
Rescue ships operated by four charities were deployed by maritime commanders in Rome to help a dozen migrant boats in international waters, but were soon approached by two armed Libyan vessels.
Gunshots can clearly be heard in footage taken from the Aquarius, run by SOS Méditerranée, and Médecins Sans Frontières (MSF), which shows one coastguard officer pointing a machine gun at refugees packed in a rubber dinghy.
It had already been partly emptied by rescuers, who had given those on board live jackets before being called to another boat nearby that was at risk of sinking.
Annemarie Loof, from MSF, said two armed coastguard officers boarded after they moved away and "took phones, money and other belongings" from passengers before attempting to force the boat back to Libya.
"Many passengers – who had luckily already received lifejackets before the shooting began – jumped off the boats into the sea in fear," she added.
"Our teams pulled 67 people out of the water as gunshots were fired in the air. It's a miracle that no one drowned or was injured."
Ms Loof said the coastguard, which has been trained by countries including the UK as part of an EU mission, showed "little regard" for safety.
"Knowing that the Libyan coastguard has been receiving training and support from the European Union makes the incident all the more disturbing," she added.
"We believe that the Italian and European authorities should not be providing support to the Libyan coastguard, either directly or indirectly. This support is further endangering people's lives."
The Royal Navy has taken part in offshore training schemes launched last year to increase its capacity as part of Europe-wide efforts to stem the refugee crisis.
British officers have given guidance on human rights practice, while naval ships including HMS Echo have also taken part in rescues.
A spokesperson for the Ministry of Defence told The Independent it was aware of reports from the shooting incident.
"We take all allegations of human rights abuses very seriously, and take them into consideration for any support we provide overseas," he added.
During the chaos on Tuesday, the Aquarius took more than 1,004 asylum seekers on board, including a two-week-old baby.
SOS Méditerranée also condemned the Libyan coastguard's intervention, saying the gunshots were fired into the air using a Kalashnikov with the "aim of intimidating passengers".
"The Libyans pointed their weapons at us, asking us to give them all our money and cell phones and telling us to jump in the water, we did what they said and many of us jumped into the water," a rescued Gambian migrant told the charity.
"I was not afraid, I preferred to die at sea than being pushed back and to die in Libya."
In pictures: A day of refugee rescues in the Mediterranean Sea
Show all 7
Save the Children and Jugend Rettet, whose ships had also been deployed by Italian commanders, also confirmed the gunshots as they rescued a total of more than 1,800 people.
Their accounts were initially dismissed by the Libyan Navy and the country's fragile Government of National Accord (GNA) has not responded to The Independent's request for comment.
Admiral Ayob Amr Ghasem told Italy's Ansa news agency rescuers were "waging war" on the Libyan coastguard and attempting to "advance the interests of migrants".
''Why would we have shot at boats if we are the ones that always save them?'' he was quoted as saying. ''Why do they declare war on us?''
Marcella Graay, the project coordinator on board the Aquarius, said the Libyans tried to force the rubber boat they boarded back to the coast but abandoned the attempt after people started pouring into the sea.
She said the coastguard then communicated with rescuers so they could take the remaining passengers on board and back to Italy – but at least one wooden boat was forced back to shore.
Some migrants jumped off the vessel to escape, Ms Graay said, telling aid workers officers had taken their money and valuables.
"The incident shows that really they are not even close to making sure people are saved in a safe way," she told The Independent.
"If you're supporting the coastguard it means you're making people go back to the situation in Libya, when we know people are subject to arbitrary detention, sexual violence, torture and neglect.
"For me it's a strange idea that as the EU you would want to send people back to that."
Tuesday' incident followed several clashes between the Libyan coastguard and NGO vessels, seeing them cut across a Sea-Watch ship earlier this month and open fire on MSF's Bourbon Argos, after allegedly causing the death of dozens of migrants in another incident.
Charities expect interventions to increase following the arrival of new patrol boats provided by the Italian government, which has struck a deal worth millions of euros to increase Libya's capacity.
The agreement struck earlier this year was formally supported by other EU states at a summit in Malta, while the European Commission is also considering a lengthy list of requested equipment from the GNA including armed ships.
Federica Mogherini, the EU's foreign policy chief, said she had no direct information on the shooting incident following initial reports by Jugend Rettet.
She called on the Libyan coastguard to respect human rights and claimed that the EU's Operation Sophia mission ''includes a strong human rights component and especially as concerns women, respect for whom is important not only at sea but also on the ground''.
A cut in support for Libyan authorities looks unlikely as a record number of migrants cross the central Mediterranean Sea, which has become the main refugee route to Europe since the EU-Turkey deal.
At least 2,300 migrants were rescued from 18 boats on Thursday alone in what has become the deadliest sea passage in the world, claiming the lives of more than 1,500 refugees so far this year.
Unicef said at least 200 children are among the dead – a record rate of more than one a day.
"That is not a record to be proud of, but a reminder of our collective failure to ensure the safety and wellbeing of refugee and migrant children," said Justin Forsyth, the UN agency's deputy executive director.
Toddlers were among at least 34 refugees who drowned after a boat started to capsize on Wednesday but Unicef warned that the true death toll of the disaster was probably five times higher than the bodies recovered.
The Migrant Offshore Aid Station (Moas) said a pregnant woman was in a critical condition after being rescued during the incident, and could lose her baby after being traumatised by seeing her young son drown.
It said at least 400 people went overboard while hundreds more were locked below deck – a common practice among ruthless people smugglers. Almost 600 people were rescued.
More than 50,000 asylum seekers have reached Italy so far this year, mostly from countries including Nigeria, Bangladesh, Guinea, sub-Saharan Africa and Syria.
The vast majority of those rescued are taken to the island of Sicily, where migration will feature on the agenda of G7 leaders meeting there on Friday and Saturday.
Join our commenting forum
Join thought-provoking conversations, follow other Independent readers and see their replies