Refugee crisis: EU-Turkey deal could be contributing to falling deaths in migrant boat disasters but arrivals rising in Italy
Deaths have fallen in the Aegean Sea but crossings over the Central Mediterranean continue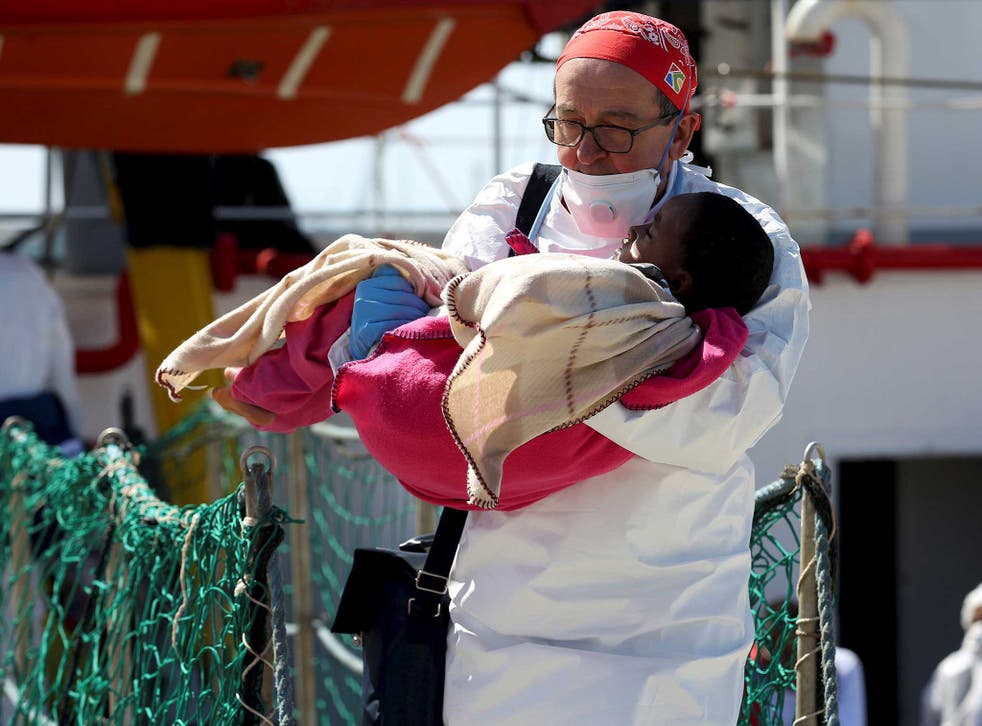 The controversial EU refugee deal with Turkey could be helping reduce deaths at sea by preventing treacherous journeys across the Aegean.
New figures by the International Organisation for Migration (IOM) showed that no asylum seekers were reported drowned so far this month in the passage between Turkey and Greece.
Crossings in flimsy smugglers' dinghys have seen countless disasters, including one that claimed the lives of three-year-old Alan Kurdi, his mother and brother.
But despite fears that the closure of the route, now patrolled by Nato ships, would force refugees on longer and more dangerous routes, casualties appear to be falling.
According to IOM figures, at least 1,370 migrants have died at sea so far this year – 25 per cent lower than the same period in 2016.
Of the 13 recorded in three incidents up to 21 May, none were on the route over the Aegean Sea.
"We attribute this drop in fatalities to the extremely sharp drop in arrivals from Turkey in Greece," IOM spokesperson Joel Millman said.
"Obviously as the Turkish-Greece route appears suspended, we hope this is the beginning of a sound management policy of refugees and migrants who wish to make the crossing and don't take these enormous risks.
"It is possible, I want to stress possible, that the period of stark fatality since 2013 may have run its course by now, maybe we'll see a safer summer."
Refugee crisis - in pictures

Show all 27
A group of 10 people are believed to have drowned off Sardinia on Saturday, part of a voyage IOM believes left from Algeria, while two bodies were recovered this month off Egypt and one body was found off Spain's North African enclave of Ceuta.
An estimated 191,134 migrants and refugees have reached Europe by sea so far this year, arriving in Italy, Greece, Cyprus and Spain.
The number of refugees arriving in Italy, dominantly crossing the Mediterranean Sea from Libya, remains high.
An estimated 2,700 migrants have been rescued at sea over the past 24 hours and another 850 were turned back after being intercepted by the Libyan authorities.
Giovanna di Benedetto, from Save the Children Italy, told The Independent the number of refugees arriving in the country was rising, with another four landings due on Tuesday.
According to the charity's figures, 33,200 asylum seekers had arrived by sea between 1 January and 22 May this year, including 5,400 unaccompanied minors.
In the first four months of last year, 26,000 migrants including 1,700 unaccompanied minors had made the journey.
Libya coastguard braces for fresh refugee wave
Ms di Benedetto said that humanitarian workers did not believe the increase was directly related to efforts to close the people smuggling route across the Aegean.
"At the start of last year we saw a lot of Syrian families arriving in Italy but they don't come any more," she added.
"It is a completely different group of people that arrive in Italy – mostly from sub-Saharan countries and East Africa."
The largest group arriving in Italy are from Nigeria, at 15 per cent, followed by Gambia, Somalia, the Ivory Coast, Eritrea, Guinea and Senegal.
Italy is not subject to the terms of the EU deal with Turkey, which sees any refugees arriving clandestinely in Greece detained and deported back across the Aegean if their asylum applications fail.
Border closures through the Western Balkans route formerly used by migrants journeying into Europe have left thousands stranded across the continent.
Greek authorities were evicting refugees from the Idomeni camp, at the Macedonian border, on Tuesday, while a survey of the Calais "Jungle" has shown that the majority of its 6,000 residents are still determined to reach the UK.
Register for free to continue reading
Registration is a free and easy way to support our truly independent journalism
By registering, you will also enjoy limited access to Premium articles, exclusive newsletters, commenting, and virtual events with our leading journalists
Already have an account? sign in
Register for free to continue reading
Registration is a free and easy way to support our truly independent journalism
By registering, you will also enjoy limited access to Premium articles, exclusive newsletters, commenting, and virtual events with our leading journalists
Already have an account? sign in
Join our new commenting forum
Join thought-provoking conversations, follow other Independent readers and see their replies