Refugee crisis: Germany sending hundreds of asylum seekers back to Austria every day as mood shifts
German authorities said the rules had not changed but Austrian police said more and more people are being turned back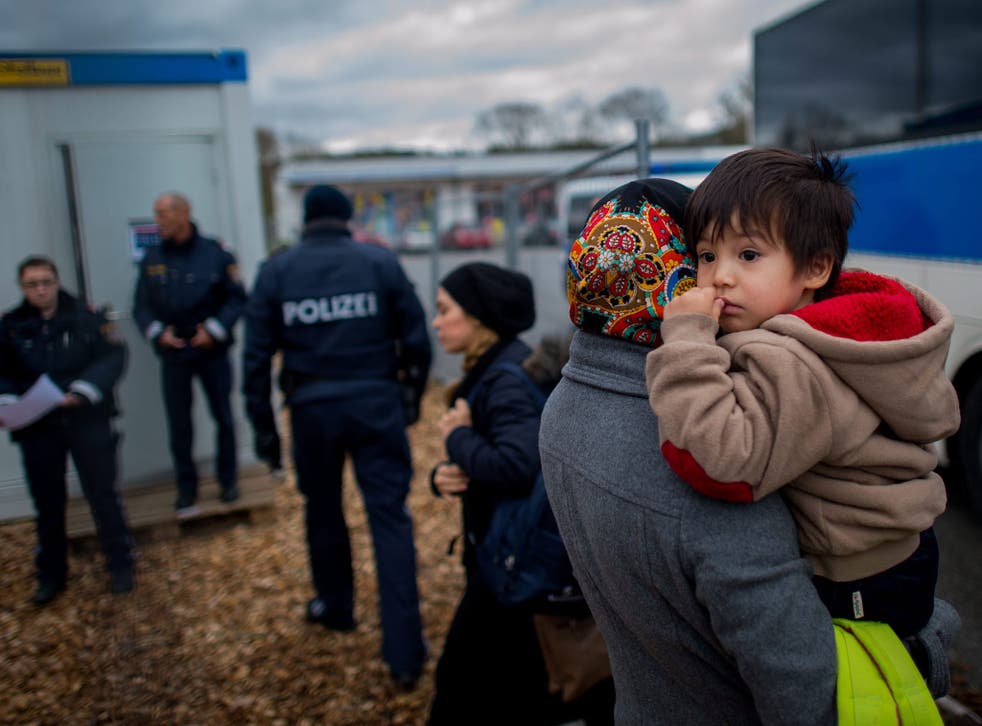 Germany is sending hundreds of refugees and migrants back to Austria every day as pressure grows on Angela Merkel to fulfil her pledge to "drastically decrease" the number of people arriving.
The Chancellor made that promise last month and pressure has mounted further in Germany since police said asylum seekers were involved in the New Year's Eve attacks on women in Cologne and other cities.
There was widespread praise for Ms Merkel's opening of the border to all Syrians in August but border controls with Austria were reintroduced in mid-September and the arrival of 1.1 asylum seekers by the end of the year raised concerns about housing and infrastructure.
Growing fury in Germany over New Year's Eve assaults on women in Cologne
Germany remains the destination for the bulk of migrants still crossing the Aegean to Greece and making their way along the long Western Balkan Route.
Police in Austria, which is the last point of transit before Germany, say its neighbour has been turning back hundreds of would-be refugees every day.
Many of those rejected at the border have no valid documents or refuse to apply for asylum in Germany, arguing they want to travel further north to countries such as Sweden, police in the province of Upper Austria said.
"Since the New Year, it's been about 200 a day, and getting higher," a spokesperson said.
"German politicians seem to have decided to act with more firmness. The difficult thing (for us) is to explain if a migrant asks: Why can't I travel further now if my friend could still do it last week?"
A spokesperson for police in Munich confirmed that Germany has been sending back up to 100 or so migrants a day, depending on individual cases, but did not confirm any recent increase. "We apply the valid legal rules. They haven't changed," she said.
Any asylum seekers who do not apply in Austria face a fine for illegally crossing the border but can attempt to cross to Germany once again once they have paid the fee.
Syrian refugees are still mainly accepted because of their high chance of being granted asylum in Germany but Afghans, who make up around a fifth of the people reaching Europe to flee war and persecution, and Iraqis – making up almost a tenth – and other nationalities are less likely to be let through.
Sweden, the Netherlands and UK are among the other countries favoured as a final destination.
But the journey is becoming ever more difficult as the welcoming attitude towards refugees seen across Europe early last year fades and nations tightened control.
Austria has itself returned asylum seekers back to neighbouring Slovenia for lying about their nationalities in an attempt to gain international protection.
Around 90,000 asylum applications were received in Austria last year, three times the figure in 2014.
The Interior Minister, Johanna Mikl-Leitner, said the Dublin regulations that allow migrants to be returned to the EU state they first arrived in had to be applied more rigorously.
She classified those who initially fled war but passed through several European safe countries to reach a more affluent destination as economic migrants.
Refugees settle in Germany

Show all 12
Chancellor Werner Faymann echoed her comments on the need to reduce the number of arrivals, calling for a Plan B in an interview with Austria's Kronen Zeitung.
"That means to intensify policies together with Germany to send back economic migrants and decrease overall numbers," he said.
"We will be more active at our borders than today. The Germans will also do more."
The German Interior Ministry said the rejected asylum seekers had said that they did not want to seek protection in Germany were heading elsewhere and that such people had been turned away since the start of border controls.
Additional reporting by agencies
Register for free to continue reading
Registration is a free and easy way to support our truly independent journalism
By registering, you will also enjoy limited access to Premium articles, exclusive newsletters, commenting, and virtual events with our leading journalists
Already have an account? sign in
Register for free to continue reading
Registration is a free and easy way to support our truly independent journalism
By registering, you will also enjoy limited access to Premium articles, exclusive newsletters, commenting, and virtual events with our leading journalists
Already have an account? sign in
Join our new commenting forum
Join thought-provoking conversations, follow other Independent readers and see their replies