Refugee crisis: Hundreds of migrants storm Calais motorway attempting to board lorries heading to the UK
Police fired tear gas at crowds of people attempting to stop traffic near the French port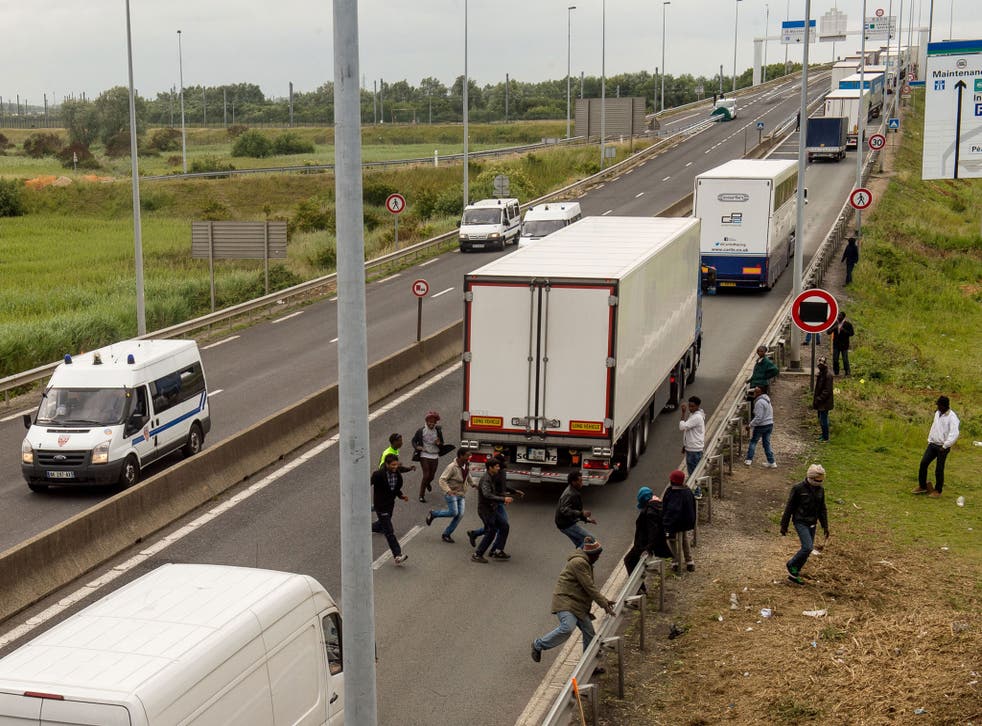 Hundreds of refugees and migrants have stormed a motorway leading to the port at Calais in desperate attempts to board lorries heading for the UK.
Riot police were sent to the incident near the "Jungle" camp on Wednesday morning, firing tear gas and attempting to force asylum seekers off the road.
The busy A216 was closed in both directions after clashes started at around 10am (9am GMT), causing P&O to warn of delays and diversions for passengers trying to reach its ferries.
Calais refugees share personal stories
Local newspaper La Voix du Nord reported that up to 400 people climbed fences on to the motorway and attempted to stop traffic so they could hide on lorries.
Clashes reportedly broke out, seeing migrants throw rocks and projectiles at riot police, including one that injured a lorry driver.
An officer told the newspaper that the situation was "serious".
"I have been on this assignment for a month but this time even worse," he said. "There are big, big crowds. They want to stop HGVs but the HGVs are increasingly refusing to stop.
The road has since re-opened and delays around Calais were clearing.
Thousands of asylum seekers fleeing conflict and repression in the Middle East and Africa are believed to be camping in Calais in the hope of reaching the UK, although numbers have declined since the "crisis" in August.
Many are in the so-called Jungle, where aid organisations have described squalid and unsanitary conditions that have worsened with the onset of winter.
In pictures: Calais crisis intensifies

Show all 20
Volunteers have been building shelters and staffing limited facilities but the French government has now started work on a new camp to house 1,500 people in larger tents, while shipping containers are also being repurposed.
At least 13 asylum seekers have died trying to cross from Calais to Dover this year, with some being electrocuted by power cables in the Eurotunnel, hit by trains, falling or being killed in car accidents.
The British government has pledged to resettle 20,000 refugees over the next five years but is only taking asylum seekers from UN camps in countries surrounding Syria, and not from "hotspots" like Calais where thousands have already reached Europe.

Join our new commenting forum
Join thought-provoking conversations, follow other Independent readers and see their replies