Refugee crisis: Hungary places full-page newspaper advert warning asylum seekers not to cross country's border
Speaking in parliament, Hungarian Prime Minister Viktor Orban said millions of migrants are 'laying siege' to Europe's borders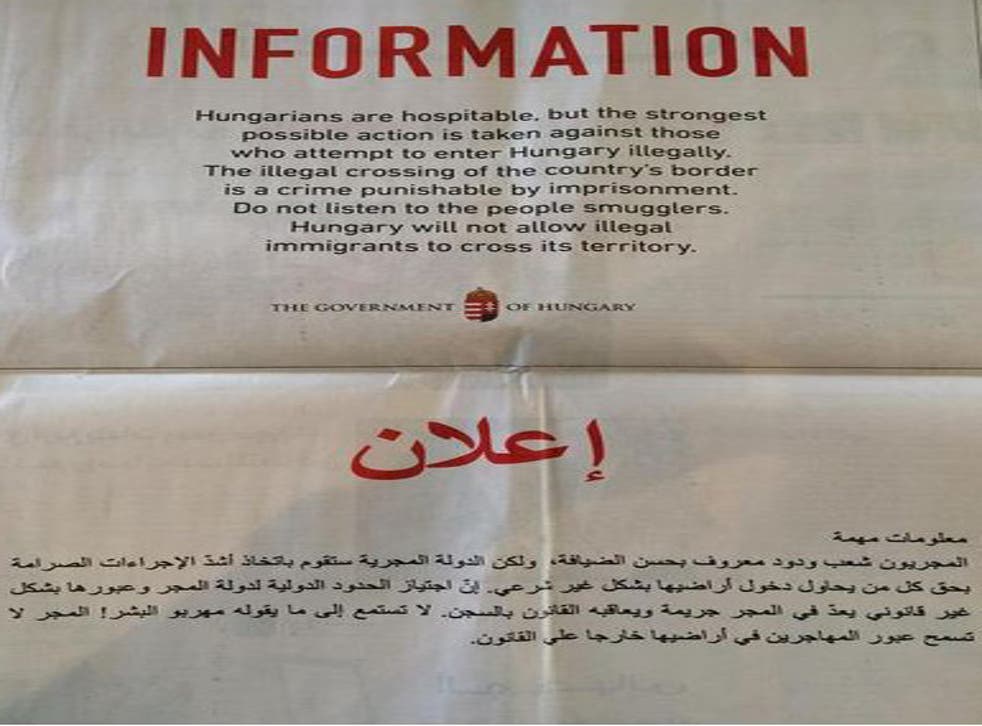 The Hungarian government have placed full-page advertisements in Lebanese and Jordanian newspapers, warning migrants that they can be jailed if they enter the country illegally.
The "strongest possible action is taken against those who attempt to enter Hungary illegally," the ads said in English and Arabic. Lebanon is reported to host nearly 1.2 million Syrian refugees while around 630,000 are currently in Jordan.
Speaking in parliament on 21 September, Hungarian Prime Minister Viktor Orban said millions of migrants are "laying siege" to Europe's borders.
He said "the migrants are not just banging on our door, they are breaking it down" and insisted that razor-wire fences the country is building on its borders with Serbia, Croatia and Romania are needed to defend Hungary and Europe, the Associated Press reported.
Hungary closed its border with Serbia on Sept. 15 and reopened it 20 September for vehicles, which are being checked by authorities.
In Turkey overnight, about 700 mainly Syrians who waited at Istanbul's main bus station for a week after authorities suspended ticket sales to the northwestern town of Edirne, set off on foot toward the town — 150 miles away near the Greek border — in an effort to reach Europe, Agence France-Presse reported.
Some managed to board buses and private vehicles en route, but those who failed to do so were blocked by police about 31 miles from Istanbul, according to the news agency.
The refugee crisis - in pictures

Show all 70
In Greece, fewer boats than normal landed on the island of Lesbos — a major transit point for Syrian refugees heading to Europe from Turkey — early on 21 September, ahead of an expected thunderstorm, Reuters reported.
It came after 13 migrants died when their boat collided with a ferry off Turkey on 20 September.
Hundreds of thousands of migrants and refugees, many of them from Syria, Afghanistan, Iraq and Eritrea, have headed to Europe this year fleeing conflict at home as countries along the route struggle to cope.
On 21 September, Austrian police spokesman Helmut Marban said nearly 24,000 refugees entered the country during the weekend, and another 3,200 arrived at the Nickelsdorf crossing — the main border crossing from Hungary — early on 21 September. Greek police also said 8,500 asylum-seekers crossed into neighboring Macedonia in the last 24 hours, the AP reported.
Foreign ministers from Hungary, Poland, Slovakia and the Czech Republic were meeting on 21 September, and were expected to voice opposition to Germany's call for a more even distribution of migrants, the BBC reported. Germany says it is expecting at least 800,000 migrants this year.
On 22 September, EU interior ministers meeting in Brussels pushed through a controversial plan to relocate 120,000 refugees across the continent, despite legal threats and the objections of several eastern European nations.
The Croatian government said that 29,000 refugees entered the country by 6 a.m. local time on 21 September.
Speaking at a camp housing migrants near the eastern town of Tovarnik, Croatia's Interior Minister Ranko Ostojic said he will seek to stop the flow of migrants from Greece at the meeting, Reuters reported.
He added: "It is absolutely unacceptable to have Greece emptying its refugee camps and sending people towards Croatia via Macedonia and Serbia."
Secretary of State John Kerry on 20 September said that the U.S. will accept 85,000 refugees from around the world next year, up from the previous quota of 70,000. He also said the total would rise to 100,000 in 2017.
This article originally appeared in USA Today
Register for free to continue reading
Registration is a free and easy way to support our truly independent journalism
By registering, you will also enjoy limited access to Premium articles, exclusive newsletters, commenting, and virtual events with our leading journalists
Already have an account? sign in
Register for free to continue reading
Registration is a free and easy way to support our truly independent journalism
By registering, you will also enjoy limited access to Premium articles, exclusive newsletters, commenting, and virtual events with our leading journalists
Already have an account? sign in
Join our new commenting forum
Join thought-provoking conversations, follow other Independent readers and see their replies