Refugee crisis: Hungary's parliament passes law allowing army to use rubber bullets, tear gas grenades and net guns against refugees
Hungary's Prime Minister Viktor Orban claims eastern European countries have been forced to protect themselves against the 'brutal threat' posed by refugees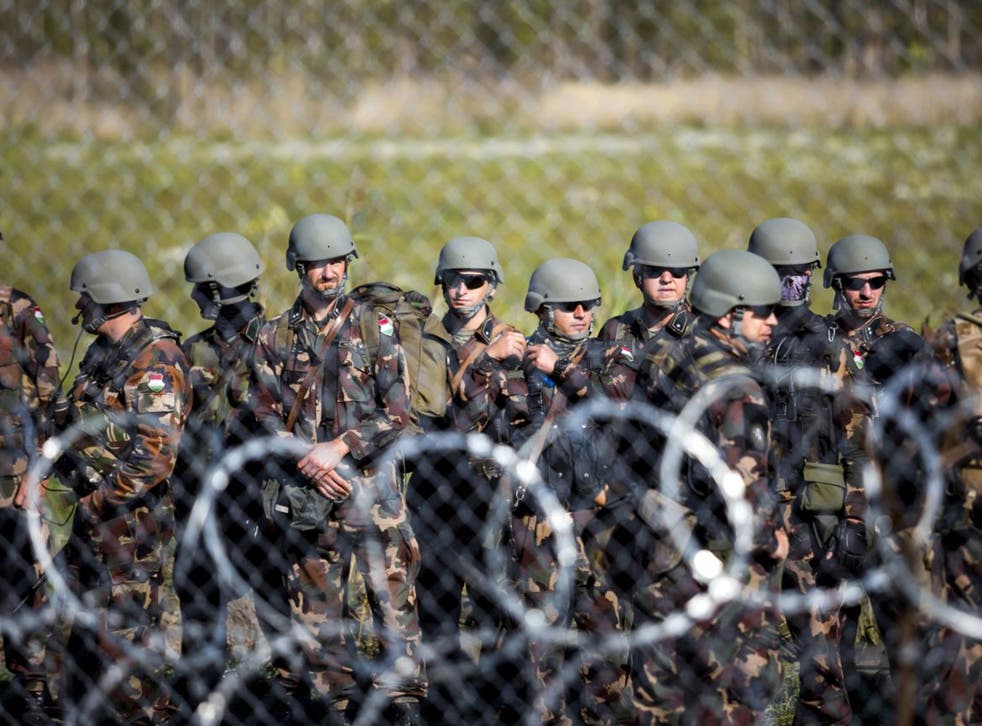 Hungary's parliament has passed a law allowing the government to deploy its army to handle refugees at its borders and the use of non-lethal force such as rubber bullets and tear gas grenades.
Speaking ahead of the vote on Monday Hungary's Prime Minister Viktor Orban claimed that millions of refugees are "laying siege" to the borders of his country and of Europe, and said: "The migrants are not just banging on our door, they're breaking it down," before reiterating his view that most were coming for economic and not safety reasons.
The new law will allow soldiers to be sent to help police manage the refugee crisis, carrying out many of the same tasks such as checking ID, detaining suspects and controlling the flow of traffic at the borders.
How Hungary welcomes its refugees - in pictures

Show all 15
It also allows the army to use non-lethal force against refugees, which includes the use of rubber bullets, pyrotechnical devices, tear gas grenades and net guns, according to the text posted on the parliament's website.
The news comes as Orban defended the construction of a steel fence on the border with Serbia to stop refugees from crossing into the country, claiming that eastern European nations have been forced to protect themselves against the "brutal threat" of mass migration.
Orban claimed that Europe had "sent out invitations to the migrants" and said the razor-wire fences being built on the Hungary's borders with Serbia, Croatia and Romania are core to stopping refugees entering the country.
Orban's centre right Fidesz party was supported in the vote by Hungary's radical nationalist Jobbik party, which has called for even tougher measures to be used.
The vote came on the same day that the Hungarian government took out a full page advert in Lebanon's leading daily newspaper warning people that entering the country illegally is a crime punishable by imprisonment.
Additional reporting by agencies
Join our new commenting forum
Join thought-provoking conversations, follow other Independent readers and see their replies