Refugee crisis: Inside the Dunkirk camp where 2,500 refugees live in conditions 'far worse' than the Calais Jungle
At the Grande-Synthe camp, children are forced to play in the mud as a sanitation crisis looms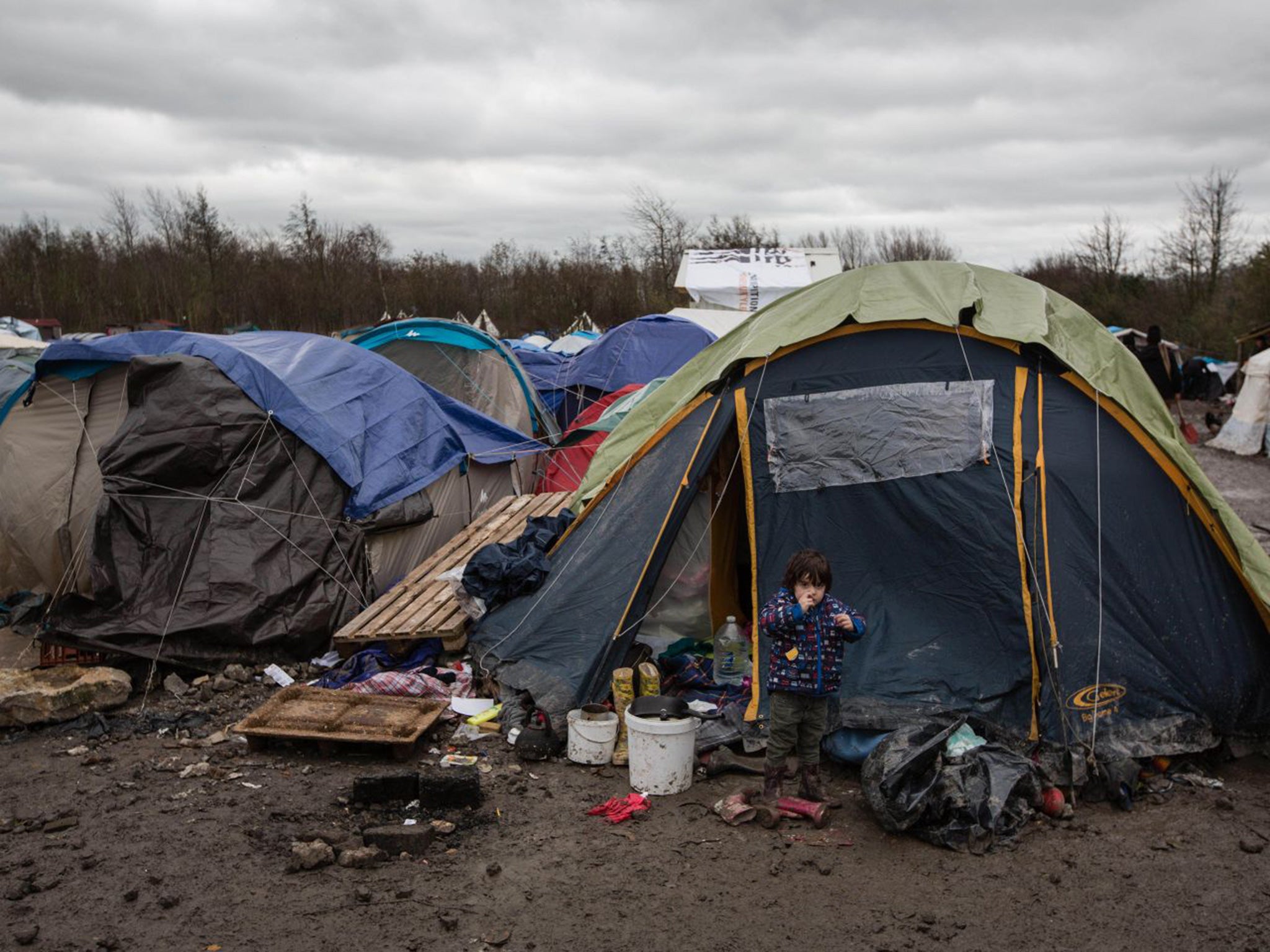 In front of a tent pitched beside a growing mound of rubbish, a small boy takes refuge in the only amusement available: kicking a discarded tin can through the thick mud.
As he pauses to stare at the world around him, half the biscuit on which he has been munching breaks loose from his small fingers, and flops into the muddy slime below.
Here, it seems, everything gets swallowed by the mud.
The thin strips of corrugated metal laid down in the boggier areas are half walkways, half futile gestures. They collect large puddles of muddy rainwater, but are marginally more navigable than the quagmires either side. Some of the tents are so thin you would think twice about taking them on a summer camping trip, and when the area floods, which it does regularly, the water can rise well above ankle height.
The Syrian refugee crisis in numbers
This, though, is not the Calais Jungle of notoriety. This is not the refugee camp where medical aid workers worry about infections like scabies.
This is not the place from which, as reported by The Independent last month, the British aid volunteer Rob Lawrie tried, and failed, to smuggle out the four-year-old Afghan girl Bahar Ahmadi – after being so struck by her plight that he was willing to commit "a crime of compassion". This place, they tell you, is far worse.
This is the camp at Grande-Synthe, a small town next to Dunkirk – used by just 800 refugees two and a half months ago, now home to 2,500, and growing by the day.
Non-governmental organisations trying to deliver medical aid to the occupants are talking of "a real catastrophe", "a sanitation emergency". The camp has only two drinking water stations and 26, mostly chemical, toilets – roughly one per 100 occupants. In a normal refugee camp, you would expect one for every 20 people, as a bare minimum.
"It is truly exceptional to see a camp like this," says Mathieu Balthazard, co-ordinator of the Médecins Sans Frontières (MSF) team at Grande-Synthe. "I have seen a camp in Ethiopia which had mud like this, but here it is worse: there is less organisation.
"It is becoming more and more shocking every day."
Everyone mentions the number of children. Grande-Synthe is "home" to dozens of under-fives. About 10 children a week need treatment for colds, or in the case of the 10-month-old baby seen by Mr Balthazard, diarrhoea that lasted for two weeks.
You watch the boy's eyes turn to the visible remains of his biscuit, half hidden in the mud. You are reminded of Mr Balthazard's words: "These conditions really help the germs that spread diarrhoea. There is so much rubbish around, kids are bound to pick it up or end up playing in it."
His name is Mohammad Faiq, aged four. When Isis approached his village in Hawija, Iraq, he and his Kurdish family fled to what they claim was an unwelcoming Turkey. They crossed to Greece in a dilapidated boat, and pushed on through Europe. From the family tent comes the sound of constant wailing.
Mohammad's one-year-old sister Maily has a fever, caused, they suspect, by the cold and damp weather.
"She was crying all night," says her mother Shahen, 28.
The family have been here 65 days – In Grande-Synthe, everyone seems to count the days, almost as if counting down a prison sentence.
"I cry every night," says Shahen. "I never imagined I would see a place like this."
We squelch on. As feet pass over it, the rug outside Gona Ahmed's tent merges with the mud. Mrs Ahmed, 32, is alone with her four children Ariena, three, Brwa, five, Balen, eight, and Karina, 10.
Her husband Mohamed, a Kurdish Peshmerga fighter, is in an Iraqi hospital after being blinded in one eye and losing his right arm fighting Isis. We are asked not to enquire further about what happened when Isis overran her village, for fear of distressing her further. Mrs Ahmed's friends talk of her and her children being forced to watch the beheading of a fellow villager.
We ask, instead, about the camp. Her face crumples.
"Is there any hope the UK will take us? I just want to be able to tell my children there is hope for them."
There is, of course, another side to the story of Grande-Synthe. It can be seen across the road from the camp, in what was once a quiet housing estate, but now has a police riot squad van parked at its entrance, as a steady stream of refugees wanders through the suburban streets.
It can, perhaps, be seen more menacingly in the first round of this month's French regional elections. In Grande-Synthe, the far-right Front National got 43 per cent of the vote. There is also little doubt that Grande-Synthe's sudden population explosion owes much to refugees – and people smugglers – reckoning that security improvements around the Channel Tunnel make the port of Dunkirk a better option for sneaking into the UK.
But there are glimmers of hope. The town council and MSF have a plan to shift the camp to a new area and provide enough heated tents for 2,500 people. And today, just before they were due to announce their plans at a press conference, the French Interior Minister Bernard Cazeneuve invited Grande-Synthe's mayor Damien Carême to Paris for talks.
The two are meeting tonight. It remains to be seen what action will ensue, and whether it will assuage the anger of aid workers like Jean-François Corty, the director of domestic programmes for Doctors of the World.
"This is France," he said, before news of the mayor's meeting with Mr Cazeneuve. "The sixth richest country in the world. We have capacity to provide food and clean water for people fleeing war."
Join our commenting forum
Join thought-provoking conversations, follow other Independent readers and see their replies