Refugee crisis: Meeting the desperate and the hopeful on the 1,300-mile trail from Turkey to Hungary
BBC Panorama reporter John Sweeney speaks to the asylum seekers who have embarked on this extensive, fraught journey
John Sweeney
Tuesday 29 September 2015 22:06 Comments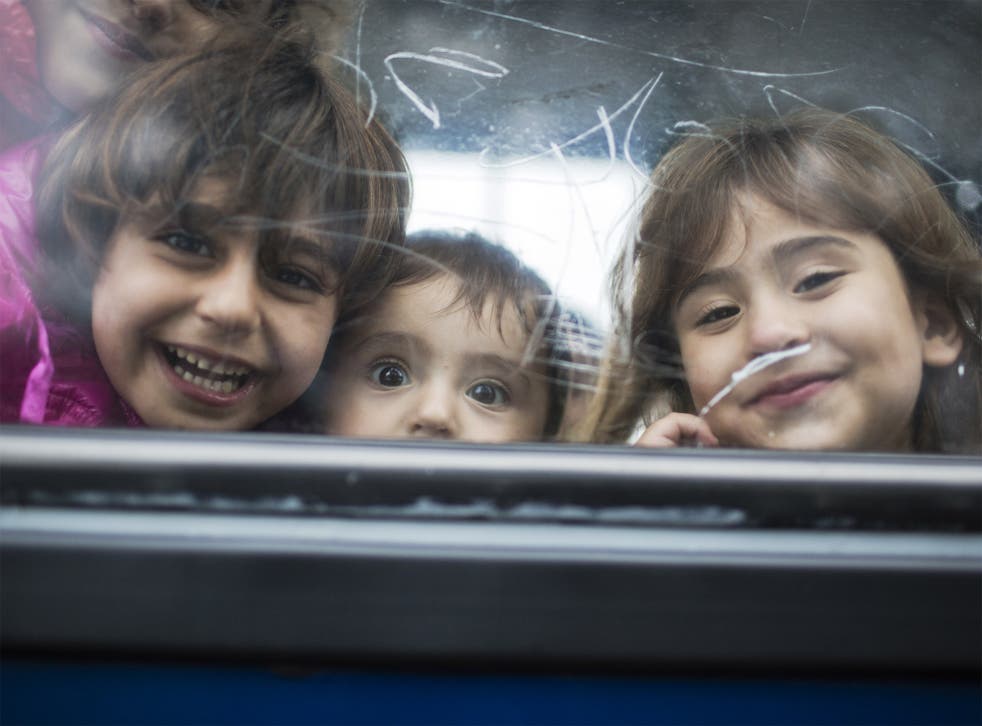 Three nights in a row on the beach in Kos, where Greek territory faces the Turkish port of Bodrum across the small stretch of water, the stranger stuck out like a sore thumb. Turkish, not Greek, he had powerful binoculars and seemed to pay particular attention to the coastguard vessel in the middle of the channel dividing Europe from Turkey.
When we challenged him, he didn't like the attention of our camera one bit and tried to shove his hand on the lens, then sped off into the night. Later, he told us that he was only looking out for the refugee boats so he could take their outboard motors. It didn't seem very convincing.
People are making a killing from the crossing, and it's not the refugees. For the short trip from the Bodrum peninsula to Kos, Turkish smugglers are charging adults $1,200 (£790) per head, economy class, in cheap home-made rubber dinghies and $2,300 per head in a luxury boat. As more than 107,000 people arrived in the Greek islands in August alone, that means the smugglers could be pocketing more than $120m a month.
A good detective on the Greek side could begin to challenge the smuggling racket. On the beach, on the island, we didn't meet one.
Mohammed, his wife and their two children from Syria made a makeshift home in a tent city, Little Damascus, underneath the walls of Kos castle. He told me they had been bombed by forces loyal to Bashar al-Assad and moved to Raqqa, which then fell to Isis. One morning, walking into town with his three-year-old daughter, he saw 55 severed heads on spikes on a roundabout. That's why they left.
Syrians were "fast-tracked" by the Greek authorities, often spending a week on Kos. Down the road was the slow lane housed in the Captain Elias, a derelict hotel which had become home, of sorts, to economic migrants from Pakistan, the Congo and West Africa. They could wait three weeks, more, for a registration number to get off the island. You could slice the hopelessness with a carving knife.
Since we filmed there, the hotel has been closed by its new owners, a bank.
Mohammed and his family got their registration numbers from the Greek authorities and we filmed them packing up their tent. The kids buckled on their pathetic, inadequate life-jackets they'd worn to make the crossing from Turkey – a sight that makes your eyes well up – and toddled towards the port. A vast crowd of people swirled around Kos port and the gates fell open and they were off, running to the ferry, Mohammed and his family, too.
It's a kind of madness, a gold-rush psychosis that afflicts these people. Pushed by war, pulled by hope, there is no stopping them.
From Piraeus, they make their way north. Somewhere on a railway line between Greece and Macedonia – by now I was getting so exhausted I was losing track, not just of date and time but also country and I was sleeping in hotels – an old man walked towards me, leaning heavily on a stick. He spoke a beautiful 1940s English, like Trevor Howard: "Good evening. We are in Greece or in Skopje [Macedonia]?"
Gobsmacked, I gave my best shot of where on earth we were and he thanked me, "Shukran". He must have been through a lot and still retained the civilities of common humanity. It was impressive.
In Macedonia proper in a holding camp, I met Feras, who left Syria 13 years ago. He'd been working in Dubai as an aerospace engineer and had flown to Turkey and was on the refugee trail, hoping to take up Angela Merkel's offer of sanctuary. I could be wrong but he didn't strike me as much of a refugee. He did say that no side in Syria was worth dying for.
In another registration camp, this one just inside Serbia, we met No 101, Adnan, aged four, and his father, Abdul, No 100. The little boy has a burnt skull thanks to an Assad barrel bomb which injured his mother and killed Adnan's aunt and two cousins. After they were bombed they fled to Turkey. So why did they leave Turkey?
"As a future, as a life, we were not given anything. In Europe, you can get a resident's permit and after a few months you can integrate and become a citizen in society."
At the same place we came across 13 men, one of whom was carrying five-year-old Azam on his shoulder. He had a black eye and a swollen jaw that looked broken – the consequence of a car accident, he said, in Macedonia.
Mum was stuck in Turkey, he said. "Where's Dad?" I asked. He pointed to a man in a pink shirt who assured me that X-rays had shown that Azam's jaw was not broken.
We met Little Azam again in pouring rain in Belgrade, howling with pain as a Serb medic treated his jaw, by now heavily infected. Of his "father", there was no sign. Our Arabic translator had a quiet word with Azam, who told us that the man with him was not his father, but his uncle.
Finally, Azam's "father" turned up, saying that they couldn't wait for Azam to go to hospital, they had to push on. When she challenged him further, he said: "What's it to you?" But the Serb medics sent Azam and the man with him – whoever he was – to hospital. There, he was X-rayed. The jaw was broken. The Serb doctors sent Azam to another hospital unit for more tests. There, he and the man with him vanished.
In Greece, Macedonia and Serbia, you got the feeling that the authorities did not want the largely Muslim refugees and migrants to pass through their countries on the road north but they would not impede them. In Hungary, it felt darker. The Hungarian Prime Minister, Viktor Orban, has said that he doesn't want large numbers of Muslims to stay in his country. From what I saw, there's not much chance of that.
One small example was a wretched scene just inside the Hungarian border at Roszke, a few miles north of Serbia. The Hungarian police were anxious to maintain order; the people desperate to go north and to stay in their family units.
In a queue for a bus to the official registration camp, a family became separated. A woman in a headscarf was on the bus. Her little girl was stuck outside. She pleaded with a policeman to be reunited but our cameraman caught her look of utter despair as the doors of the bus closed. The police didn't help reunite mother and daughter but the people did by lifting her across the heads of the crowd into the bus.
Meanwhile, the war in Syria continues. As long as it does, there seems to be no end in sight to the long road.
'Panorama – The Long Road: Europe's Border Crisis', BBC1, 10.35pm Wednesday 30th September
Register for free to continue reading
Registration is a free and easy way to support our truly independent journalism
By registering, you will also enjoy limited access to Premium articles, exclusive newsletters, commenting, and virtual events with our leading journalists
Already have an account? sign in
Join our new commenting forum
Join thought-provoking conversations, follow other Independent readers and see their replies