Bangladesh is now the single biggest country of origin for refugees on boats as new route to Europe emerges
Exclusive: 'They're sold a dream, and the dream often turns sour'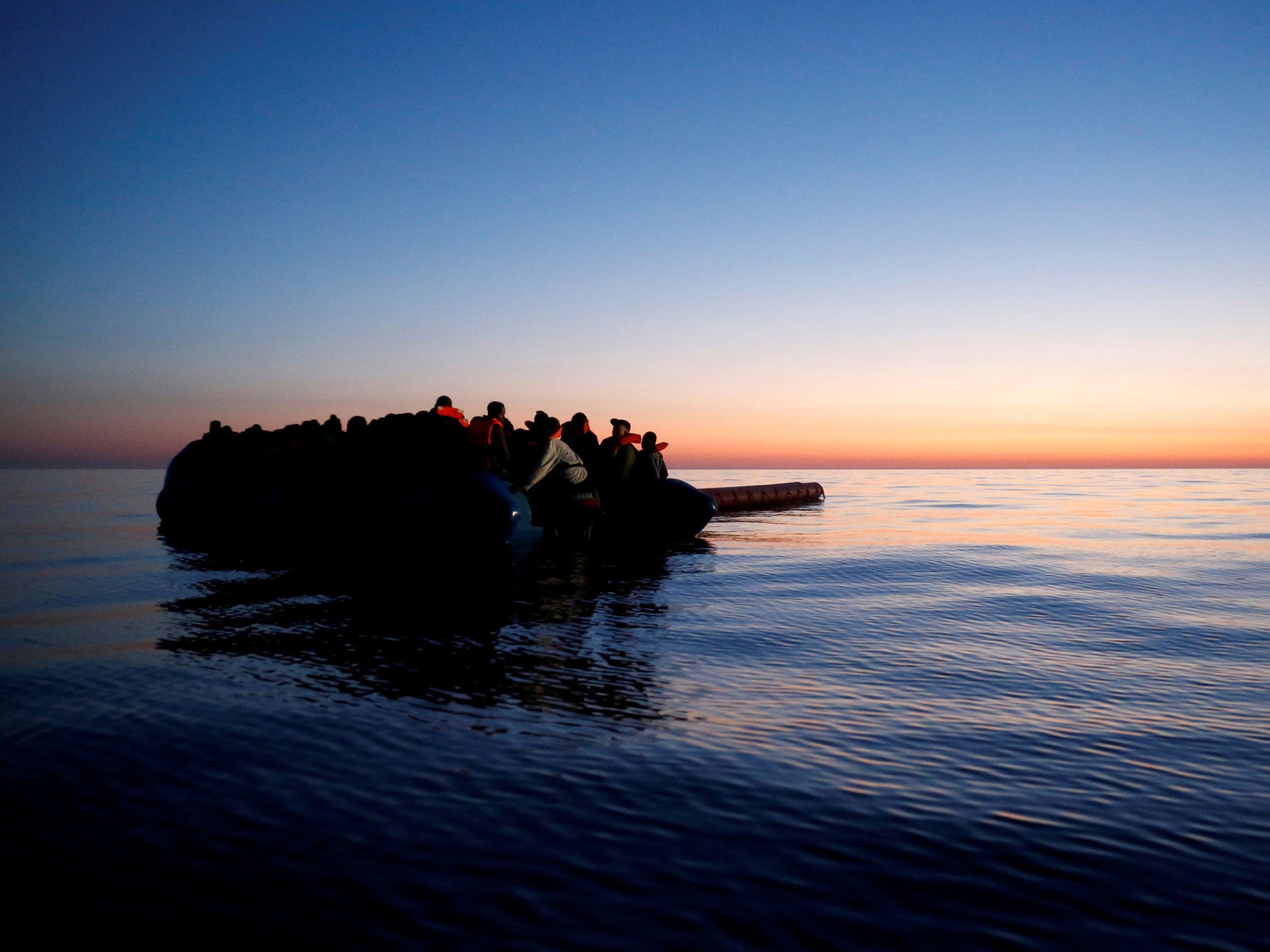 As the refugee crisis enters its fourth year, the demographics of the men, women and children arriving on Europe's shores are undergoing an unprecedented shift.
Syrians have so far made up the largest group of migrants attempting treacherous journeys across the Mediterranean Sea, followed by Afghans, Iraqis, Eritreans and sub-Saharan Africans.
But as smugglers in Libya continue to expand their ruthless human trade, their counterparts in Asia are seeing an opportunity.
In the first three months of last year just one Bangladeshi arrived in Italy, but the number for 2017 stands at more than 2,800, making the country the largest single origin of migrants currently arriving on European shores.
Those rescued in the Mediterranean Sea have told aid workers they paid more than $10,000 (£7,750) each to be taken from Dhaka to Dubai or Turkey and onwards to Libya, where the violence and chaos engulfing the fractured country is fuelling powerful smuggling networks.
The International Organisation for Migration (IOM) said the emerging route had dramatically changed the demographics of asylum seekers arriving in Italy, who until now have largely hailed from sub-Saharan Africa.
"The thing that's really changing is the main nationality of the migrants, and the number coming from Bangladesh," IOM's Flavio di Giacomo told The Independent.
In pictures: A day of refugee rescues in the Mediterranean Sea
Show all 7
"By the end of March last year only one Bangladeshi had arrived in Italy – and this year the number is more than 2,831 for the same period."
Some migrants taken ashore in Sicily and Apulia said their trip to Libya was organised by an "agency" that provided them with a working visa for between $3,000 (£2,300) and $4,000 (£3,100).
"From Bangladesh, they first travelled to Dubai and Turkey, and finally reached Libya by plane," an IOM spokesperson said.
"At the airport, an 'employer' met them and took their documents."
The practice is common in forced labour seen in both the Gulf and Libya, where smugglers frequently detain migrants before extorting their loved ones for money, or forcing them into labour or prostitution.
Some Bangladeshis crossing the Mediterranean have lived in the country for up to four years, while others stay there for just months while attempting to travel directly to Europe.
According to information gathered by IOM, Bangladeshi migrants pay up to $10,000 (£7,750) to reach Libya, then another $700 (£550) to board a boat.
The crossing from North Africa to Italy is now the deadliest sea passage in the world, with a record of almost 1,100 people drowning, suffocating or dying of hypothermia on overcrowded boats so far this year.
Hanan Salah, a senior Libya researcher at Human Rights Watch (HRW), said the country was a destination for Bangladeshi migrants looking for work before civil war broke out in 2011.
"As for the current situation, to my knowledge there are no direct flights from Dubai to Tripoli, or anywhere else in Libya," she told The Independent.
"Most foreigners flying in would be entering through Mitiga airport in Tripoli after transiting in Tunis [the capital of neighbouring Tunisia].
"We have reports that in some cases, documents of foreign nationals are confiscated and they are given a 'slip' – it can be a way to extort money from them."
Chaos following the British-backed removal of Muammar Gaddafi has seen countless armed factions, including Isis, wage bloody battles for territory as widespread lawlessness allows smugglers to work unchecked along the coast.
They coordinate with gangs inland to detain migrants in squalid detention centres, where Ms Salah has met imprisoned Bangladeshis, while others continue to work in restaurants, services and construction.
Nicholas McGeehan, a Gulf researcher at HRW, said the route from Dhaka to Dubai was well-trodden by "unscrupulous recruitment agents".
"What the agents sell is a route out of destitution and poverty," he added.
"It's typically the young men that go, either of their own volition or as the main earner for the family.
"They're sold a dream and the dream all too often turns very sour, whether it's in the Gulf States or this, which sounds even worse."
Mr McGeehan said "ignorance and deceit" combined to convince migrants that the more they pay, the safer they will be – drawing them into debts that make them increasingly vulnerable to exploitation.
"South Asian states are all too happy to get people off their hands if there are remittances going back," he added.
"The scale of corruption of officials being involved in recruitment is huge – it's rife."
Bangladeshis are frequently employed for semi-skilled or unskilled labour in north Africa or the Gulf, receiving worse pay and treatment than migrants from richer countries.
Dr Gareth Price, a senior research fellow in the Asia programme at Chatham House, said that although poverty was the main driving factor, persecuted Rohingya Muslims from Burma had also been fleeing Bangladesh.
Members of the country's opposition Jamaat-e-Islami Islamist party have also been hanged for war crimes and claim they are being persecuted, with several members seeking asylum abroad.
"Europe is a high value destination," Dr Price added. "If someone discovers a route, then the supply of people, whether trafficked or willingly trying to get into Europe for work, creates its own market."
Desperate journeys: Rescued at sea, refugees detail abuse in Libya
He said the migrants resorting to smugglers would not meet requirements for a legal working visa in Europe, where bank accounts are frequently checked for a minimum amount of funds as a condition of entry.
"They might be working for very little but they think they are," he added. "There's a lot of people who would take the risk."
A controversial agreement struck between the EU and Turkey last year has reduced comparatively shorter and safer crossings over the Aegean Sea to a trickle, leaving Libya the main launching point for refugee boats.
Italy signed a deal with the fragile Government of National Accord (GNA) in Tripoli in February that also promised training, equipment and money to fight smugglers – an agreement initially endorsed by EU states at a summit in Malta.
But moves to support Libyan detention camps have been criticised by humanitarian groups and the UN, which warned that refugees suffer arbitrary detention, rape and torture, and that pushing them back into a warzone could violate international law.
The dire situation has so far scuppered prospects of replicating the controversial EU-Turkey deal, while talks between the GNA and a rival Russia-backed warlord in the east ended without agreement this week.
Making his first visit to Libya, Boris Johnson urged warring leaders to "get together and work out a plan for the common benefit of the Libyan people".
"Establishing effective governance is the key to defeating terrorism in Libya and countering illegal migration," the Foreign Secretary said.
But with no solution in sight, carnage continues in the central Mediterranean. One rescue ship recovered the body of a man friends said was shot by smugglers for his baseball cap, while another vessel pulled six bodies out of the sea.