UAE migrant workers 'trapped' in construction jobs on man-made Yas island
Migrant workers arrive with the promise of lucrative jobs and become trapped: unable to buy their freedom or return home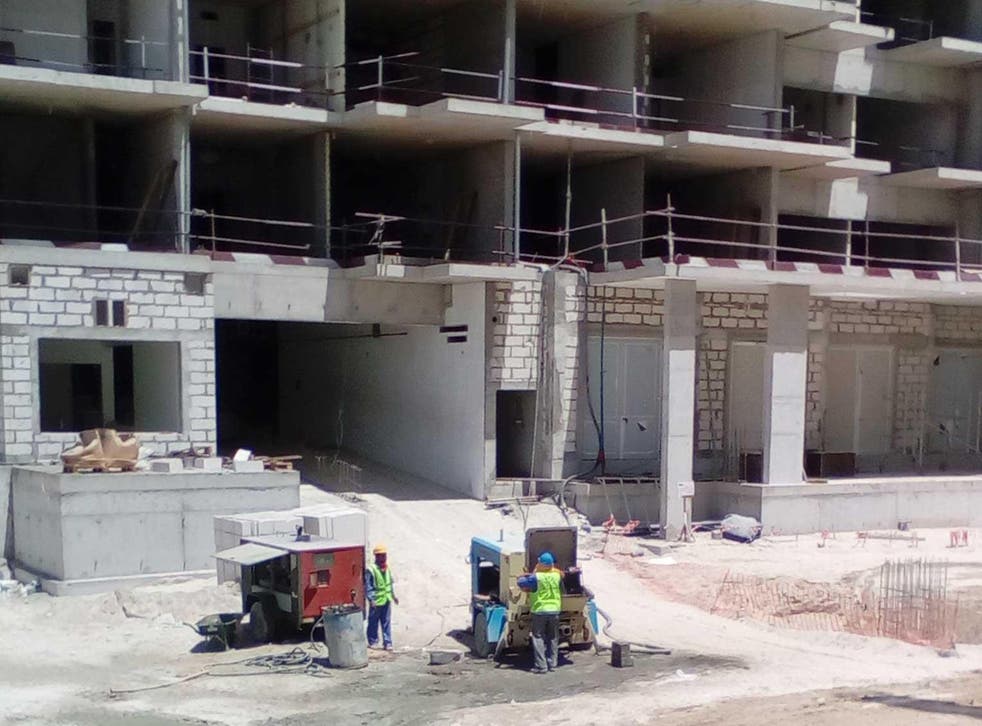 In the pictures, the sparkling blue waters of the Arabian gulf surround the first homes to be built on Yas, a pleasure paradise built on a man-made island on the outskirts of Abu Dhabi. The first residents will live among temples to leisure: the Formula One circuit, golf courses, waterparks, malls and a Ferrari World theme park.
Since April 2015, four white frames have been ascending from pits in the ground. These residential buildings will contain more than 500 apartments, complete with barbeque areas, infinity pools, gyms and function rooms for prices starting at £148,331 for 53 square metres.
For now they are skeletons of breeze blocks and iron scaffolding attended to by thousands of workers, employed by contractors racing to get the project finished in the next year.
John, whose name has been changed to protect his identity, is one of these thousands of men. He travelled from Africa to Abu Dhabi on the promise of a job and a salary that exceeded anything he could earn at home.
John was hired in his home country in Africa, by a representative from a construction firm. The firm that hired him had been contracted by Canadian company Ellisdon on behalf of Aldar Properties, a real estate development company with headquarters in Abu Dhabi.
The representative promised him a skilled job as a mould maker in Abu Dhabi for a salary of £770 a month, plus good accommodation, medical insurance and a food allowance. When John arrived in Abu Dhabi, the reality was very different.
His day starts at 6am, in Mussaffa on the outskirts of Abu Dhabi, when he stumbles out of a dorm crammed with bunk-beds and lined by power outlets to wait his turn to use the toilet, which is shared with the eight other men in the room. When there is time to cook, they use a dingy, slim kitchen with an overflowing rubbish bin and basic gas stoves to heat food. But there often isn't time. The bus for Yas Island leaves at 6am.
Once they are at the site of the Ansam project, the workers put in 11 hour shifts with an hour off for lunch in backbreaking conditions, with no medical insurance should something go wrong.
"The temperature in this country right now is piercing and we still work. I have family back home but most depends on me for support and that's why I left my job and took the offer in the first place because of the promise of a huge salary," John told the Independent.
Instead of the £770 a month he was promised, John is paid a basic salary of £129 plus a housing and transport allowance of £83, for a total of £212 a month. He said that some people earn less.
According to Human Rights Watch, payment is the biggest issue facing migrant workers in the UAE.
"Workers are not paid what they were promised," Nicholas McGeehan, researcher at Human Rights Watch, told the Independent.
"Then you have this system of Kefala, which ties the workers to their employer so when things go wrong they can't leave, they could be arrested for absconded. They may not have their passport. Add in recruitment fees. All of these measures in combination are toxic."
A clause in John's contract means that workers have to pay their sponsor back if they want to get of their jobs before a six month "probation" is complete. He said he had made inquiries at the labour ministry about cancelling his contract and was told that he could only do so if his employer agreed.
"Many people are just stranded here, languishing," John said. "Many people (I included) left their jobs for a false promise of a lucrative job offers with mouth-watering remuneration only to meet a different story altogether and so going home becomes another nightmare."
If he cancelled the contract without consent, he would be sent home. This would be a disaster for John, who said that he cannot afford to return home. His only option is to try and get released from his contract so he can find work elsewhere in the kingdom.
The UAE doesn't have an exit visa system and many migrant workers owe money to recruiters in their home countries. Some borrow money from a local loan shark to pay for the ticket over, putting their families at risk if they don't earn the money that they need to pay back.
EllisDon, a Canadian construction services company, manages the contract for the Ansam residential project on Yas Island.
Wissam Ayoub, vice president of the Middle East region at EllisDon, said that it would review conditions for workers on the site.
"We believe in the fair treatment of all people involved in the projects we engage in," Mr Ayoub said.
He said EllisDon would review the conditions of workers on the Ansam site "and take action as required to ensure that they are following the UAE's labour laws."
The Independent has seen contracts and pay slips showing that workers were not offered more than they were paid by the construction company in the UAE. However John said that a third party in Nigeria had promised him higher wages.
The contractor said that overtime was also paid to staff.
The UAE has made some improvements to laws protecting migrant workers, but many of these aren't enforced or don't go far enough to protect the vulnerable, Human Rights Watch said.
Construction work in the gulf dropped off after the financial crisis. But the appetite for growth has returned and with it more migrants are being tempted by the promise of work.
"The gulf states shop around looking for a good deal: workers who are cheap and pliant and whose governments who are not going to kick up a fuss if their workers aren't treated well," McGeehan from Human Rights Watch said.
More of these workers are coming from African countries like Kenya and Uganda, he said, where originally they would have come from Asia.
Business news: In pictures

Show all 13
Once they arrive they are trapped: unable to buy their freedom and return home.
"Going home now for me is not an option because there will be no job for me and I spent all my savings to get here," John said.
"The only way out for me is to find another job and that can only happen if my employer lets me go."
Register for free to continue reading
Registration is a free and easy way to support our truly independent journalism
By registering, you will also enjoy limited access to Premium articles, exclusive newsletters, commenting, and virtual events with our leading journalists
Already have an account? sign in
Register for free to continue reading
Registration is a free and easy way to support our truly independent journalism
By registering, you will also enjoy limited access to Premium articles, exclusive newsletters, commenting, and virtual events with our leading journalists
Already have an account? sign in
Join our new commenting forum
Join thought-provoking conversations, follow other Independent readers and see their replies