'Get out of France': Paris police tear gassing refugees and stealing blankets in freezing conditions, report reveals
Exclusive: 'Alarming' research shows almost two thirds of migrants 'violently' forced to move
Lizzie Dearden
Saturday 11 February 2017 17:51 Comments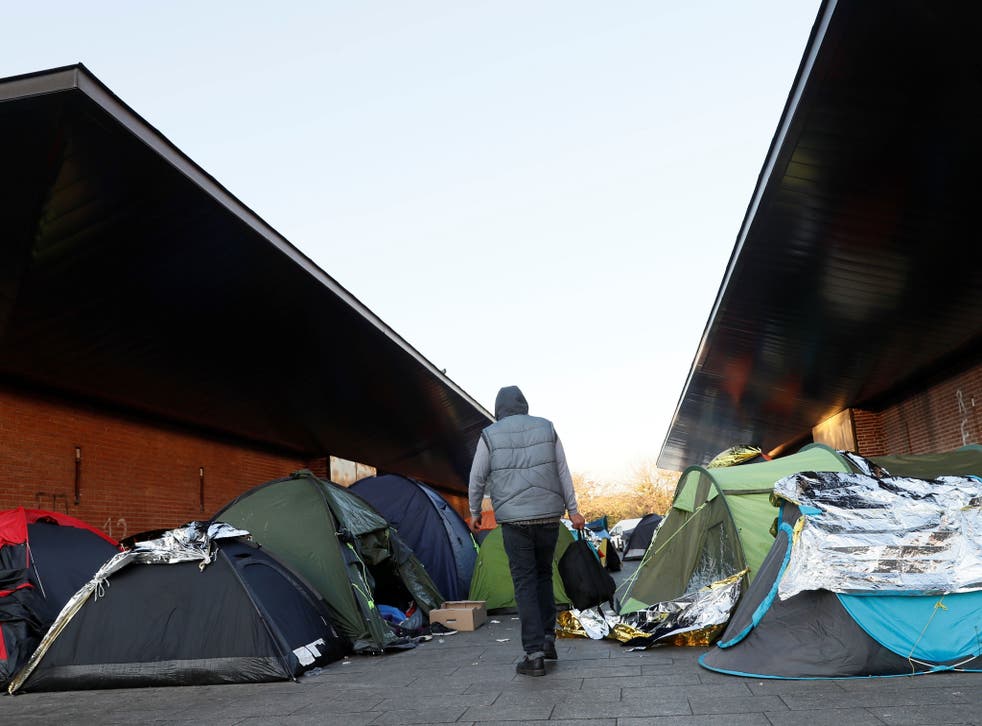 Refugees sleeping on the streets in freezing conditions in Paris are having their blankets and sleeping bags stolen by police while being "violently" forced to move on, a report has found.
Research exclusively published by The Independent shows that men, women and children are being beaten and tear gassed by officers in the French capital, despite government pledges to shelter vulnerable people.
Eritrean families said they were told to "get out of France" as police tore away children's blankets, leaving them without protection as the bitter temperatures plummeted to -7C.
Natalie Stanton, deputy director of the Refugee Rights Data Project, said researchers were confronted by "alarming" scenes in the La Chapelle area, where authorities have launched numerous clearance operations in recent months.
"While we were there we witnessed the police taking people's belongings – some in the night, some in the daytime – it's quite a visible phenomenon," she added.
"The same night the government announced a plan to keep everyone warm, we witnessed police picking up blankets and putting them in a big rubbish bin on the back of a truck, then driving away."
Almost two thirds of homeless refugees interviewed said they had been woken up and forced to move, with 54 per cent describing the experience as "violent" and saying they were afraid, having been given no reason for the intervention.
One 45-year-old man told researchers an officer kicked him so hard in the shoulder that he was admitted to hospital for the next 20 days for treatment, while others described being tear gassed if they did not move quickly enough.
According to one young Afghan man: "If we question them or say we have nowhere to go, they bring out the tear gas."
Around 37 per cent of respondents said they had experienced other forms of police violence in Paris, including physical beatings and verbal abuse, while a third had sleeping bags, tents, blankets, clothes and other belongings taken by police or other rough sleepers.
"Some people had such horrendous experiences during their journeys that it's just another problem," Ms Stanton said.
Refugee crisis - in pictures

Show all 27
"But some people were very shocked – in Europe they feel that human rights should be upheld and they didn't expect to be treated like this.
"They were thinking they would have somewhere safe to sleep."
Their experience is far from the impression projected by the French government, which unveiled a nationwide plan to get homeless people off the streets for their own health and safety while the research was being carried out.
Bruno Le Roux, the interior minister, admitted it was "difficult" to find all migrants shelter but refuted reports of police brutality and harassment.
"I absolutely do not share this vision," he said in January. "What the police force is doing today is providing shelter for vulnerable people."
Homeless people and concerned members of the public were directed to call the 115 hotline to be given shelter, but only a handful of migrants interviewed by the Refugee Rights Data Project were able to get through.
A woman who had been in Paris for a month on her own said: "I live on the streets and have no protection at all. I called 115 three times and they never showed up.
"It is so dangerous on the streets. I have no one here, and I am afraid to sleep with so many men around."
France's Hollande says Calais 'Jungle' to be dismantled
More than half of the refugees interviewed said they were suffering from health problems – including a man who was back on the streets just a day after having his appendix removed – and others suffering from diabetes and mental illness.
Some had heard of other refugees dying in Paris, either of the cold, health problems or in violent attacks. Several refugees reported that a man had been run over crossing the road, while there were unconfirmed claims another had killed himself after despairing of the situation in Paris.
"He went to the top of a building and jumped off," a migrant told researchers.
Some of those interviewed had been living in the French capital for several months, including around a quarter who previously spent time in the Calais "Jungle" and camps in Dunkirk, which were forcibly cleared by authorities.
Paris opened its first humanitarian centre in November after the closure of a large makeshift camp displaced thousands of migrants, but the facility has been overwhelmed and authorities ploughed ahead with a zero tolerance policy for roadside shelters.
Around three quarters of all migrants interviewed wanted to stay in France, and under 30 per cent were hoping to reach the UK.
However, the figure rocketed for children aged 17 and under, with just over half saying they wanted to journey onwards to Britain.
They included a 16-year-old boy who had applied to be reunited with his four siblings living in the UK but never received a response.
Researchers said almost all minors interviewed were unaccompanied, meaning they may have been eligible for Government transfer under the Dubs Amendment.
But after taking just 350 children the commitment was quietly scrapped by the Home Office last week, sparking outrage from humanitarian groups.
The Refugee Rights Data Project is calling for "sustainable" efforts by the French government to help get migrants off the streets and combat the "chronic absence of asylum information" that leaves the majority unaware of their rights or obligations.
The charity also called for the British Government to "step up and fulfil its moral obligations".
Researchers interviewed more than 340 refugees and displaced people sleeping rough in the La Chapelle district of Paris between the 18 and 22 January for the report.
The majority of respondents were from Afghanistan, followed by Sudan, Eritrea, Ethiopia and other mainly African countries.
The Paris Préfecture de Police declined to comment.
Register for free to continue reading
Registration is a free and easy way to support our truly independent journalism
By registering, you will also enjoy limited access to Premium articles, exclusive newsletters, commenting, and virtual events with our leading journalists
Already have an account? sign in
Join our new commenting forum
Join thought-provoking conversations, follow other Independent readers and see their replies